When you create or edit meetings in Robin's mobile app, most of the time it will be through the event composer. It is accessible by tapping the + floating action button from the schedule view, or by tapping "book this space" from any of the space cards. 
Create an event
The event composer works just like your current scheduling apps, but with the added benefit of supercharging events booked to Robin-powered spaces.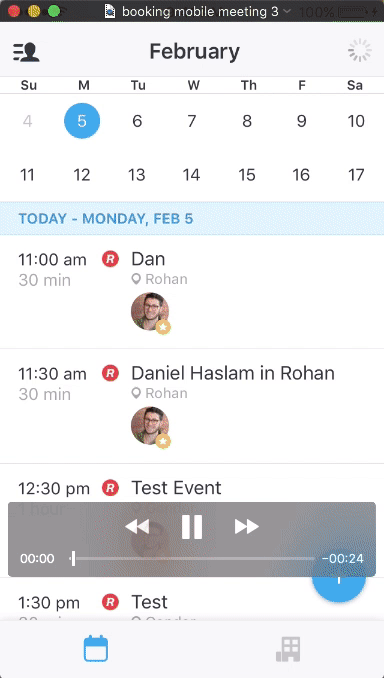 Choosing a calendar
When you create an event using the email and calendar associated with your Robin account -- typically your work email address -- you can easily add available meeting rooms within your office. 
Swap calendars to create events outside of the office. These events will sync with your external calendars (google, ical, etc), and will not be visible to anyone else using Robin. 
Inviting others to your event
You can also invite others by entering their email address. Robin syncs with your phone's contact list to auto-complete invitee email addresses. 
Automatic conflict checks when editing
This event composer has a few extra tricks that make it easy to avoid scheduling conflicts when editing your events. Robin will automatically check to see if the room has a conflict and show it's updated status in the space row. Green means the space is still available, and red indicates a conflict. 
Filtering search results
If you're looking to book a space based on a specific criteria or time then you can apply filters to your space search by tapping "Filter", then apply the desired search criteria from the filters page.