Requires
Office 365 or Exchange
Admin in Office 365 or Exchange
Compatible Apps
Outlook 2013 or later
Outlook 2016 for Mac
Outlook on the Web
Exchange 2016 or later
Outlook on Windows- legacy version available (2.0 coming soon!)
Overview
With Robin's Outlook Add-In, you can bring space search and extra office context into Outlook calendars without having to leave your calendar system. Once installed for your tenant, a sidebar with extra information about the office will appear when creating or viewing events. If the event already has conference rooms invited, Robin will show details about the space automatically.
How it works
A better look at your office
A few things the Outlook extension is good at:
"What is the best time for all invitees?"
"When's the next time this conference room is available?"
"Will I have a whiteboard available in this afternoon's meeting?"
"Are there any other spaces with video conferencing free right now?"
How to download
Robin's Outlook Add-In is available via the Office Store directory. Once installed by an administrator, it will appear as an option in both Outlook's desktop and web apps.
Manual Install
Can't use the Office Store? To install the add in via a manifest instead, use https://extensions.robinpowered.com/office/manifest.xml
Installing the Add-In for Exchange
Exchange 2016 or higher allows admins to configure Office Add-ins like Robin via a manual install. If you've never installed an Add-In for your on-premise environment before, you may need to adjust your configuration to allow store installs. Microsoft's "Install or remove add-ins for Outlook for your organization" guide show you how to do this using the manifest file above.
If you run a hybrid environment, we recommend trying to install the Add-In via Office Store instead of the manual approach listed above. Just make sure your on-premise or hosted Exchange environment supports the requirements from Microsoft.
Robin does not have an extension with Exchange 2010 support.
Common Pitfall
If users hit this screen below when trying to open the Robin extension for the first time you will need to enable user consent at an organizational level in order for users to access the add- in.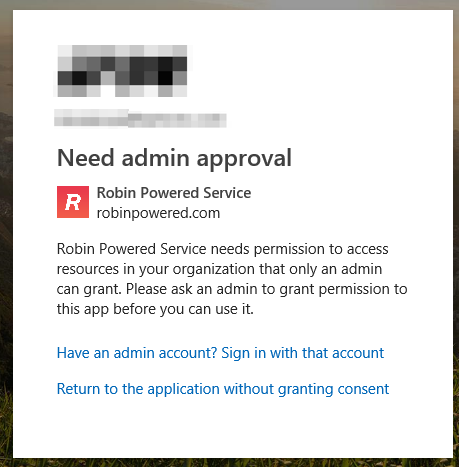 Run a Hybrid/Exchange environment?
The legacy Add-In is available for hybrid environments with the Add-In (2.0)support in the works. The UI will look slightly different, but overall both the legacy and the latest version have the same functionality.
Manage user access to add- ins
Add-Ins are available to all users on your Outlook account by default, or individual groups if your administrators have enabled more specific permissions. This is not a setting apps (Robin included) can manage directly for you. If you only want a subset of your users to have access to Robin's (or any other) Add-In, you'll need to have an admin adjust permissions within Outlook accordingly.
For more advanced tasks, the plugin also gives a direct path to continue in Robin's web (and mobile) apps. Have something else you'd like to see the plugin bring into your calendars? We'd love to hear about it.
Looking for other extensions? We also support Google Calendar browser plugins.