Supported Plans
Required permissions
With the Work Policy feature, organizations can set office visit guidelines in Robin for employees to see while planning their work week.
This is an early-release feature-- more functionality will be available in the near future.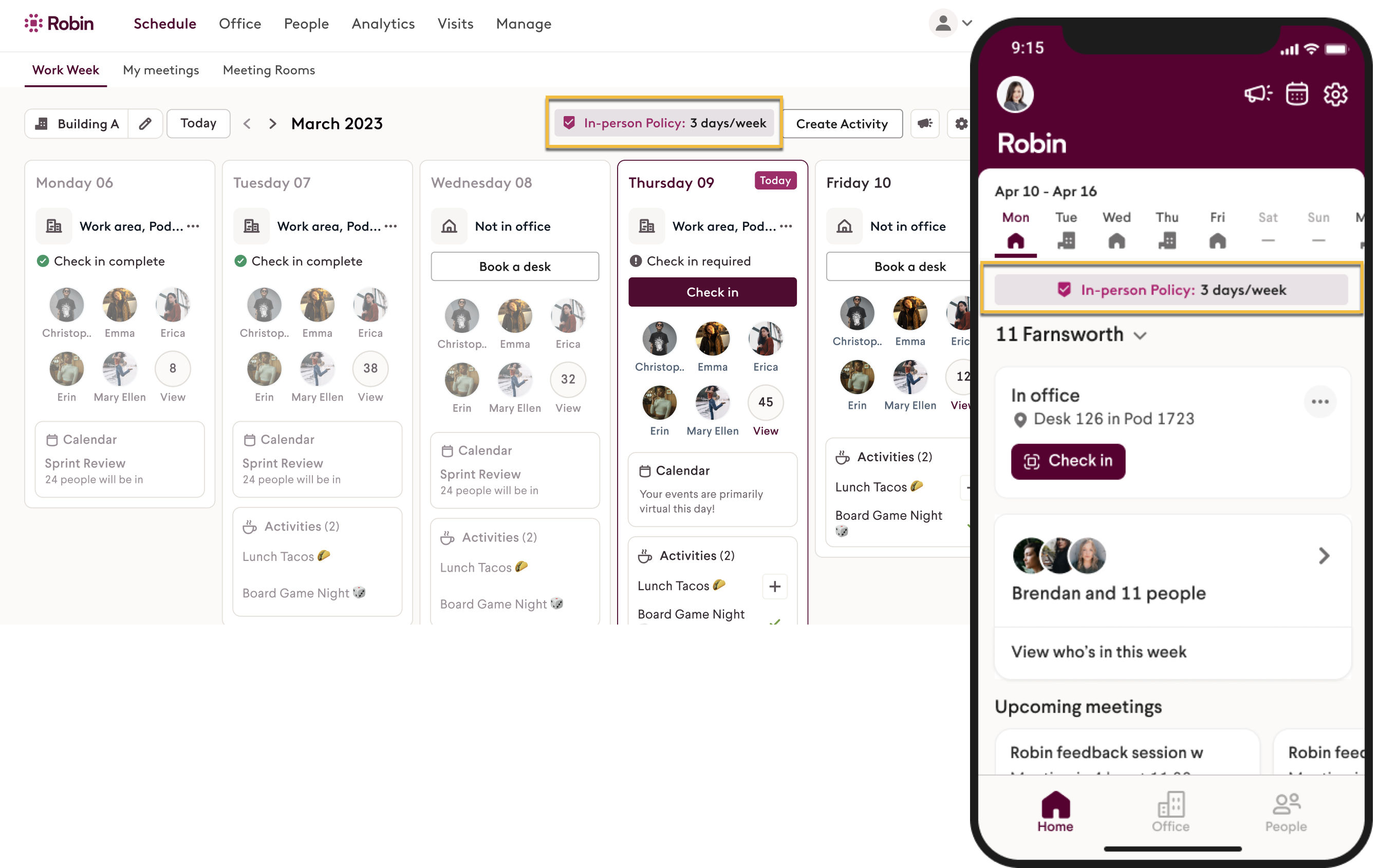 Admins can manage their organization's hybrid workplace guidelines and policies with the Access management console. The Access management console is where you can define how many days your employees need to come to the office and which offices they can book desks in.
Follow the steps outlined below to set your office visit policy in the Access management console.
1. Open the web dashboard and navigate to Manage > Access.
2. On the Access Pass page, hover over the Default pass section and click Manage.

3. Use the toggle to turn on the Work Policy setting.
4. Define the number of days employees (org-wide) should come into the office each week using the drop-down menu.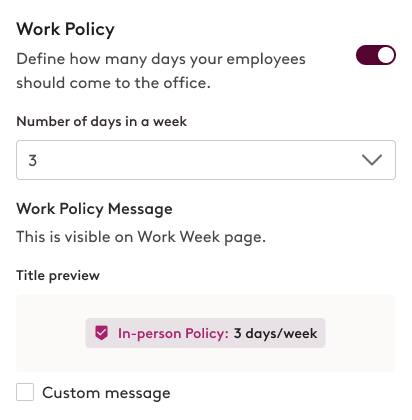 4. Use the default policy title or enter a new title in the field (e.g., Hybrid Work Policy, In-Office Policy, Office Mandate, etc.). You can include some context with the "Custom message" option. Employees will see it displayed like a banner on their Schedule page in the web dashboard and mobile app.
5. Click Save. The changes are reflected immediately.
FAQ
Q: Can I set up a policy for a specific office or location?
A: Not at the moment - HWP feature is applied to the whole organization. One policy per organization. We'll be building a more granular approach in the future!
Q: Where can I see and manage my policy?
A: Admins can view and manage the policy under Manage > Access > Default Access Pass . Employees can see it on the Schedule page on the web dashboard and mobile app.
Keep in mind that if your organization has multiple Robin admins who have access to the Manage tab, each one of them can turn the policy on/off, update it, etc., and we don't keep any history of the changes being made.
Q: Can I create a policy without using Access Pass?
A: Today, the Work Policy feature is tied to Access Pass, specifically the Default pass. If you have custom passes or you create a new custom pass, the Work Policy setting will be applied to ALL passes (default & custom) because the setting is applied on the organization level.
Q: Will there be additional configurations available - e.g., setting up specific days or different cadence?
A: Yes, we have plans to introduce different cadence levels, such as bi-weekly, monthly, quarterly, etc., and the ability to configure specific days employees should come into the office (e.g., Tuesdays & Thursdays).
Q: How will I know my progress toward meeting the policy?
A: The ability to track your office visits is in the development process now. We'll count check-ins as a basis for meeting the set policy number. This is not available today, but coming soon!