Supported plans
User Permissions Required
Simplify the process of welcoming guests into the office while still getting the data you need. Set up an arrival display in your office lobby or receptionist area for easy guest self-registration and check-in access.
Once a guest completes the check-in process, the host will receive an email to notify them that their guest has arrived. Additionally, If your organization requires NDAs or other specific documents, you can add the documents to the visitor check-in process and require the guest to "Agree to the terms" from the arrival display.
This guide covers how to set up an arrival display and how to manage your arrival display devices.
Arrival display setup (optional)
Set up an arrival display in the office lobby or receptionist area for guest self-registration and as a way for guests to check-in for their pre-registered visit.
1

In the web dashboard, navigate to Devices > blue Add a device button in the right corner > select Arrival display from the dropdown.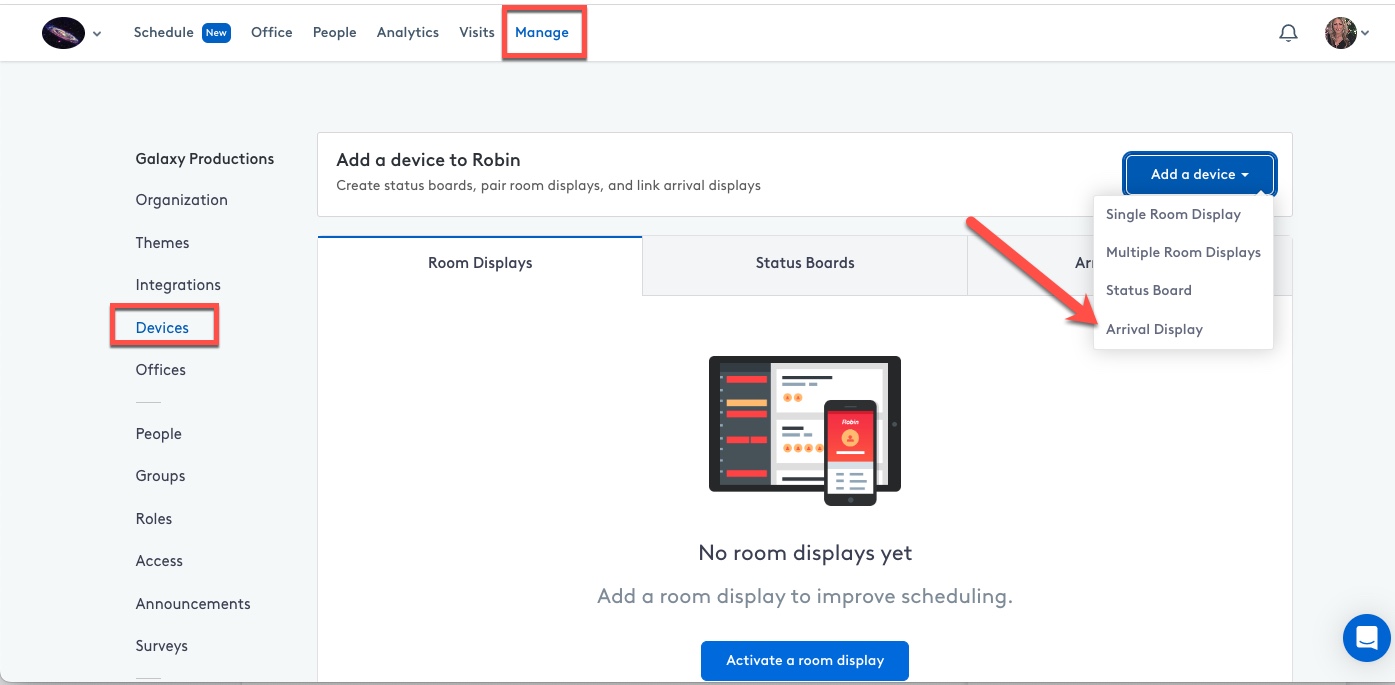 2

Add the display information. If you want to allow impromptu visitors to register upon arrival toggle on the "Guest self-registration" option.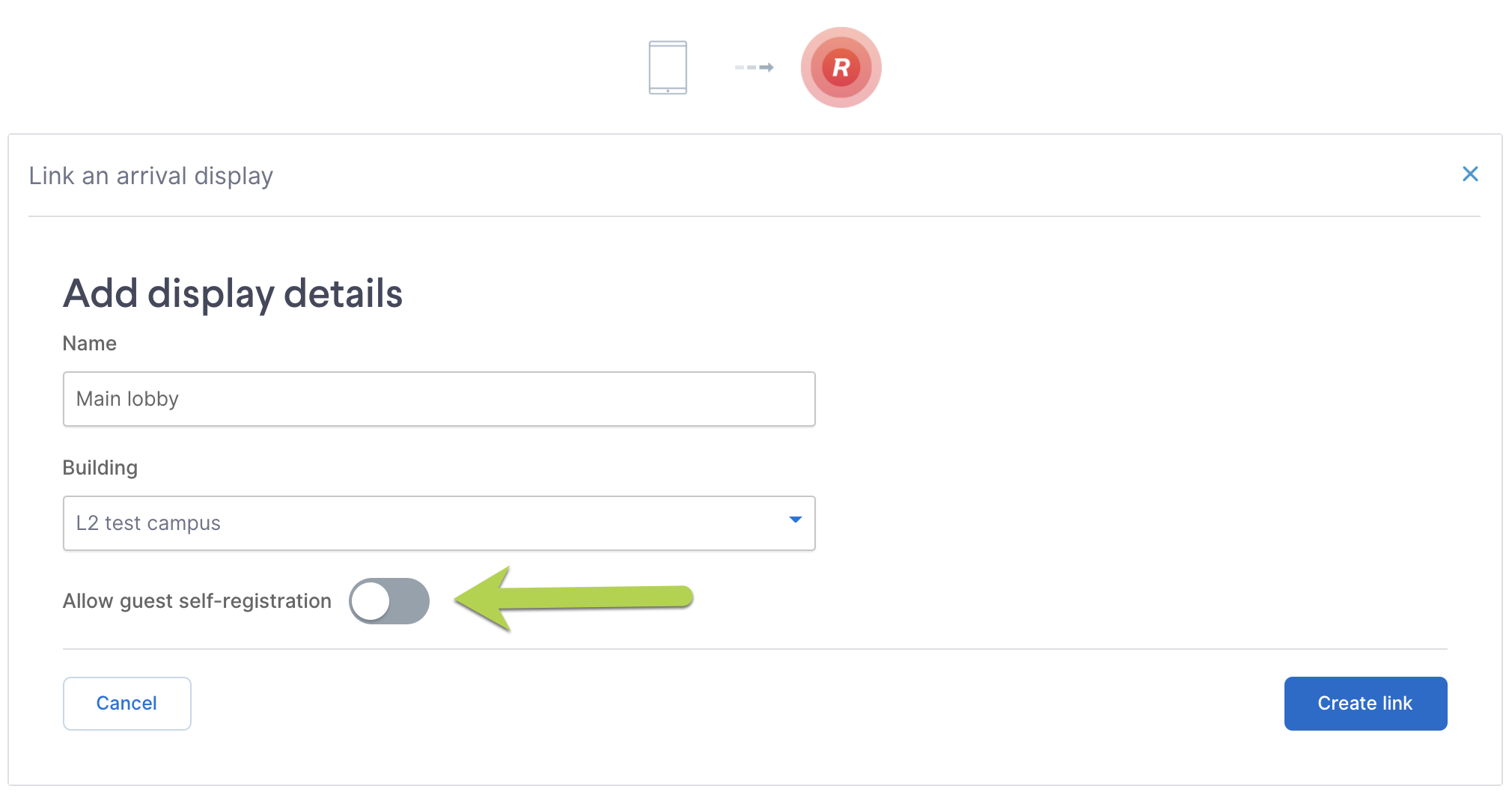 3

This generates a code that you'll need to enter on the arrival display next, so keep the code handy.
4

On the arrival display device (e.g., iPad, tablet, or desktop workstation), open a web browser & type in arrivals.robinpowered.com. Then enter the code to pair it with Robin, and you're all set!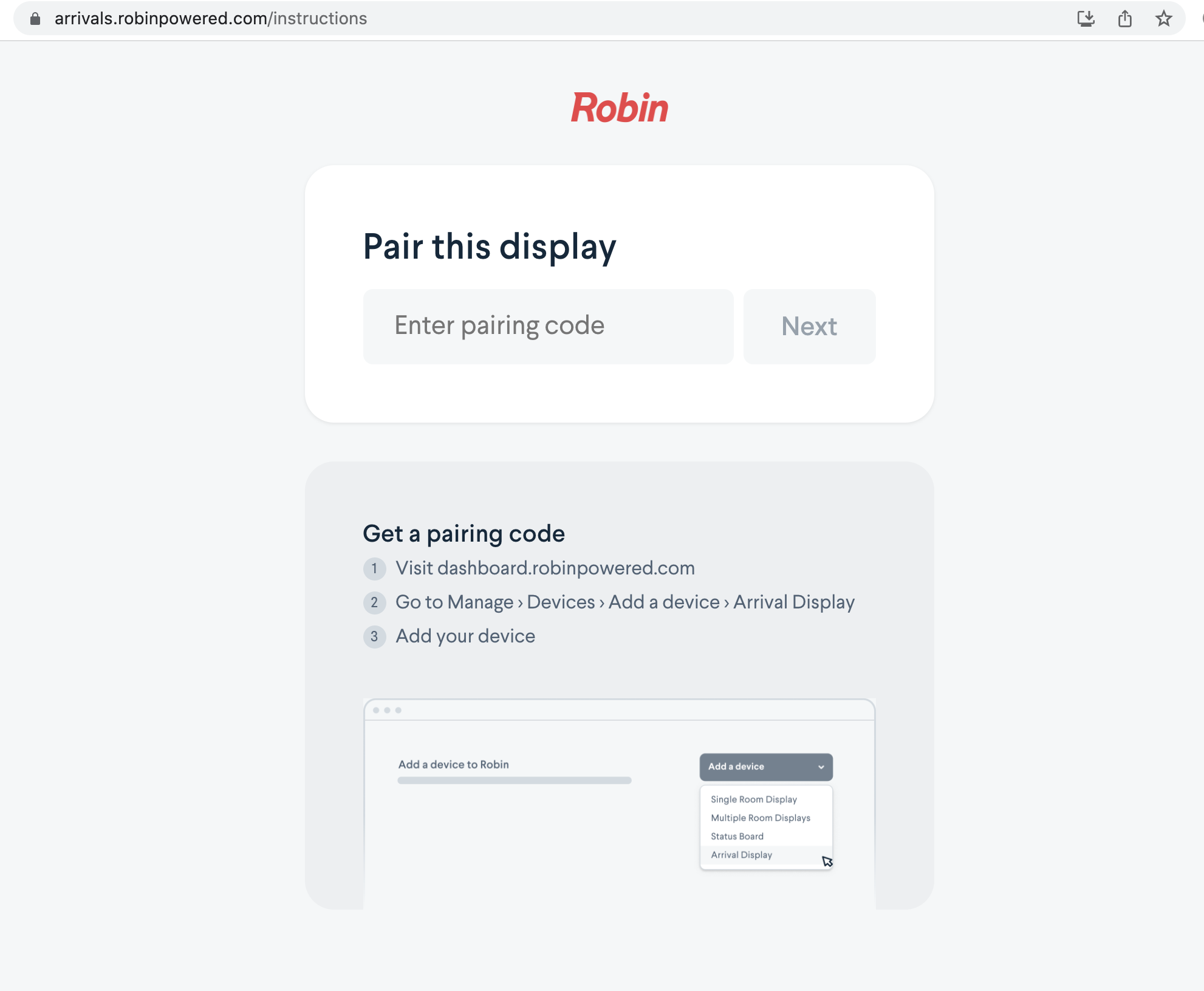 Arrival display best practices:
For the best experience, we recommend using an iPad, but you can use any tablet or computer with a responsive web browser.

We recommend locking the display to a single app, in this case, a web browser app, like Safari.

Android tablets-Pinning is available for tablets running Android 5.0 and higher and locks a selected app to the display.

Kindle fire-Parental controls on the Kindle Fire restrict access to certain apps, including the Amazon app store. To lock the Kindle Fire down further, 3rd-party apps offer additional controls.

Additionally, because a web browser is used to access the Robin arrival portal on the device, you may want to consider applying web browser content restrictions to prevent any web browsing outside of the Robin guest portal.
Managing devices
Use the Devices page to manage all the devices in your office, including room displays & status boards. This is where you can check the status and location of the display.
If you need to enable the guest self-registration option for an active display, simply click on the display name to open the settings module.