The homepage preference is a user-level setting, not an organization-wide setting. Therefore, admins cannot change or choose the homepage on behalf of employees.
The Workweek view on the Schedule tab is the default homepage to empower employees to coordinate and collaborate with others. However, we know every workplace has unique policies and procedures, which is why we added a new Workweek view permission.
By default, all users have access to the Workweek view. Robin admins can edit this permission under Manage> Roles > select user role > Workweek permission located in the "Admin management" section. To learn more about user permissions, this guide.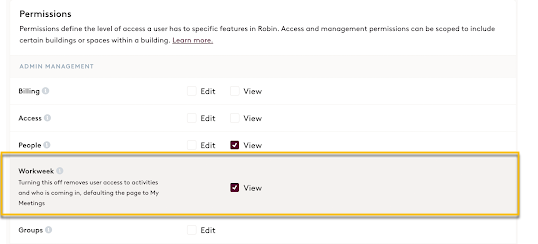 If you hide the Workweek view and employees have the Schedule tab set as their homepage preference...
Users will see the "My Meetings" tab instead of the Workweek tab by default. We recommend encouraging your users to make the Office tab their homepage under their user settings for the best experience.