We're adding fresh paint to the Meeting Rooms tab experience on the Schedule page in the web dashboard. In addition to some page performance improvements, we're excited to introduce some new functionality, like pinning frequently used rooms and collapsible/expandable floors. See the below FAQ for more details on the new page.
Q: How do I access the new meeting rooms page?
A: Access the new meeting rooms page by navigating to Schedule > Meeting Rooms > click "Try it now" on the banner at the top of the page.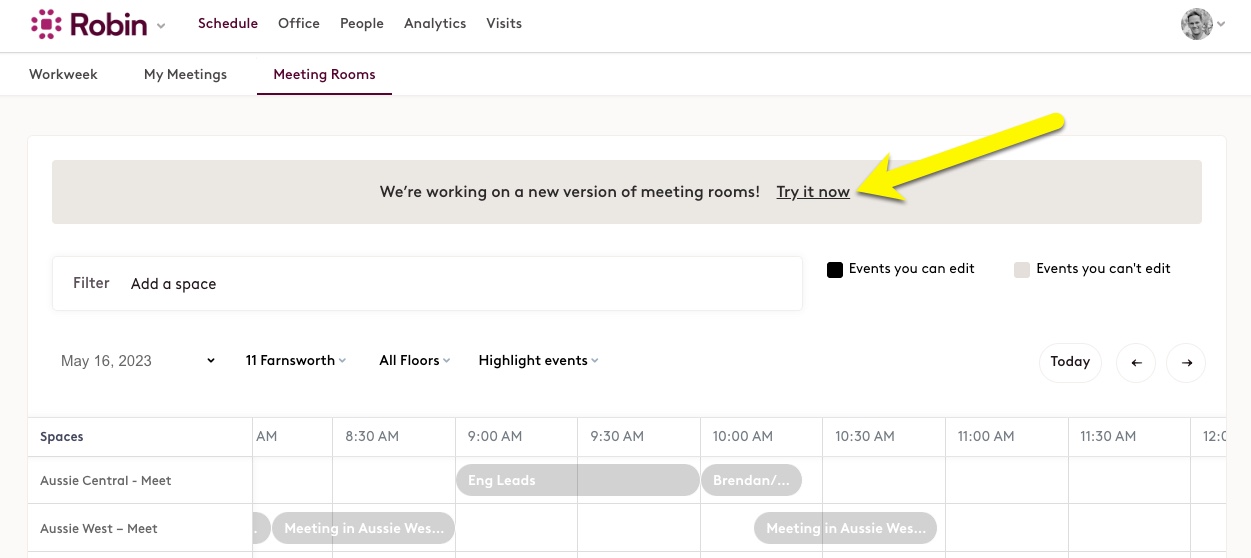 Q: Do we have to set up any new spaces or calendar integrations?
A: No. We use the same spaces/calendars your organization has previously set up.
Q: What is different about the new Meeting Rooms page?
A: In addition to significantly improved page performance, there are several user experience improvements. These improvements include:
The ability to "pin" frequently used spaces
The ability to collapse/expand floors
Enhanced filters
Create events without ever leaving the page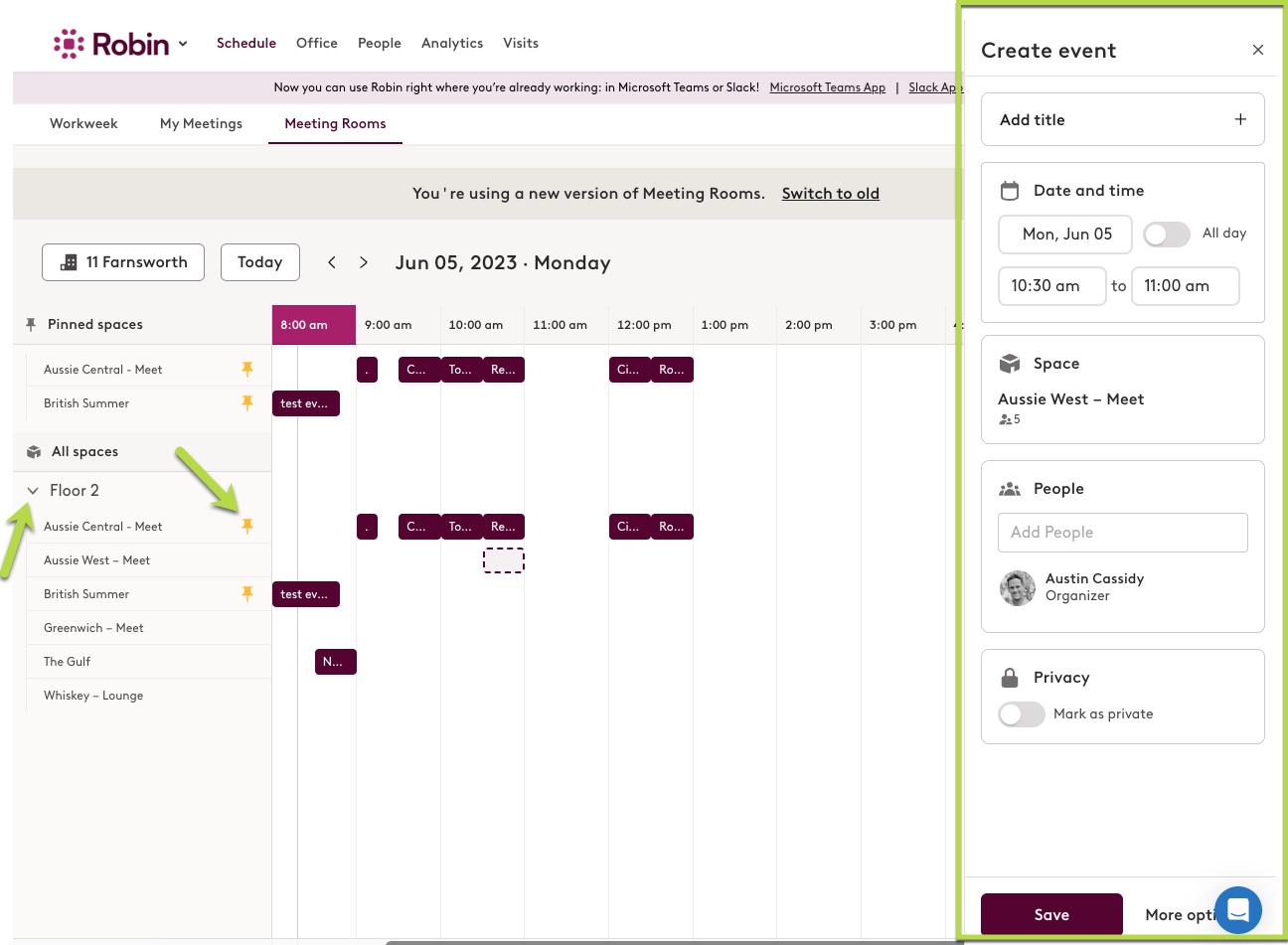 Q: What if I find that I'm not able to do something I need on the new Meeting Rooms page?
A: You will still have access to the old version of the Meeting Rooms page. You can simply toggle back to the old version by clicking "Switch to old" in the drop-down. If you switch back to the old version, we'd love to hear your feedback (feedback@robinpowered.com) to learn how we can improve it.
Q: I need to access the event composer to create meetings on this page. Am I able to do that?
A: Yes! Click on an available time slot and select "More options" from the event drawer. The event composer pops into a new window where you can create the event and navigate back to the Meeting Rooms page to see your event.
Q: How can I switch between buildings on the new Meeting Rooms page?
A: Click on the building picker in the top left and select a new building from the pop-up modal.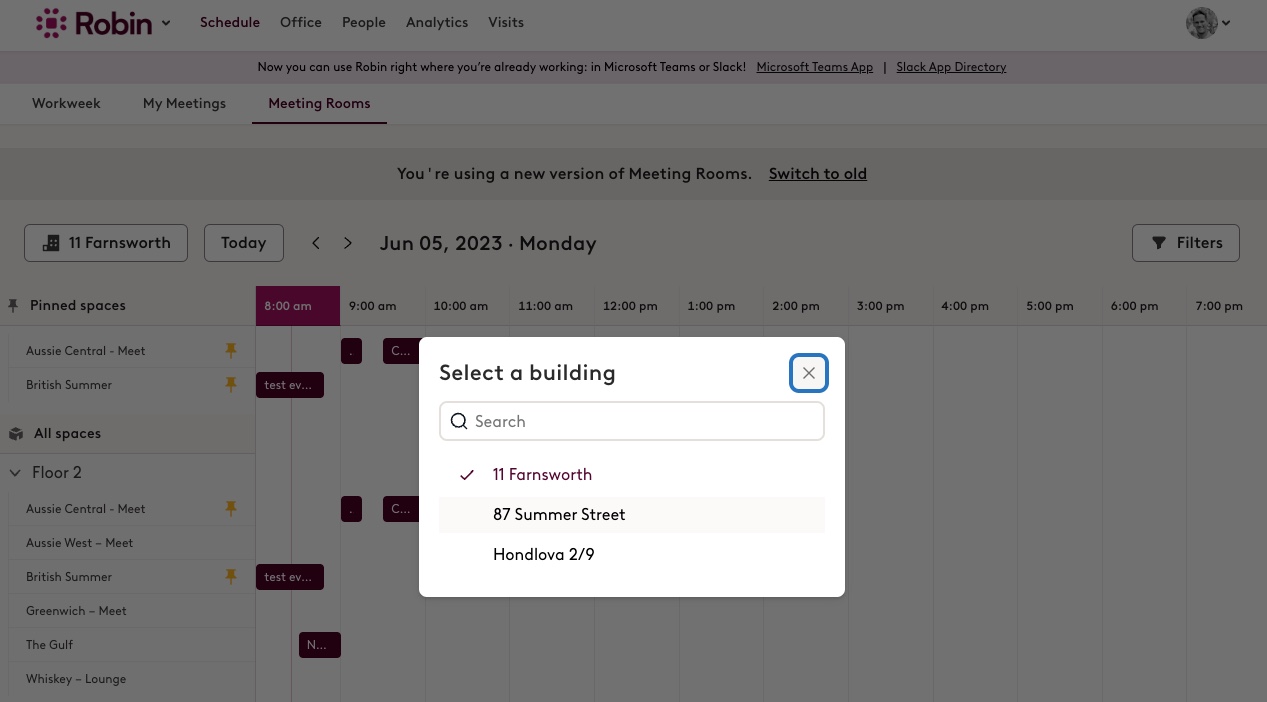 Q: Is the old Meeting Rooms page going away?
A: Yes, when the full functionality has been implemented in the new and improved version. Please share any functionality you believe is missing at feedback@robinpowered.com