If your office is a shared workplace, any tenants who do not share the domain with the host company will need to book spaces directly through Robin. For this guide, we'll assume:
Your company is the host. Typically this means you own or lease the building and set up Robin initially.

You have set up conference rooms with Robin using calendars on the

host

company domain.

You have at least one

tenant

company also occupying your space (i.e. subletter) that will need a way to schedule those conference rooms

without direct access to your host company calendars.
Your meeting room resource calendars will act as the "primary" schedulers. The easiest way to think about this with multiple companies is that the room is inviting you to the meeting. If the room is free, it will create the event and send the invite.  Meeting organizers and attendees will receive a confirmation email with meeting details. 
From Robin's web and mobile dashboards tenants can book time in each room's calendar directly. This way tenant users can book rooms via Robin but don't need to be given special access to your domain's calendars. Best practices will also be to have users edit/manage their events in the same place that they booked them, and so for consistency's sake, we recommend Users in multi-tenant offices book all their events through Robin.
Invite your tenants to Robin
Follow these steps to invite your tenants to Robin. Tenants should bookmark the Robin web dashboard https://dashboard.robinpowered.com/login and download the mobile app for easy access to book through Robin.
Booking a room through Robin
Once logged in to the Robin web dashboard or mobile app, your tenants can schedule rooms using the event composer or update meetings they've already planned using Robin.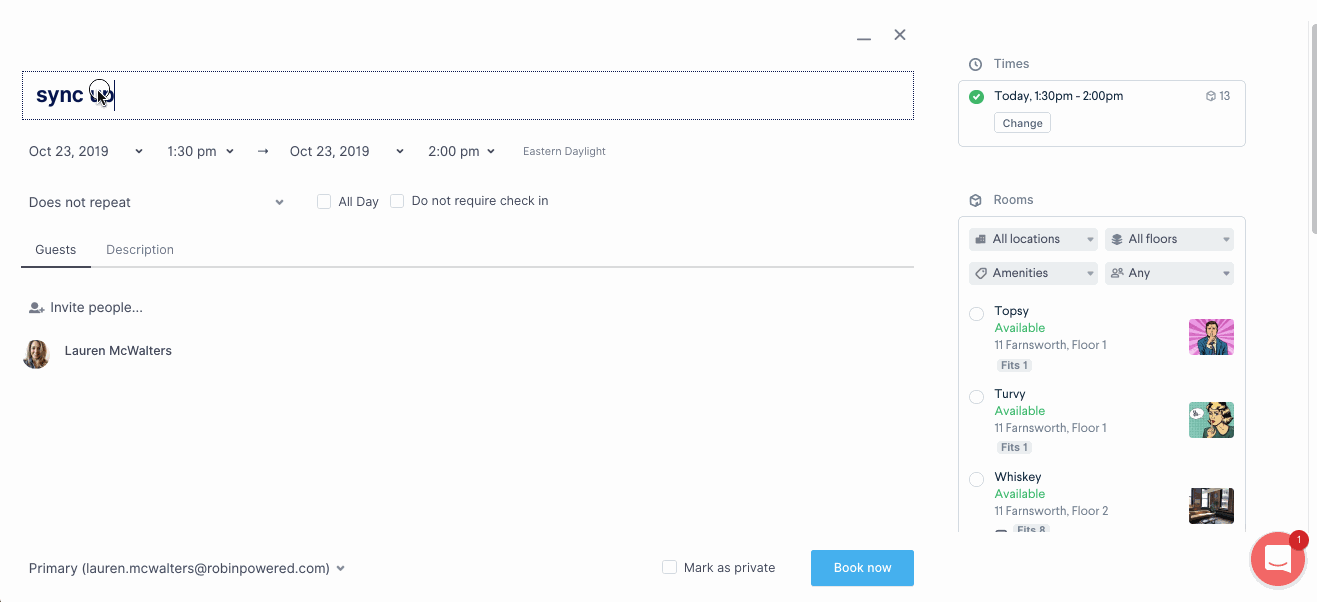 Best practice for tenants
For multi-tenant environments, you may want to train your tenants to view Robin only as a way of reserving the space. This is because most multi-tenant offices struggle with rate limits - which are put in place to protect users and domains from risky behavior. Generally speaking, these pop up when users create too many meetings and are inviting too many people that aren't a part of their domain.
Reservation Mode setting can be used to avoid rate limits by preventing tenants from adding invitees to room reservations - this way, users can create an event in Robin to reserve the space and send a separate invite for guests and attendees.
Booking a room outside of Robin
FYI: This section is for hosts running G Suite, which is most popular for coworking spaces. Office 365 organizations should refer to this article.
Any event booked to a room's calendar will sync back to Robin. If you give your tenants access to calendars directly, you will want to make sure they give your booking user edit permission. Otherwise Robin may not be able to modify meetings (e.g. ending early) when they are created.
What about people who don't use Google?
Sharing editable Office 365 and Exchange calendars with external users directly is a bit trickier, and not possible in most configurations. If you have tenants that use a different calendar system, they should use Robin to schedule the block of time, and then create a duplicate calendar event in their internal system.