Supported calendar systems
Google Calendar
Office 365
Exchange
Required settings
Allow Personal booking
Personal calendar integration
Required user permissions
If you're a power scheduler in the office, like the administrative assistant or team lead, you often have to organize events you don't plan on attending. The Robin event composer makes it easy to juggle scheduling responsibilities with the delegate booking tool. Follow the steps below to learn how to book events for others.
1

Navigate to the dropdown menu in the bottom left corner to open a list of calendars you have permission to book on.
Common Pitfalls for Office 365 users
In order for Robin to pull in the calendars you have delegate access on, you need to "open" the delegate calendar in Outlook first. This adds it to your Outlook "My Calendars" list and will then appear in the dropdown menu in the Robin event composer. Follow the Microsoft guide here for more details.
2

Select the person's calendar the event should live on, or in other words, the person you're organizing the event for.
3

Then remove yourself from the invitee list by selecting the "X" next to your name. This will keep your calendar clear of other folks' events. Then continue to fill out the remaining event details.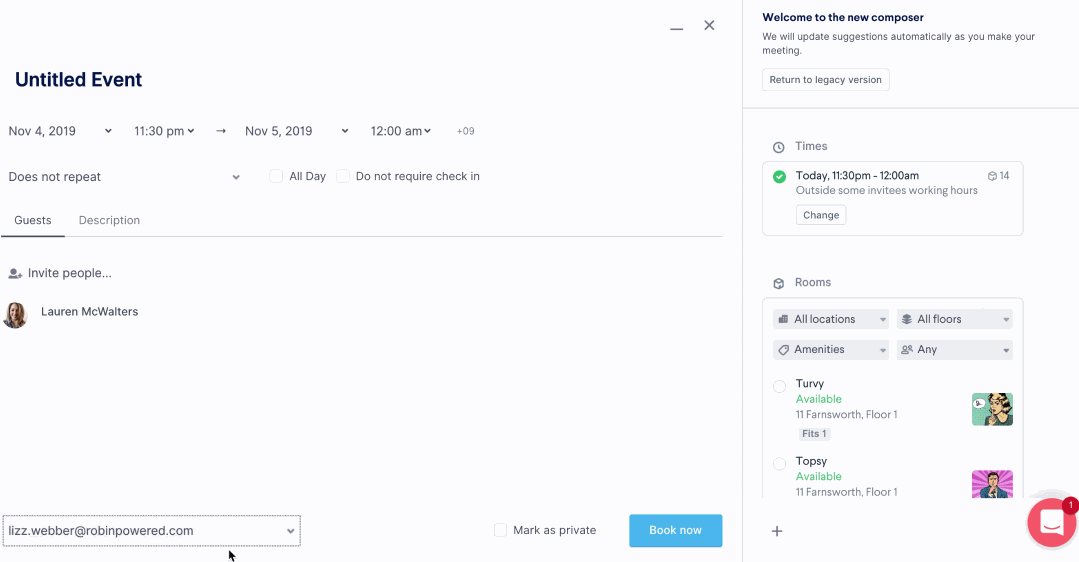 If you've removed yourself from the event, but need to make changes to it, use the schedule overview page to locate the event and make any necessary edits.