Requires
User calendar integration
Google Calendar
Office 365
Exchange 2010 +coming soon!
Heads up
You will need to connect your personal calendar account in order to access the advanced scheduling features with event composer 2.0. Robin respects user privacy and personal events will not be synced.
For Exchange users, the latest event composer will be available soon. Exchange users have the option to opt in to the latest event composer, but the option to connect a user calendar is not available quite yet. Meaning limited access to advanced scheduling tools. Exchange user calendar connection is coming soon!
Overview
You're likely familiar with your current calendar system's event composer and Robin's event composer works similarly, but with a few extra tricks to make managing your schedule easier.
When your personal calendar account is connected, Robin can provide more assistant driven scheduling suggestions and an overall more streamlined user experience. The event composer can help you find the optimal space and time (for all attendees!) for the activities in your workday. Follow the guide to learn more.
Connect your personal calendar account
.
If you haven't already connected your personal calendar, Robin will prompt you to connect it throughout different scheduling workflows. Or you can connect it right from the event composer.
Navigate to the dropdown menu located in the bottom left corner > Connect your calendar.
For Exchange users, the ability to connect your personal calendar is coming soon!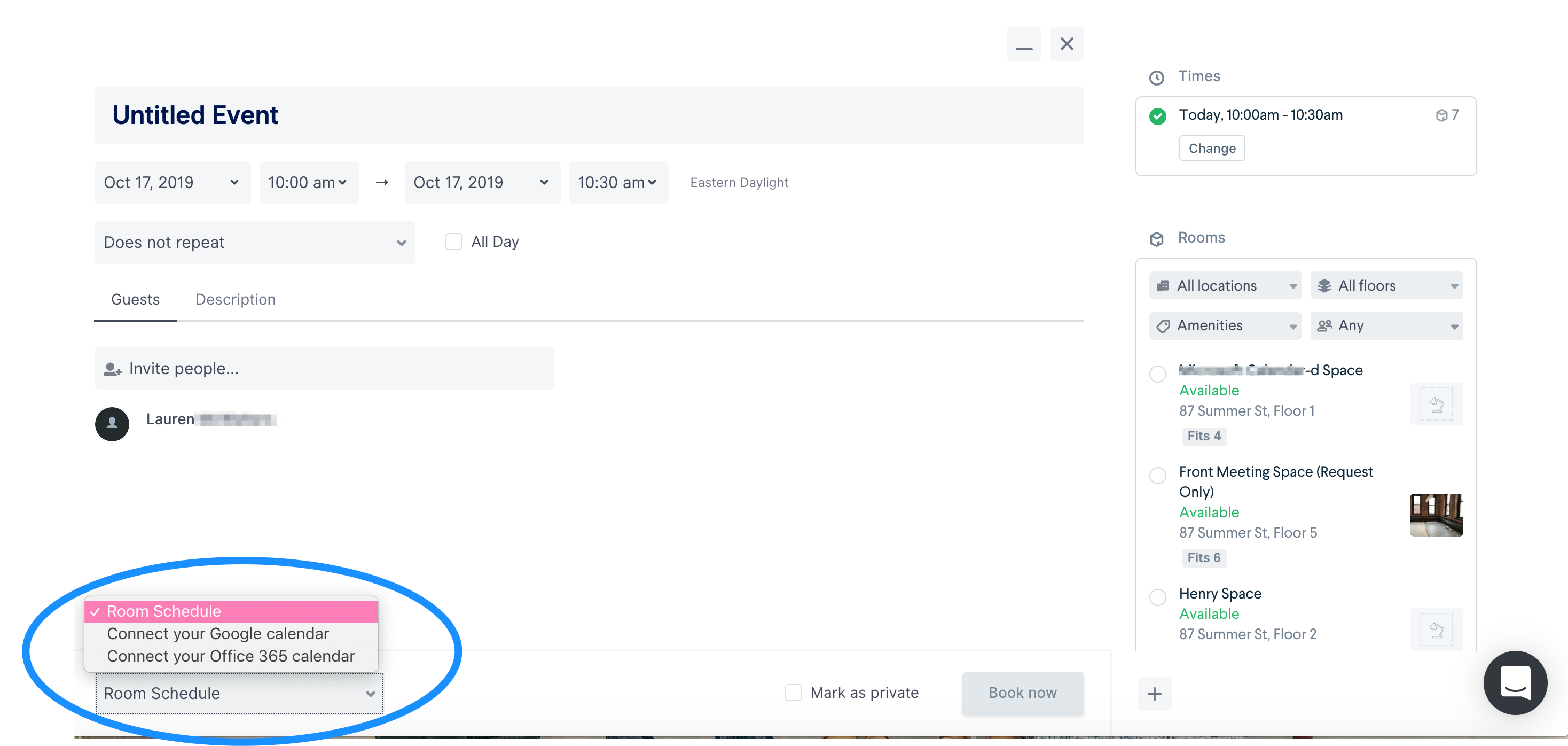 How it works
Inviting others
Invite others to your event by entering their email address or their name. We'll try to auto-complete names based on your contact list, past events, and current user lists within Robin.
Changed your mind and need to remove a person from the invitee list? Hover over their name and click the "X" to delete it.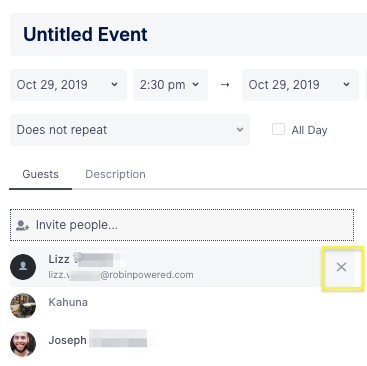 Select the event time
Robin will suggest times based on your set working hours (as the organizer) and the invitees availability within in the same domain.
Preview other's availability before booking to ensure the selected time works for everyone.

If no "best fit" spaces are available at the selected time, Robin will show other options, or suggest times when spaces and invitees are available. To see more time options, select

change

.

The list populates the "soonest available" times by default. To adjust the timeframe, click the dropdown menu for additional options; soonest available, within a week, in two weeks.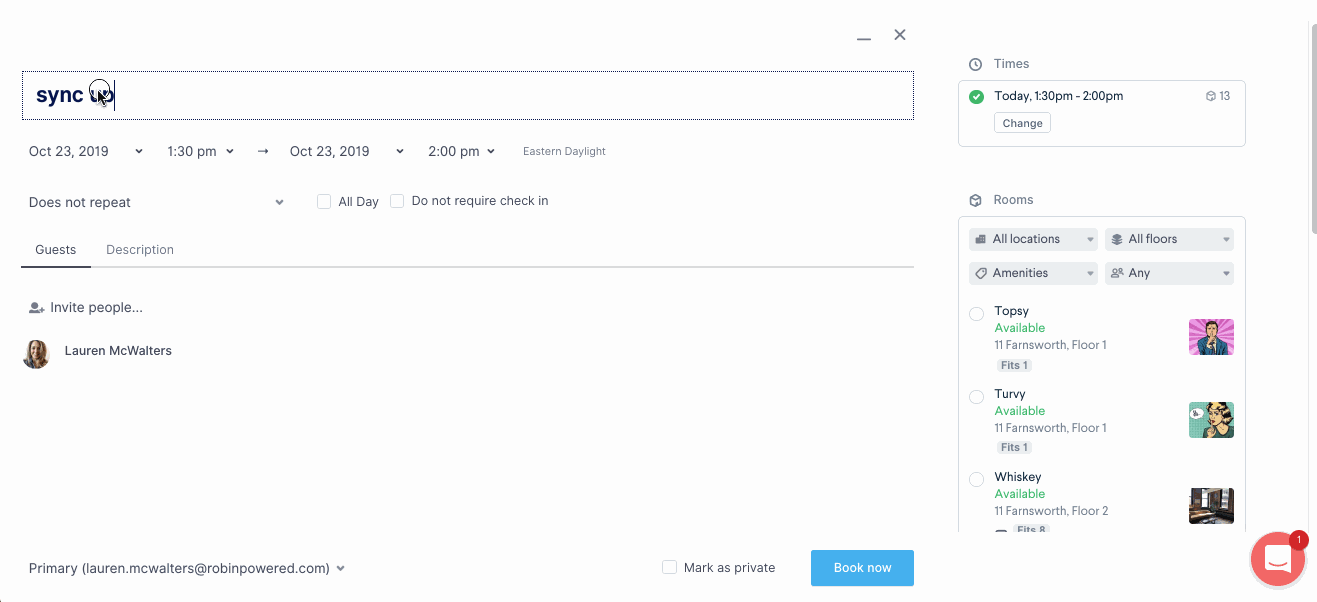 Next up, select the space from the suggested spaces.
Select a space
Robin works hard to help you find the best space for your activity. We will automatically check for scheduling conflicts and suggest the best spaces based on permissions, availability, and fit. You can also--
Add events without spaces. Block time off for focused work, or add your lunch meeting to the calendar.
Add ons
Meeting services
If there are any meeting services included on the event, you'll see them included as invitees of the meeting as well. You can learn more about how meeting services work here.
Video conferencing
Select your integrations (Zoom and BlueJeans) in the event composer to include a video conference link.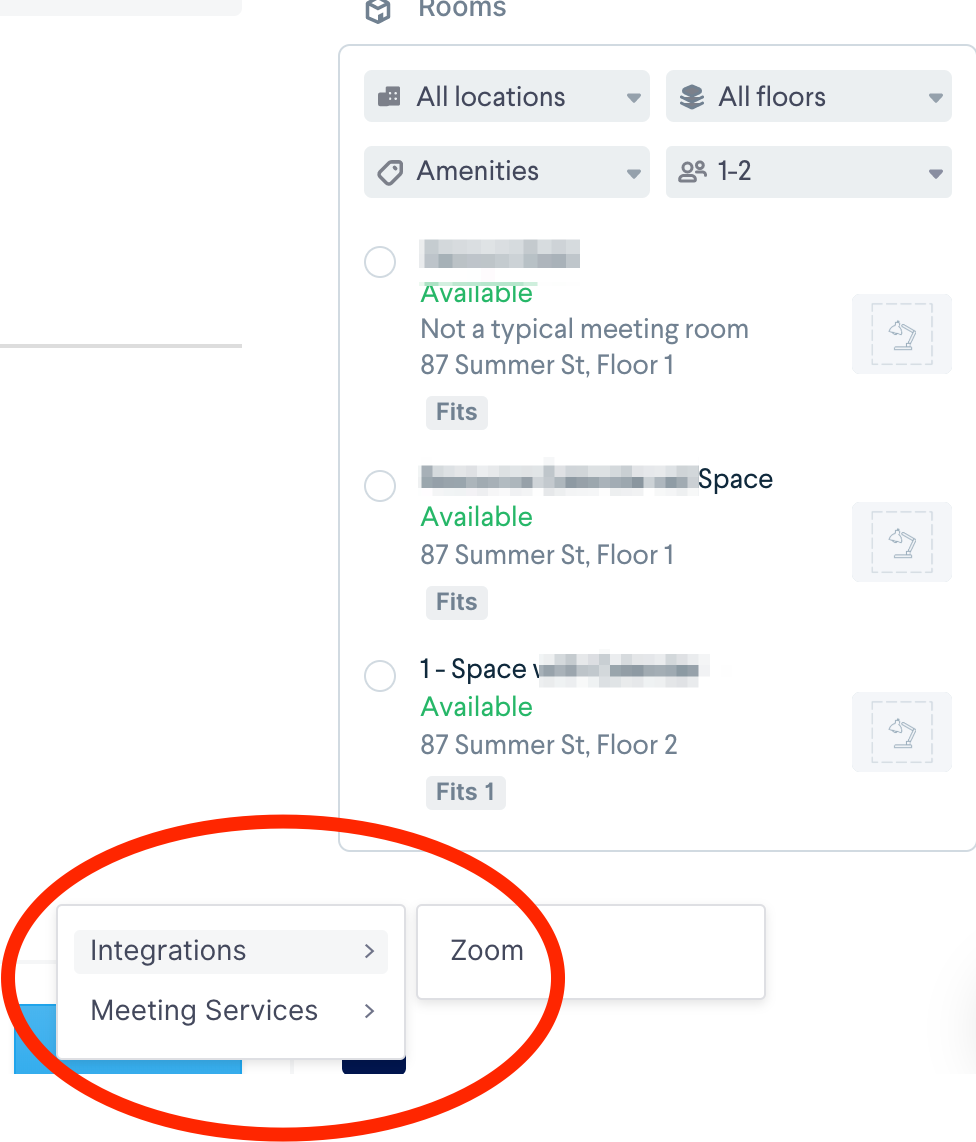 Delegate booking (requires admin configuration)
Delegates can organize events on behalf of a person while keeping their own calendar clear of events they don't need to attend. This scheduling tool requires admin configuration and a few extra permissions. To learn more about delegate booking and the requirements head this way.
Use the dropdown menu in the bottom left corner

to open a list of calendars you have permission to book on.
Then select the person's calendar the event should live on or the person you're booking on behalf of.
Lastly, if you don't plan on attending this event, hover over your name in the invitee list & select the

"X"

to remove yourself from the event

.

This will keep your calendar clear of other folks events.

If you've removed yourself from the event, but need to make changes to it, use the

schedule overview page

to locate the event and make any necessary edits.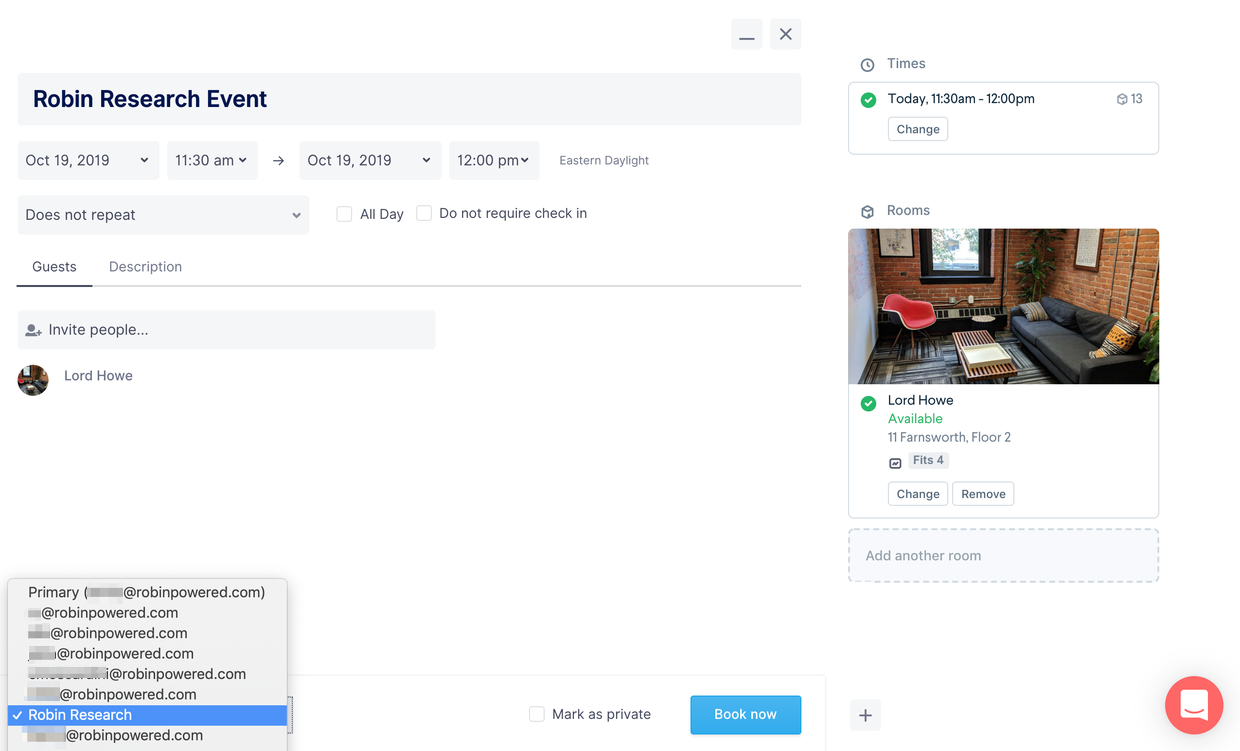 Note: these permissions are granted in your native calendar system. If you're not seeing the calendar you wish to book on, contact your office admin to check your delegate booking permissions.
Prefer the legacy event composer?
Users have the option to revert back to the original event composer ,by selecting the `return to legacy version` button inn the top right corner of the event composer.