WIP: This is an early access feature available for desk management. Understand and manage the impact of physical distancing on your floor's capacity. Learn more about best practices while planning your return to the office.
Overview
Robin's Desk management product is one of the ways to help manage the transition back to the office. The most common use case is an easy way to plan updated seating assignments and communicate with everyone involved. All of this happens on a map that looks just like your office, so there's zero confusion.
Desks on a map provide visual assistance & distancing projections to help admins decide which desks to make available for employees to use. This gives you the power to move your people around and experiment with layouts of safely-distanced desks using drag and drop. Run through the prerequisites outlined before getting started.
This guide assumes that you already:
Submitted floor plans to your Account Manager and the

converted Maps have been successfully uploaded to your Robin account.
Created floors

in Robin to assign your map to the corresponding floor.
Created

spaces

in Robin for your desks to live.
Created desk pods or tables in Robin.
Reached out to your Account Manager for early access to the distance planning tool.
Follow this guide if you still need to set up desks.
How to get started
Check out the video tutorial for an overview and then follow the steps outlined below.
1

From the Office page in dashboard, select the Desks tab > Manage > Configuration.

2

Select configure mode at the top.
3

If you previously had a desk floor plan configured, we recommend treating this like an office move and starting a new plan.

This will disable all desks and clear any previous desk assignments & reservations.

Assigning desks for the first time? Skip to step 4.
(If you prefer to work off of the current seat arrangements-- skip to step 4.)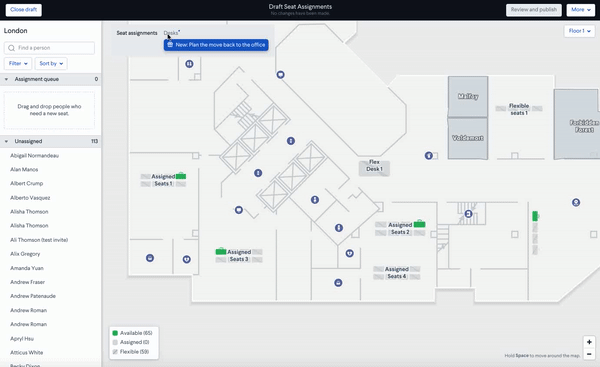 Common Pitfalls
If folks are currently assigned to desks or have desk reservations, it's important to note that disabling a desk or "starting a new plan" will unassign the person from that desk or terminate reservations. Don't panic if you weren't ready to cancel desk assignments or reservations-- remember this is only a draft. No changes are official until you publish the draft. However, once it's published we cannot recovery or revert back to the original plan.
4

Enable or disable desks & changing desk type
A. Click & toggle
Start clicking on desks > toggle to enable/disable from the pop up menu. When a desk is enabled the impact radius will appear.
Click in the green bubble to adjust the size of the distance radius. Note, the size does not save between draft sessions. (See an example here)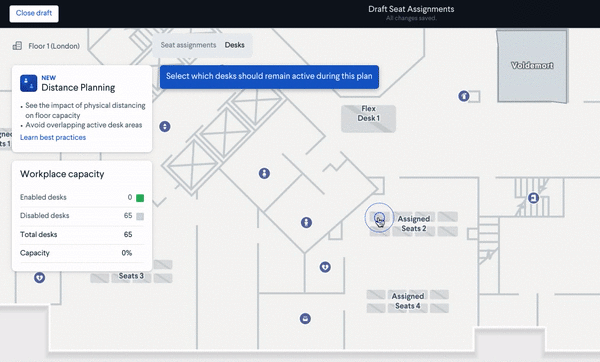 ⚡Hot tips: Hold the CMD/ CTRL button while clicking desks to automatically enable a desk + distance radius.
B. Change desk type (optional)
You can also change the desk type from assigned, hot, or hotel right from the desk management map.
C. Select multiple desks
Use your cursor to create a box around multiple desks.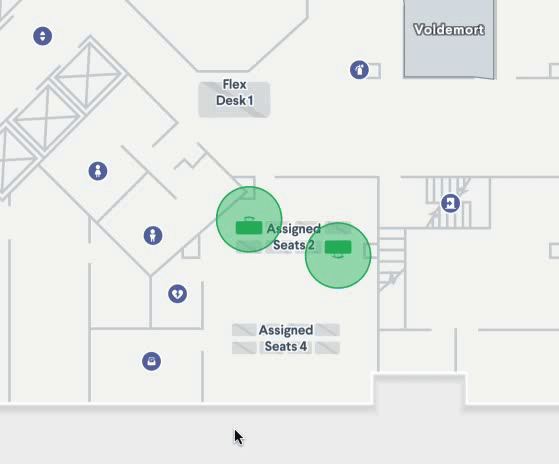 5

Use the floor overview legend to help measure desk availability.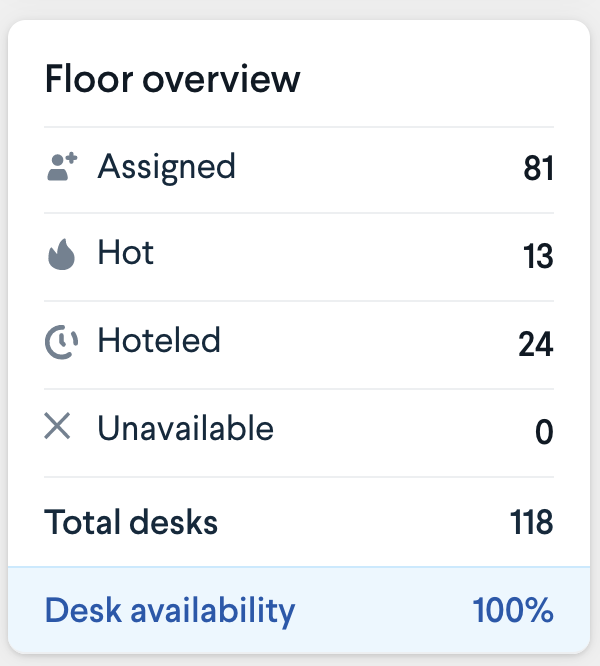 📝Navigation tips:
To move around the map (pan gesture) hold down the space bar before clicking to drag.
Zoom in to see the desk assignee names.
To switch to another floor in the building, select the "Floor" button in the top right corner.
Adjust the size of the distance radius by hovering over the green bubble to activate the resizing tool. See example below. Note, the size does not save between draft sessions.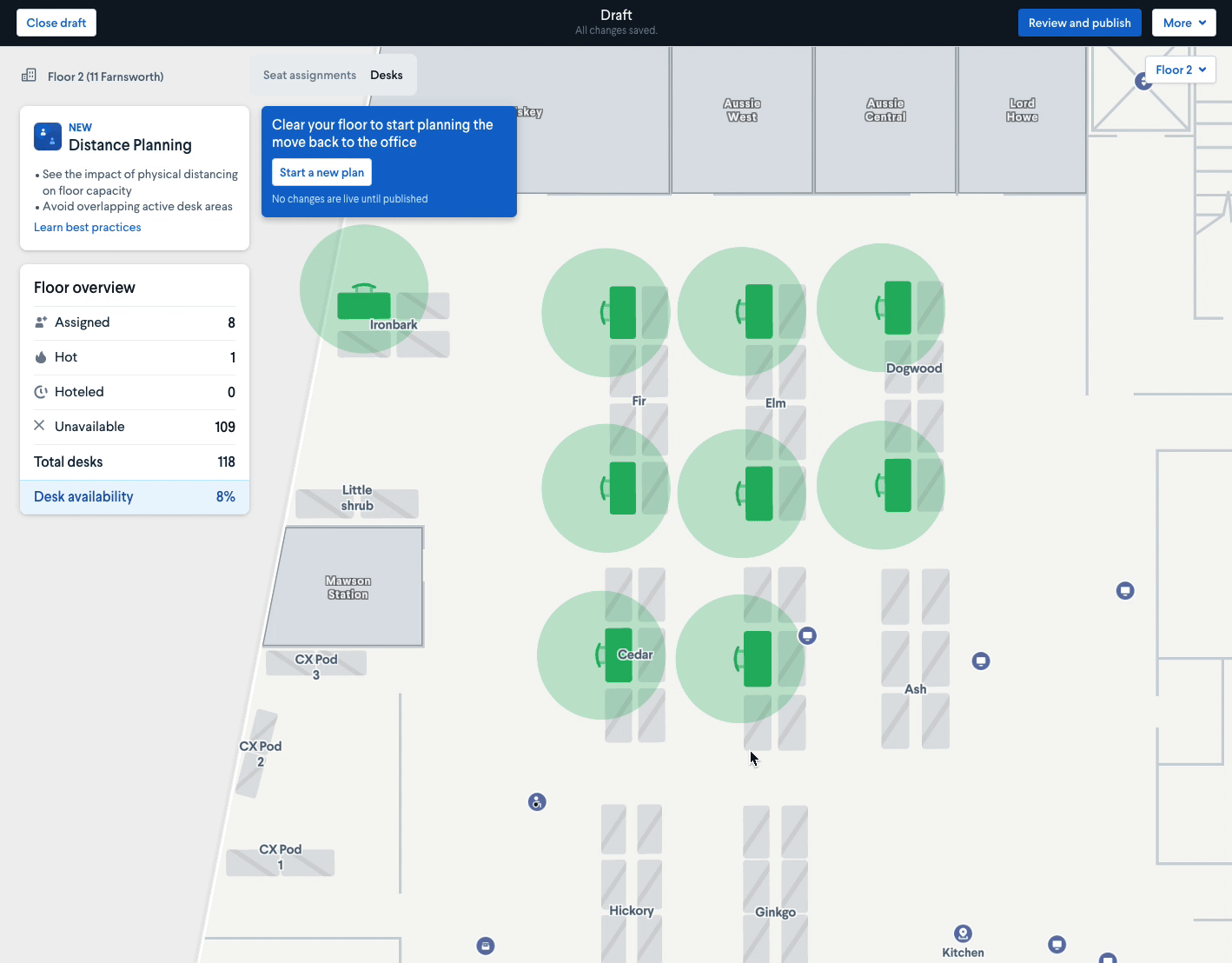 Keyboard shortcuts menu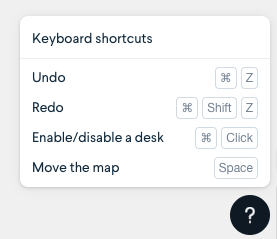 6

Saving & publishing changes

Draft mode:

Whether you're assigning seats for the first time, shuffling folks around, changing desk types, or enabling/disabling desks, you're working in draft mode.

But let's say you're not ready to push those changes out for everyone to see?

Exit the draft mode and all the edits will automatically be saved as a draft. Seat assignments and desks operate under the same draft.

If your floor plan is made up of assigned seating then Return to seat assignment mode (top center buttons) to reassign the active desks via drag & drop.

Publish mode:

Read before publishing!

Publishing a draft will wipe out all current seat assignments and desk reservations. We do not store original copies of floor plans & seating arrangements. The original arrangement cannot be retrogressed on our end. We recommend triple checking the new plan before publishing a draft. No changes are official until you publish the draft. Or you can discard the draft and all assignments/reservations will remain the same.

When you're ready go live with the seat assignments and/or desk management plan, select Review and publish in the top right corner. Or discard the proposed draft changes under the "More" menu.

Review the changes outlined in the modal:

If you didn't make any changes in the seat assignment mode then this message will only include a desk summary.

Does your floor plan include hotel desks?

Consider reviewing your hotel desk reservation policies for additional restrictions.

✨

For more planning tips and strategies check out our hub of resources for CORONAVIRUS WORKPLACE READINESS