With Robin, booking a desk at the office is easy, with access to real-time schedules and availability. You can book a desk when you're planning your hybrid work week on the Schedule page, or you can jump to the Office page for more advanced booking features (i.e., booking a desk for multiple days).
Need to reserve desks for others?
User roles with desk delegation and/or desk assignment permission can reserve or assign desks for others the same way you reserve a desk for yourself. However, the desk delegation permission does not support editing the date, time, or floor of another user's reservations, only end or cancel functionality.
Booking a desk from the Schedule page
1. Open the web dashboard and click Book a desk on your WorkWeek schedule. Robin might ask you to select the office location you want to join if you haven't set your office building preference yet.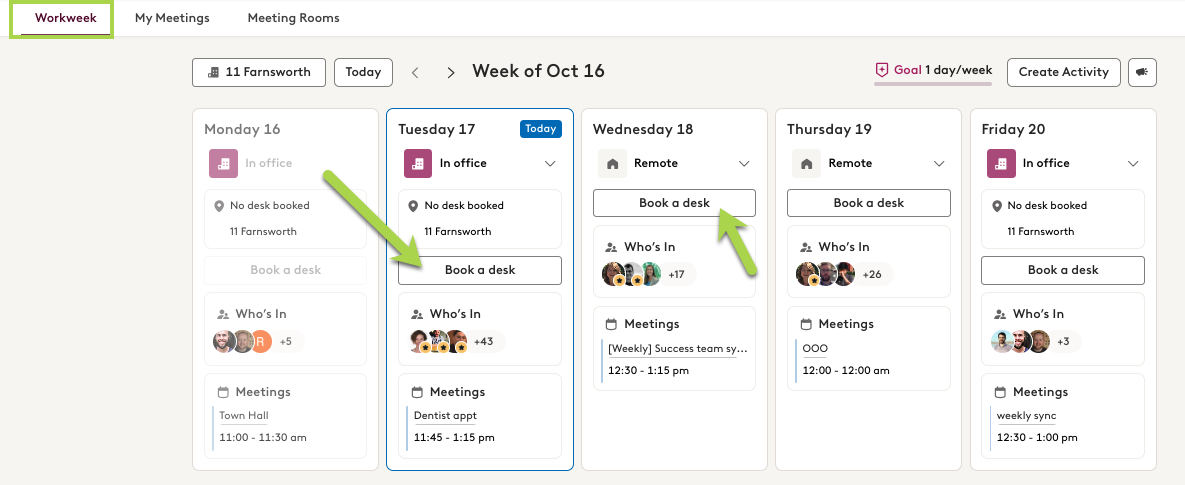 2. Use the interactive map to find a desk to book. Adjust the reservation time using the time pickers at the top of the map & click on a desk for more information. The start/end times respect your office's work hours.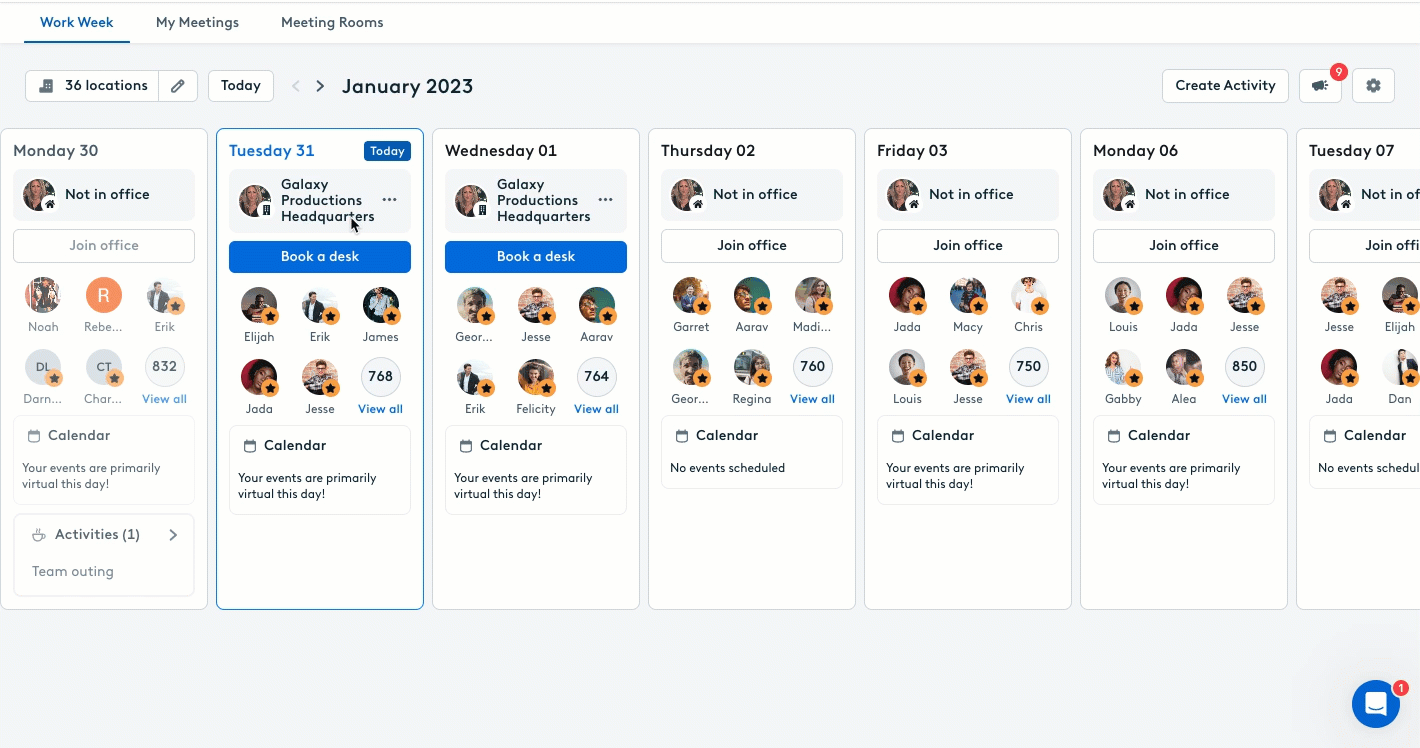 3. Then click Save booking.
How to book a desk from the Office page
1

Navigate to the Office tab, select a desk on the map to book "right now," or click Book a desk for additional search criteria.
2

You can set your search criteria using the drop-down fields at the top, including any amenities (e.g., a monitor) you may need at your desk. A few things to note:

- The start/end times respect your office's work hours. Assigned seats automatically default to office hours & can't be adjusted.

- If your office supports hotel desks then you have the option to make reservations for 1+ days by selecting the multi-day check box in the calendar modal.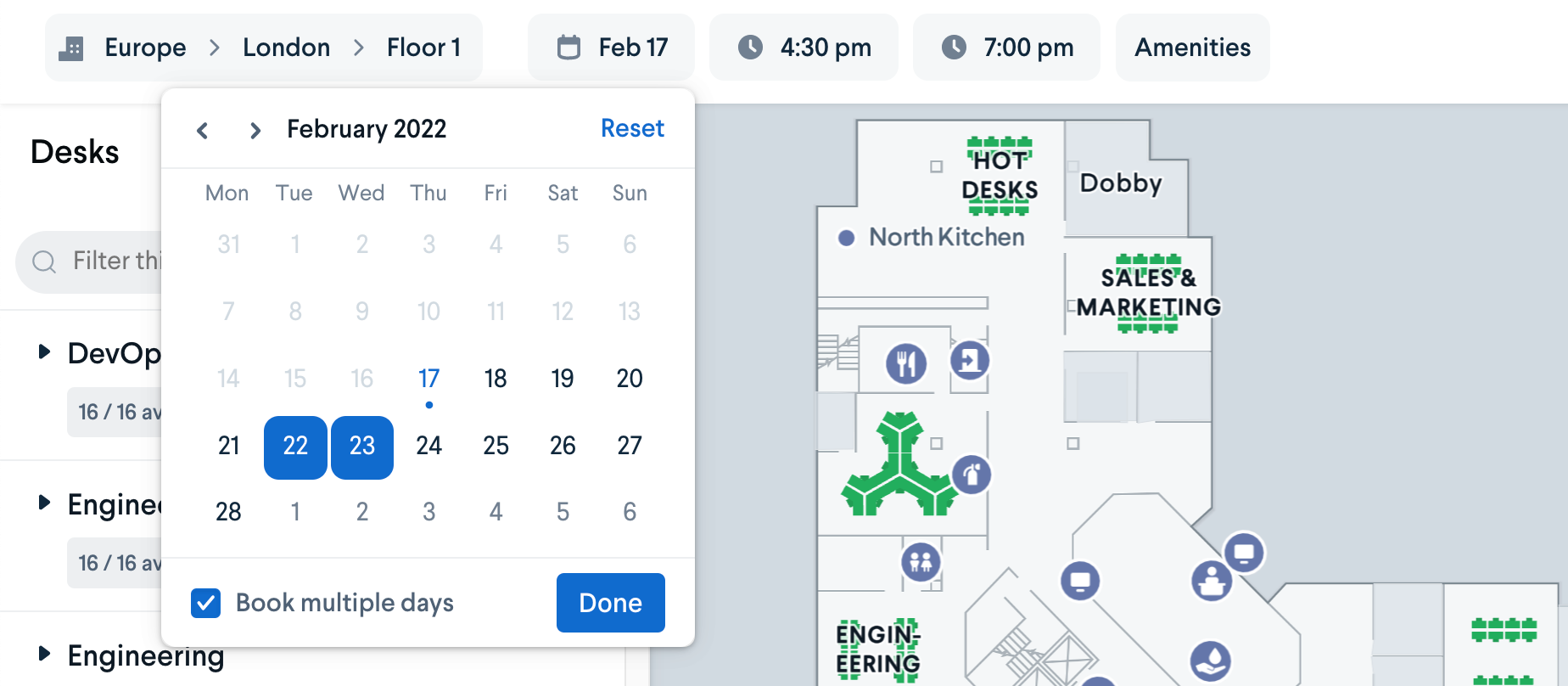 3

Click on a desk for more details & click Reserve. Enter name (or email if the user is not a Robin member yet).
4

If you checked the email notification box then you or the person you reserved/assigned the desk for will receive an email confirmation that will look something like this:

5

Desk policies your office may implement to keep on the radar:
If your office uses the health checkpoint survey, then the survey will automatically open if you made a reservation that starts within the active survey window. (captured below)

If your office requires desk check-ins and you book a desk within the confirmation window, your reservation will automatically be confirmed.
Viewing & modifying reservations
You can modify your own reservations right from the office map or under user profiles. Note, that delegation permission does not support desk reservation edits at this time.
From the office map
Look for a "Your desk" marker on the map to find your desk > click on the desk to open the reservation module. Then you'll see the option to edit, cancel or end your reservation.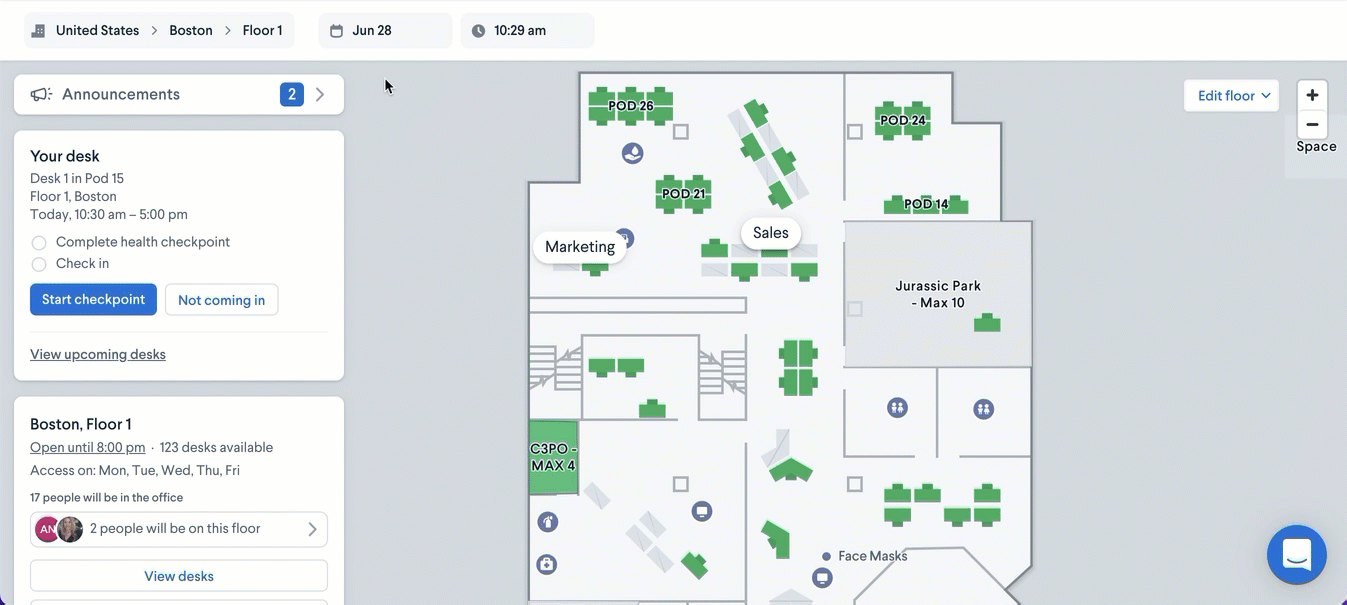 Note, that you can only change the dates for a multiple-day reservation, not the time or floor.
Or follow the View upcoming desks link to be redirected to your user profile for a full list of your reservations & assignments and the option to make changes.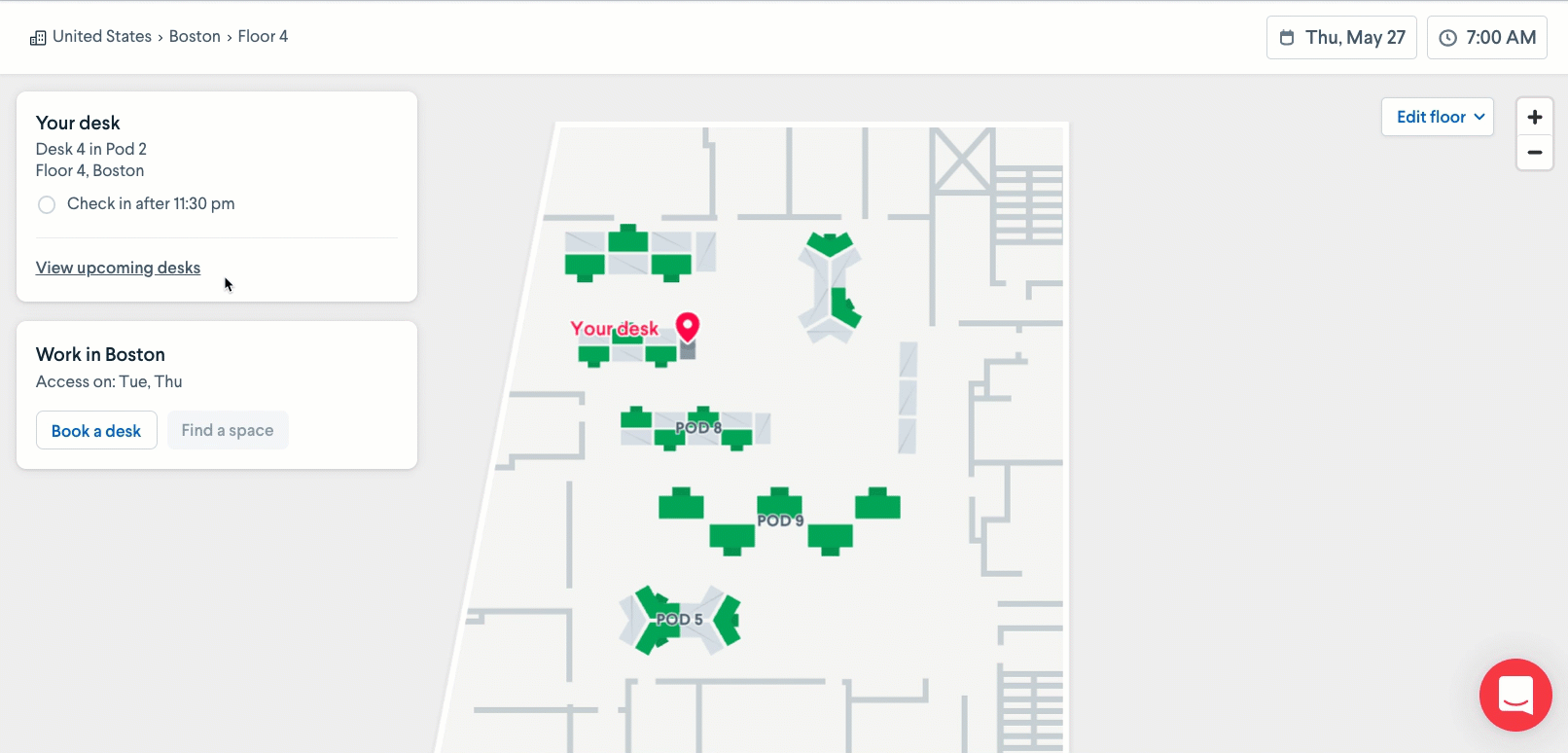 User roles with delegation permission have limitations
Limited to ending or canceling a desk reservation on a user's behalf. This permission does not apply to desk reservation edits, which include changing the date, time, or floor.
Find the desk reservation directly on the map or click Book a desk to enter the user names in the search bar > click on the desk and click Cancel reservation.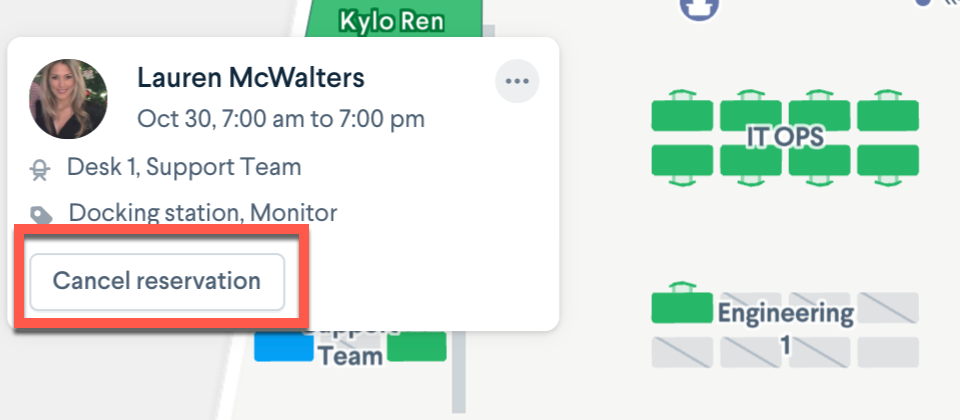 Or you can use the People tab to search for the user and edit their desk reservation/assignment from their profile page.
Office search tips to keep in mind:
Desk status colors:

Green = Available

Dark grey = Occupied; click to see who is occupying it.

Grey Slash (/) = An administrator made the desk unavailable for use.

User permissions: You can see all spaces/desks from the map, but only the resources you have permission to book (and are available) will show as "green" and available to reserve.

Office access: We'll call out the days you do and don't have permission to use the office. You'll notice the "book desk" button is not emphasized and the desks appear faded on days you don't have access.

Office capacity: We call out the total number of desks available to book and when the office is at capacity and no longer accepting desk reservations for that day. Note, this does not include assigned desks.

Office hours: Robin warns and may block you, depending on how your office is set up, if you're trying to reserve a desk or room outside of the set office hours.

Assigned desks: Assigned seats automatically default to the office building hours, which are set by your Robin admin. Meaning you can't adjust the "reservation" time, like flex desk reservations. For example, if your office building hours are 8 am-5 pm then your assigned seat starts at 8 am and ends at 5 pm.