The Office search UI gives greater real estate to your office map, leading to better discovery, understanding, and wayfinding within your workplace.
Key Highlights
The office tab shows all elements of the workplace on the map, making it easier to find a meeting room or desk near your team. Users can see

all

spaces/desks from the Map, but only the resources users have access to book (and are available) will show as "green" and available to reserve.

The default state of the Map is "now"; picking a date and time will update the availability and status of the floor based on the new time.

Users only have access to book the available spaces/desks that they have permission to book.

Disabled desks will show as "crossed out" and will be unavailable to book on the map.
Overview
When you open Robin, you'll see your office map showing availability of both spaces and desks for "right now". Click a resource from the map to preview the details and book it.
Use the date and time drop downs to select a different reservation date. You'll notice the map updates to display the status of the floor's available resources based on the new time.
Click the campus name (e.g. Boston HQ), building name, and/or floor to view the map of another location in your workplace.
Clicking on "Spaces" or "Desks" reveals resource-specific filters for capacity, amenities, and/or type if you're looking for something specific. Including the option for multi-day desk reservations.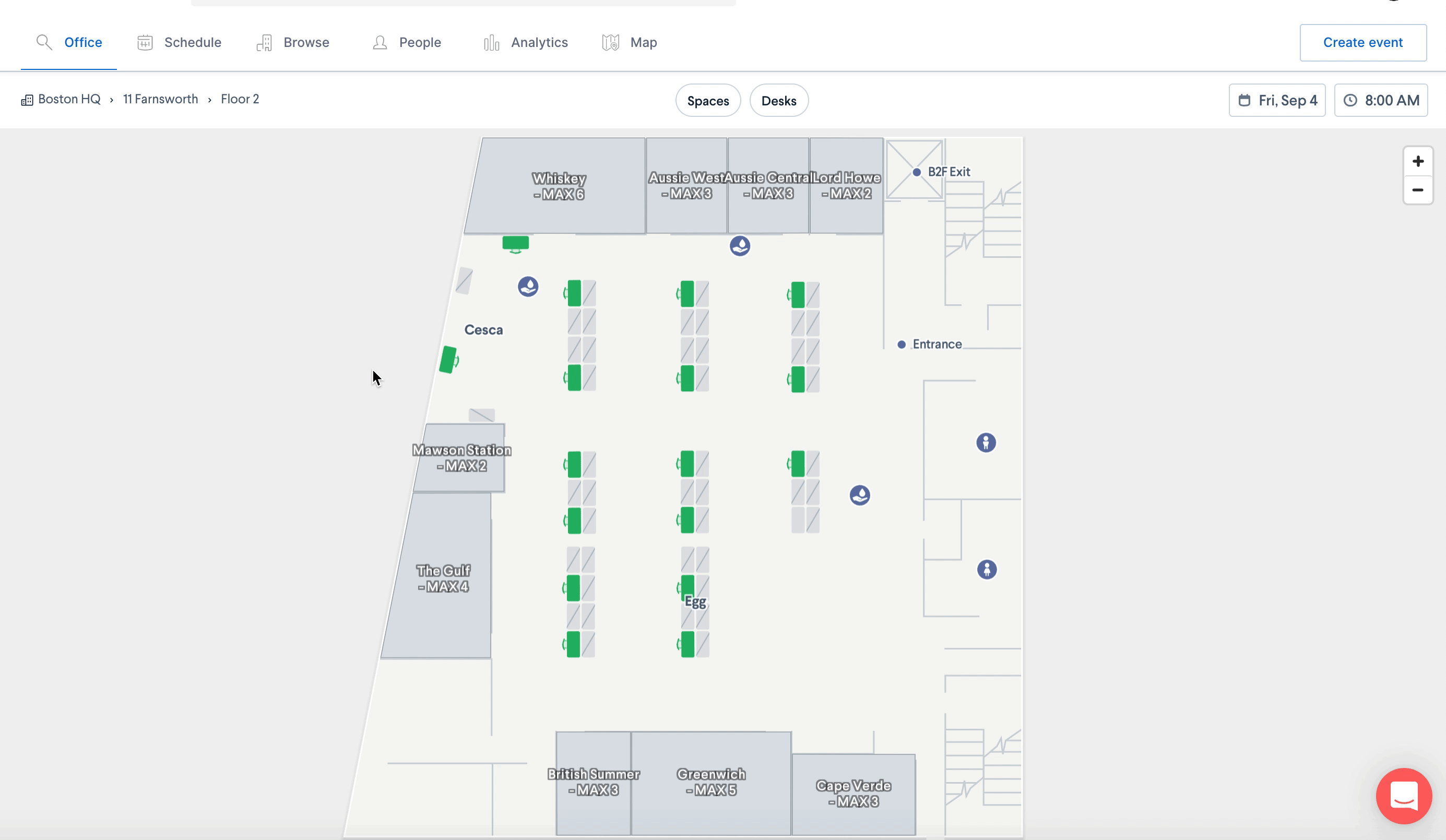 Reserving a desk
Robin uses the following desk status colors to help users find a desk quickly.
Green = Available
Dark grey = Occupied, click to see who is occupying it.
Grey Slash (/) = An administrator made the desk unavailable for use.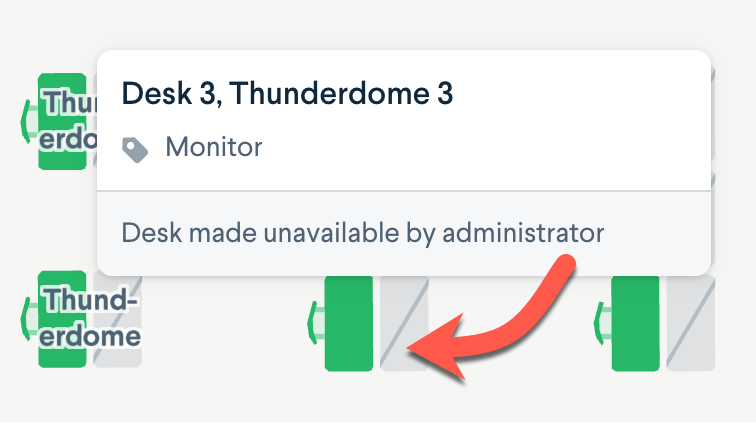 1

Select the Desks bubble for additional desk search criteria.
A. Use the amenities filter to find a desk with specific equipment you need for a productive workspace (e.g., monitor & keyboard).
B. Select a date, time, & duration. The start/end times respect your office's work hours.
If your office supports hotel desks, you can make reservations for 1+ days. Use the date picker to open the calendar modal > select the multi- day check box & click the dates.
Note: Multiple day reservations are for all day. For more customizable reservation times book the desk reservations independently.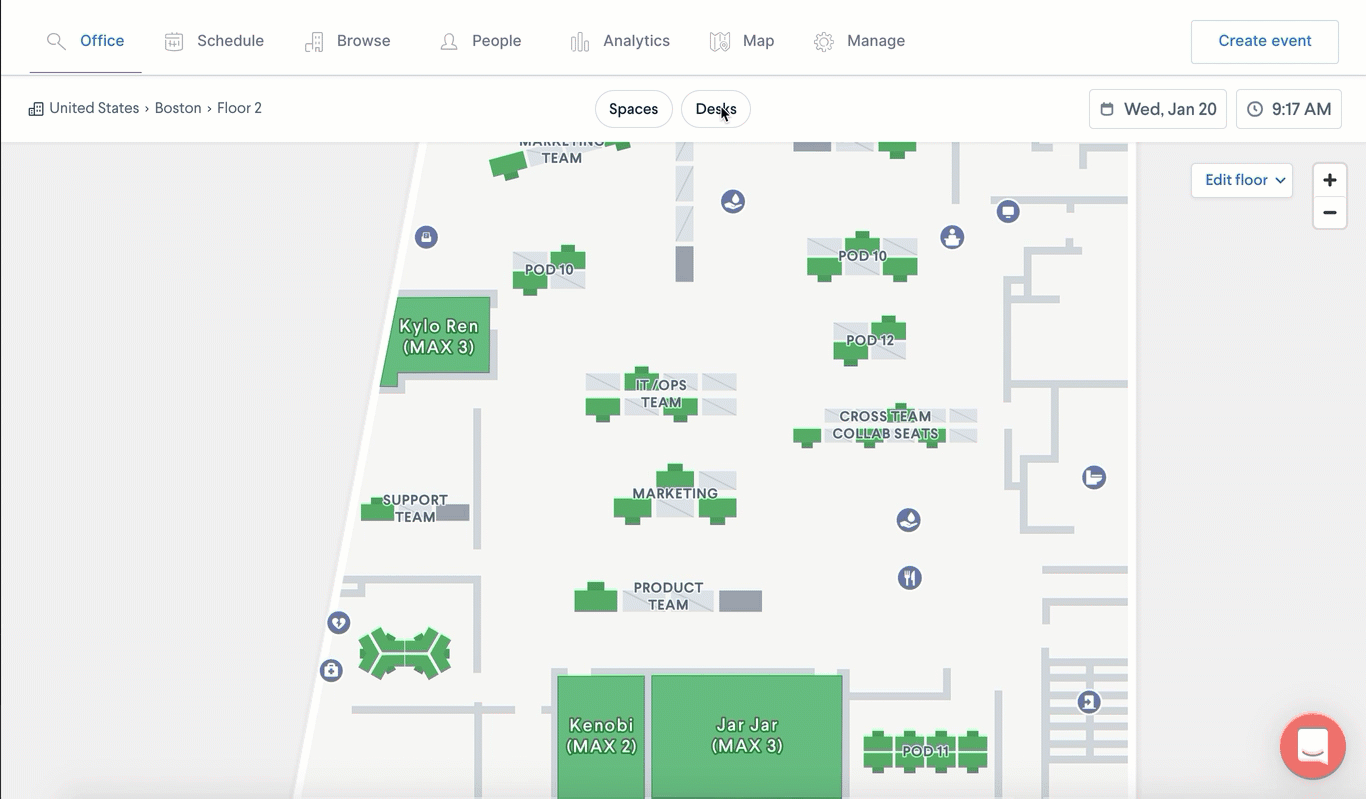 2

Poke around the map to find a desk you like. When you click on a desk an info card will pop up with more information, including; available amenities, location & potential booking policies.

A. Enter your name in the field > select

Reserve.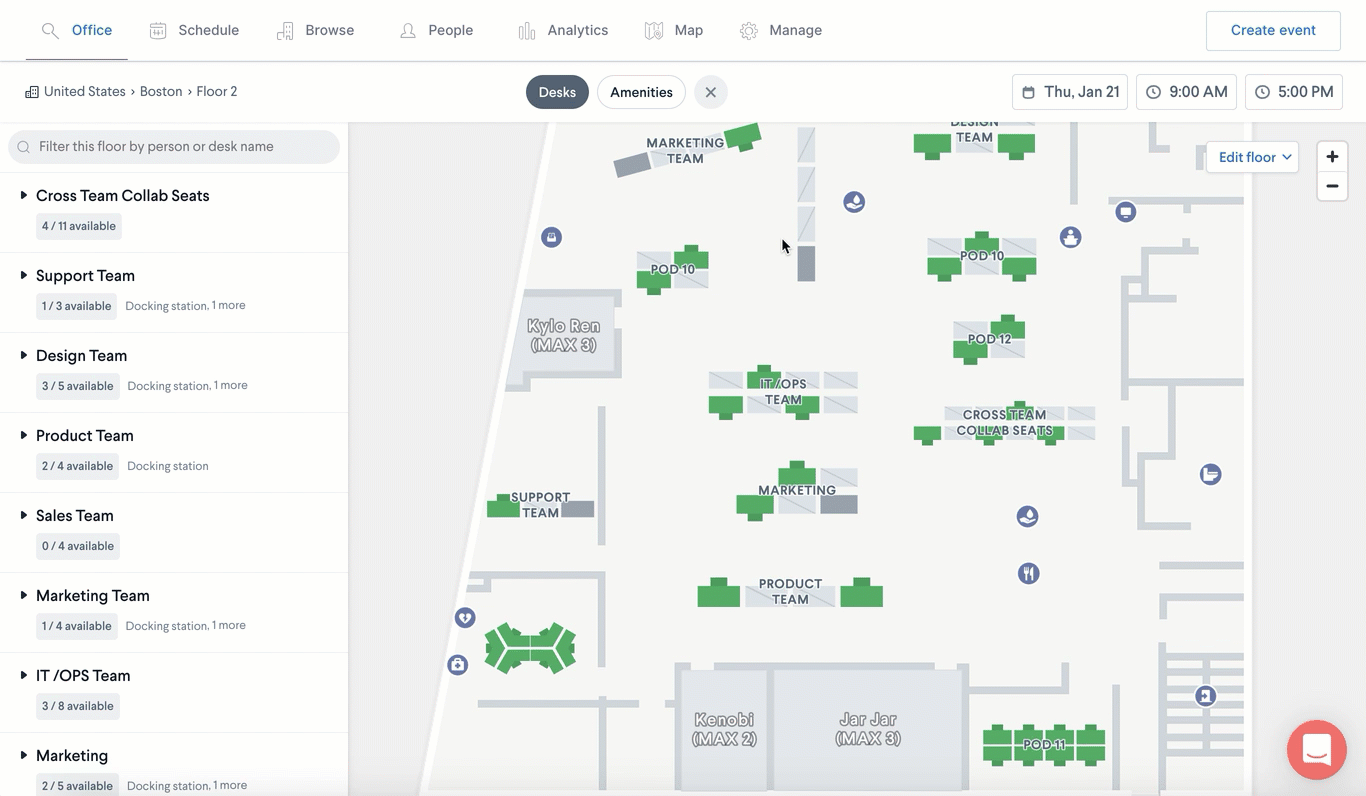 B. Admins & custom roles with desk delegation and/or desk assignment permission can reserve or assign desks on an employees behalf. Check the "Send notification email" box if you wish to notify the employee of their new desk reservation/assignment.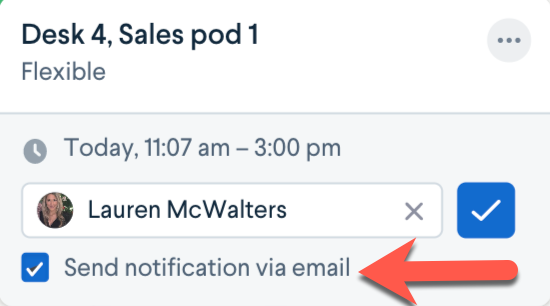 Changed your mind?
From the map pop over you'll see 1 of 3 options based on the status and type of reservation made:
1. Select Cancel reservation for a reservation that hasn't started yet.
2. End reservation if the reservation is already in progress.
3. Change dates for a multi-day reservation.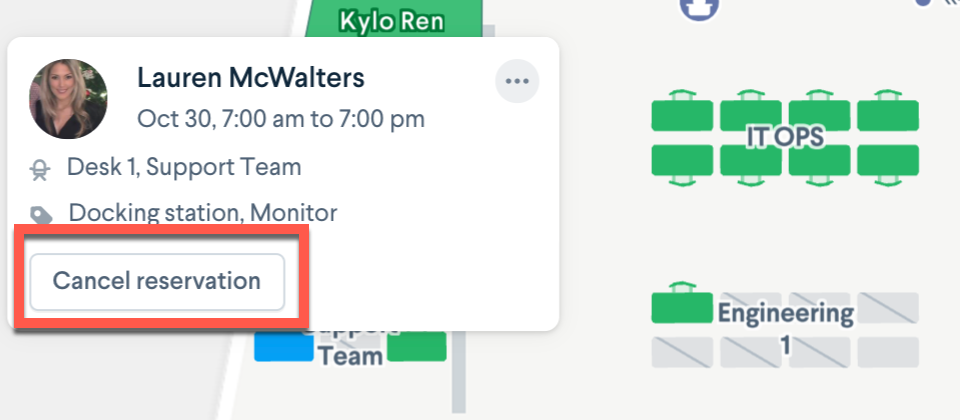 3

After completing the reservation, you'll receive an email confirmation that will look something like the image below. You can always refer back to your desk reservations under your user profile too.

Reviewing & modifying reservations
If you have any desk reservations, you'll see a blue "Manage my desk(s)" next to your user profile icon.
This takes you to your personal desk management page where you can review, modify, & end/cancel current or upcoming desk reservations.
Note: If the desk reservation is in progress you'll see the option to "End reservation". If the reservation is for a future date you'll see the option to "Cancel" the upcoming reservation.
Admins can review desk reservations using the desk export.
Modifying multiple day reservations
Select change dates (captured above) and use the calendar (captured below) to add or remove dates to your reservation.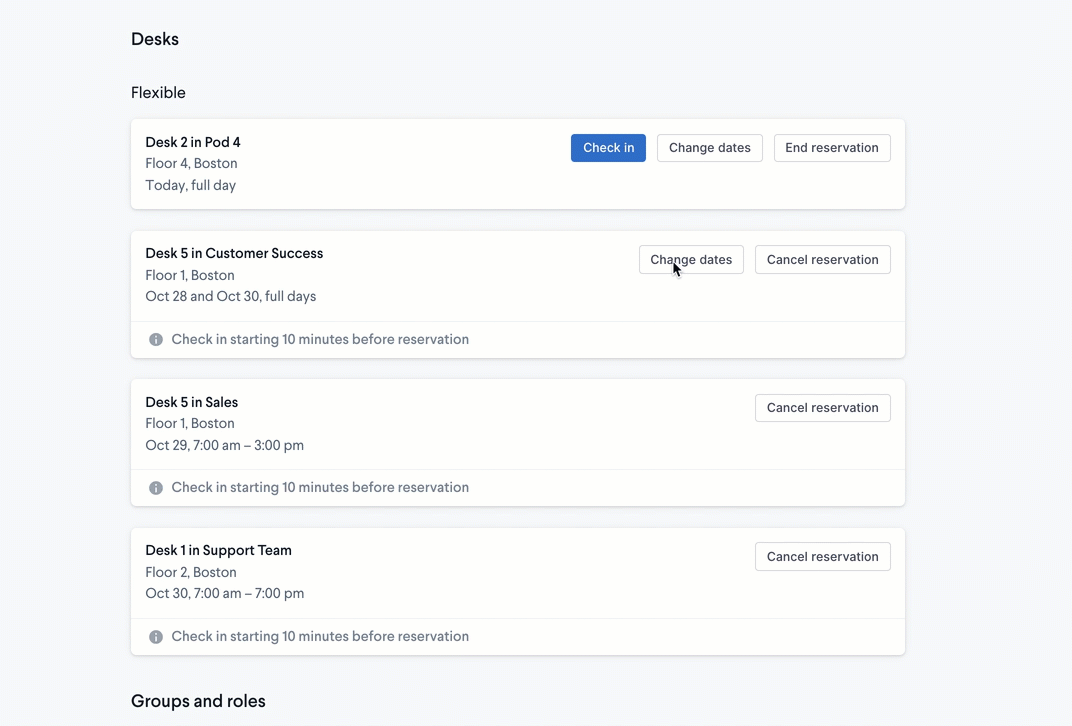 Reserving a Space
By default, Robin uses the following space status colors to help users find a space quickly. Note, status colors are customizable and may vary.
Red

= In use

Green = Available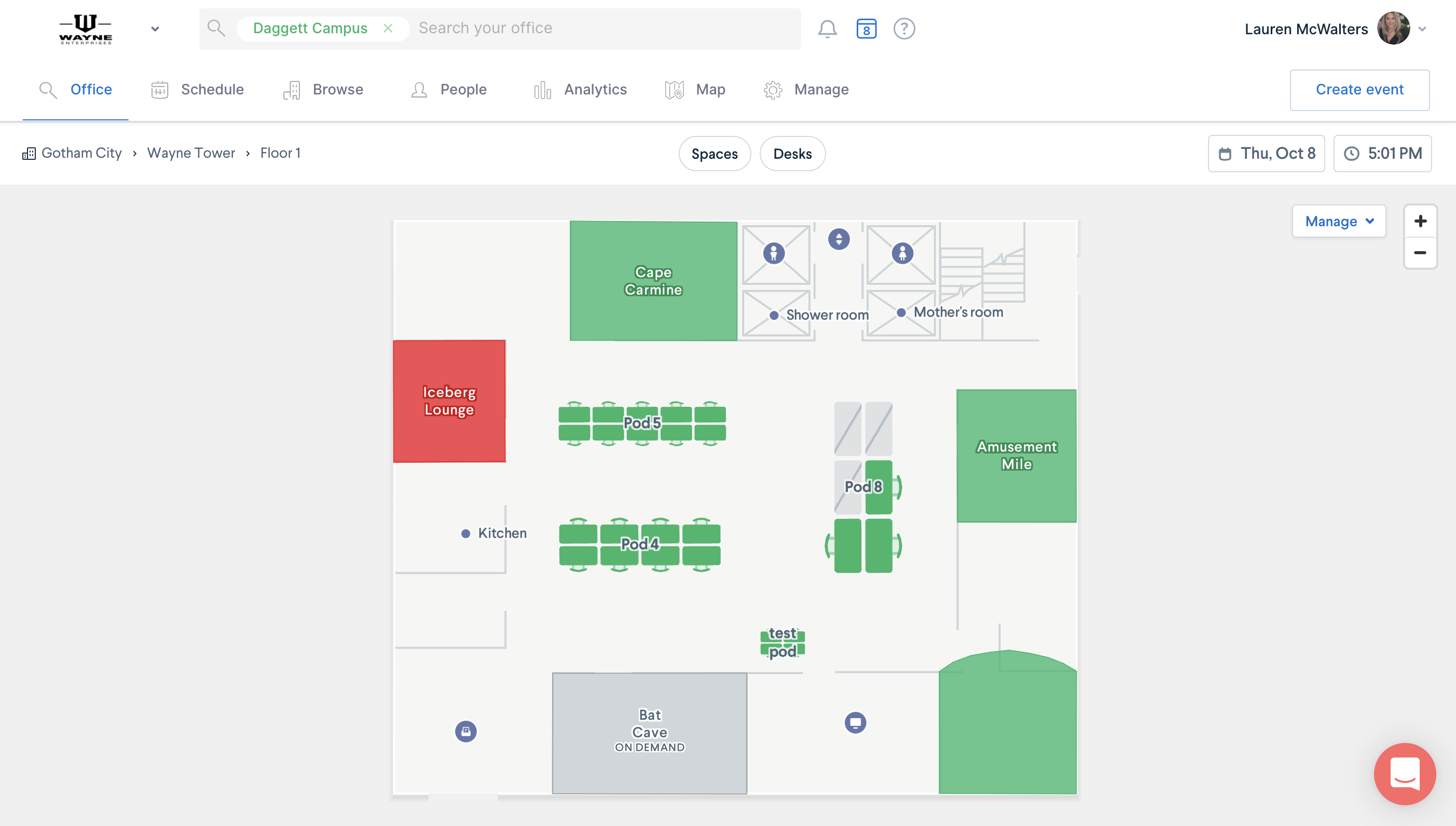 1

Select the Spaces bubble for additional space search criteria to find the optimal space for your needs.
A. Filters are optional and help narrow your search (e.g. amenities, # of attendees/capacity, & space type).
B. Click on the date & time fields to change the date, time, & duration.
2

When you see something you like, click on the Book Meeting button or one of the green time pills to open the event composer to complete your booking.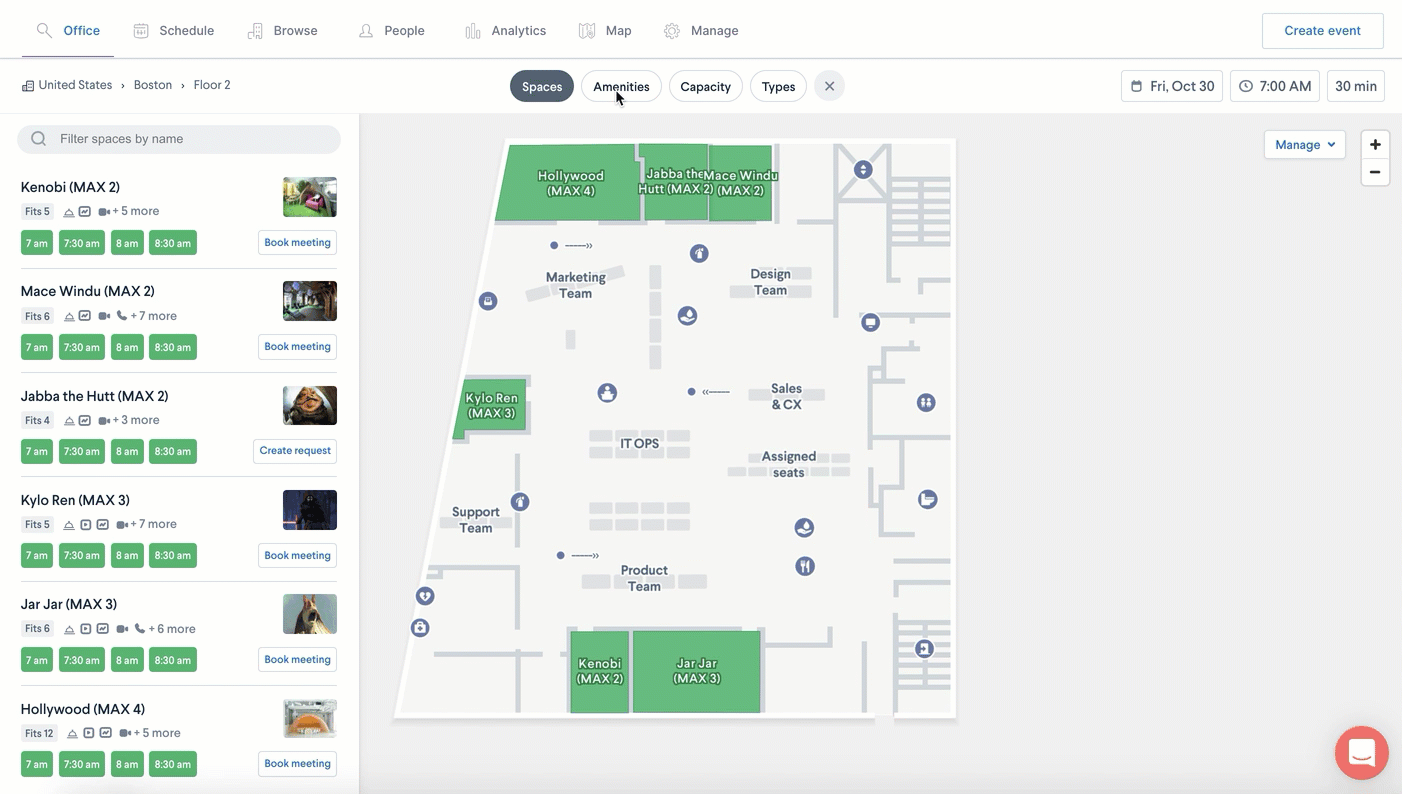 3

Use the event composer to fill in the event details and complete your booking.

For more information on organizing events for others, check out

this article

.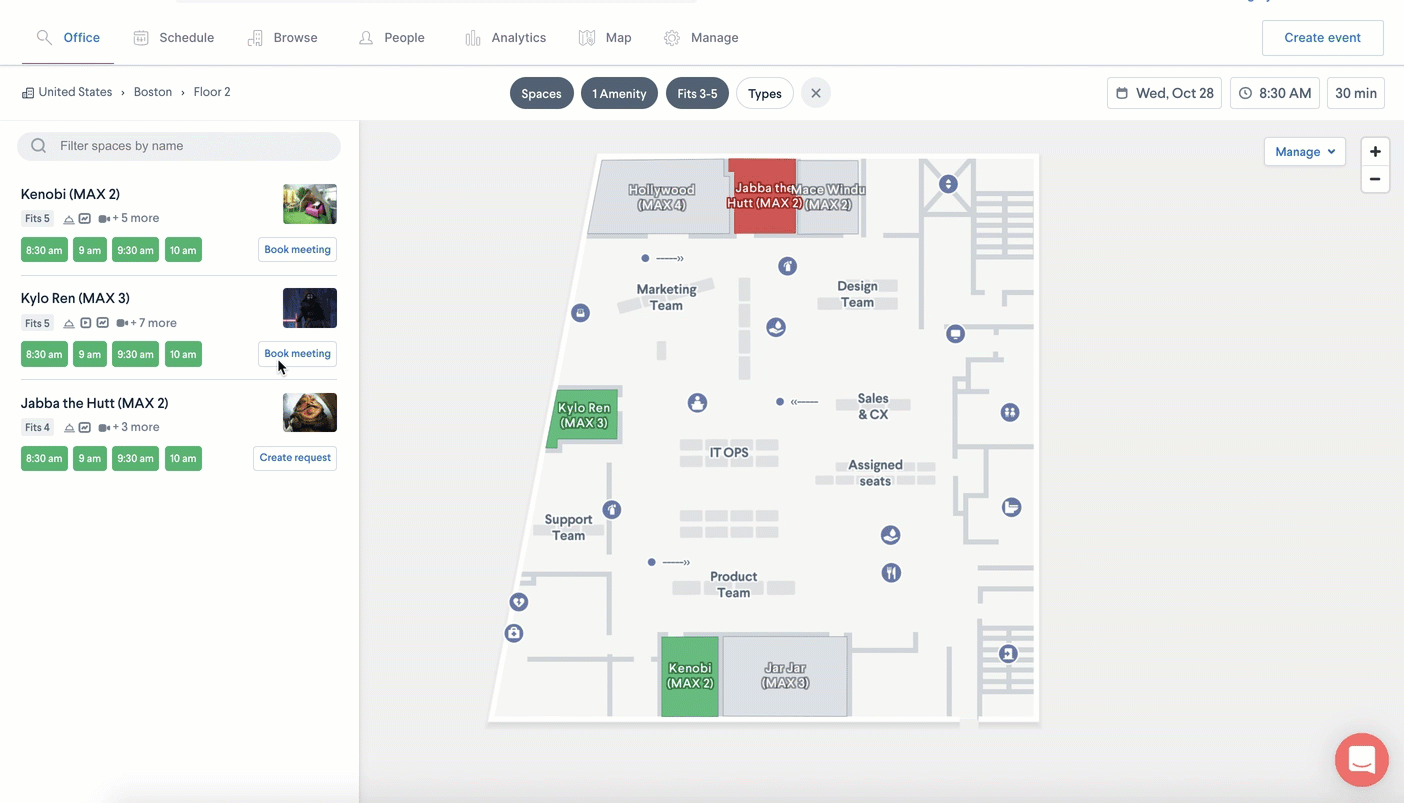 Learn more about the power of the event composer
If your event composer looks like the image above, head this way.
If your event composer looks a little different (no space details sidebar), head this way.
Viewing your meetings and events
You can review your meetings and details from the Schedule view.