Robin's Health Checkpoint allows admins to disseminate and collect data from employees to determine if they have been in contact with someone or are personally experiencing symptoms of Covid-19 prior to coming into the office.
Anyone associated with a desk (including non-Robin members) will automatically receive the Health Checkpoint email.
Follow the tutorial below or the steps outlined in the guide.
Enabling a health questionnaire
1

Admins, select Manage from the top ribbon > Integrations.
2

Under the Health Checkpoint section > Manage > Add a health checkpoint.

3

You can send building-specific checkpoints or create one checkpoint for all buildings. Any person with a desk reservation or seat assignment in the selected buildings will automatically receive a Health Checkpoint email.
A. Desk reservations will receive the Health Checkpoint email 4 hours before the reservation begins.
B. Seat assignments will receive a daily Health Checkpoint email 4 hours before the office "opens" based on the building's set hours.
Note, one Health Checkpoint per building.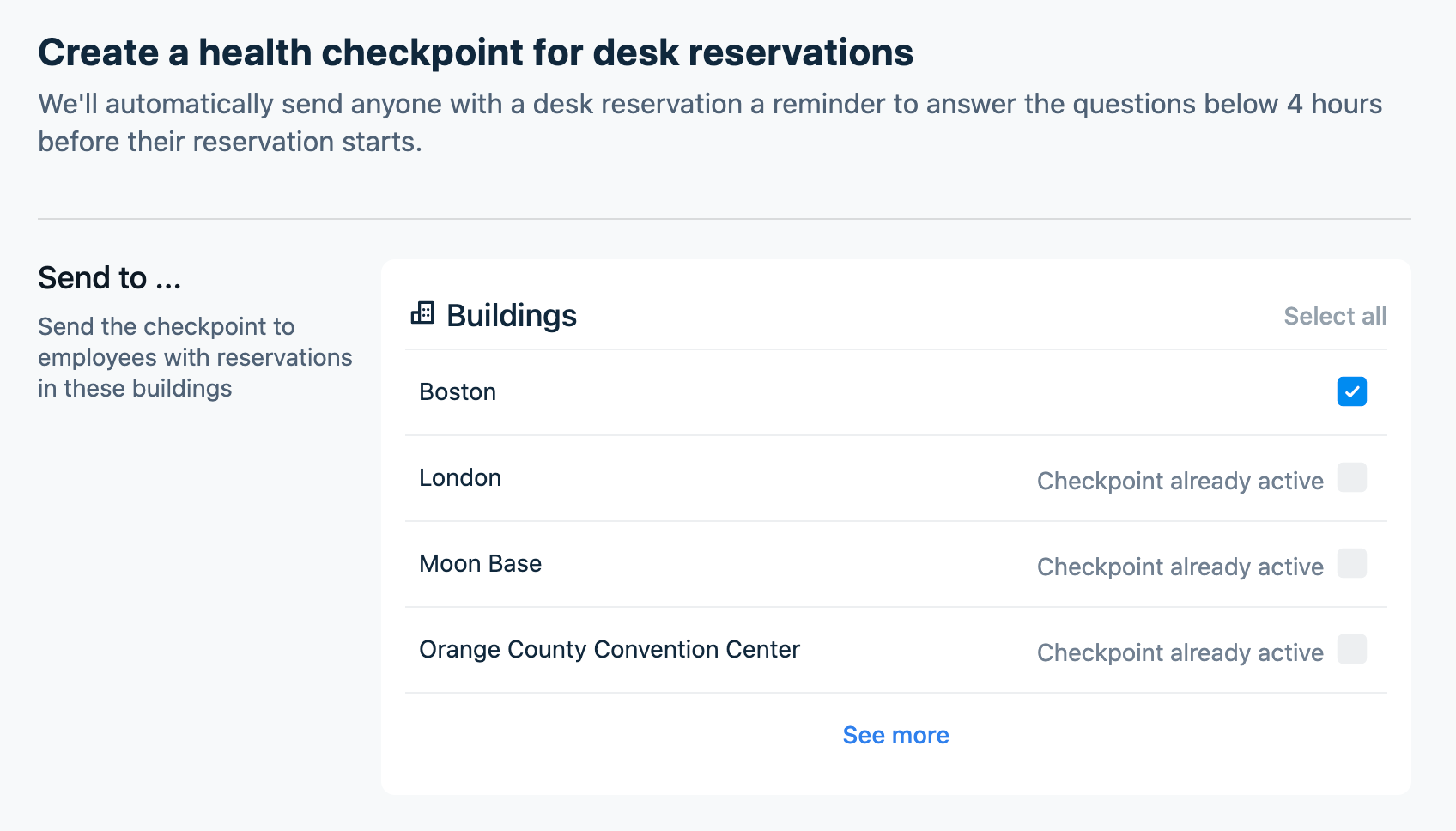 4

Use the default instructions we provided or write your own.
5

Use the default questions we provided to get you started. You can modify, delete, or add more questions.
A. To edit a question, click in the text box. Note, only "yes or no" questions are supported.
B. Click the trash icon to delete a question.
C. Click the "Add another question" button at the bottom of the page to add more questions. Note, only yes or no questions are supported.
6

At anytime, you can save & close the draft you're working on or Publish the checkpoint to go live.
Reviewing responses
1

Click the Responses tab to see who completed the questionnaire and to review their responses.
2

Folks who've submitted a response will have a green check mark next to their email. Click the drop down arrow on the left to review their submissions.
3

If you want to export the responses, click CSV in the top right corner.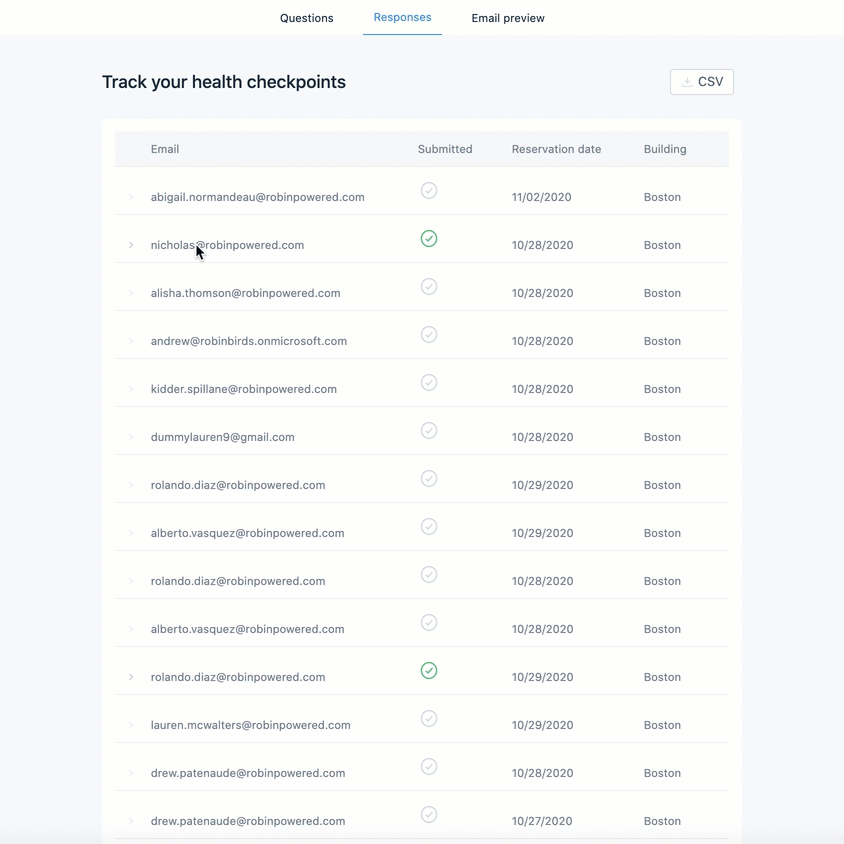 Previewing the email
1

Click the Email preview tab to review the questionnaire before sending it.

Note, the Health Checkpoint email cannot be customized.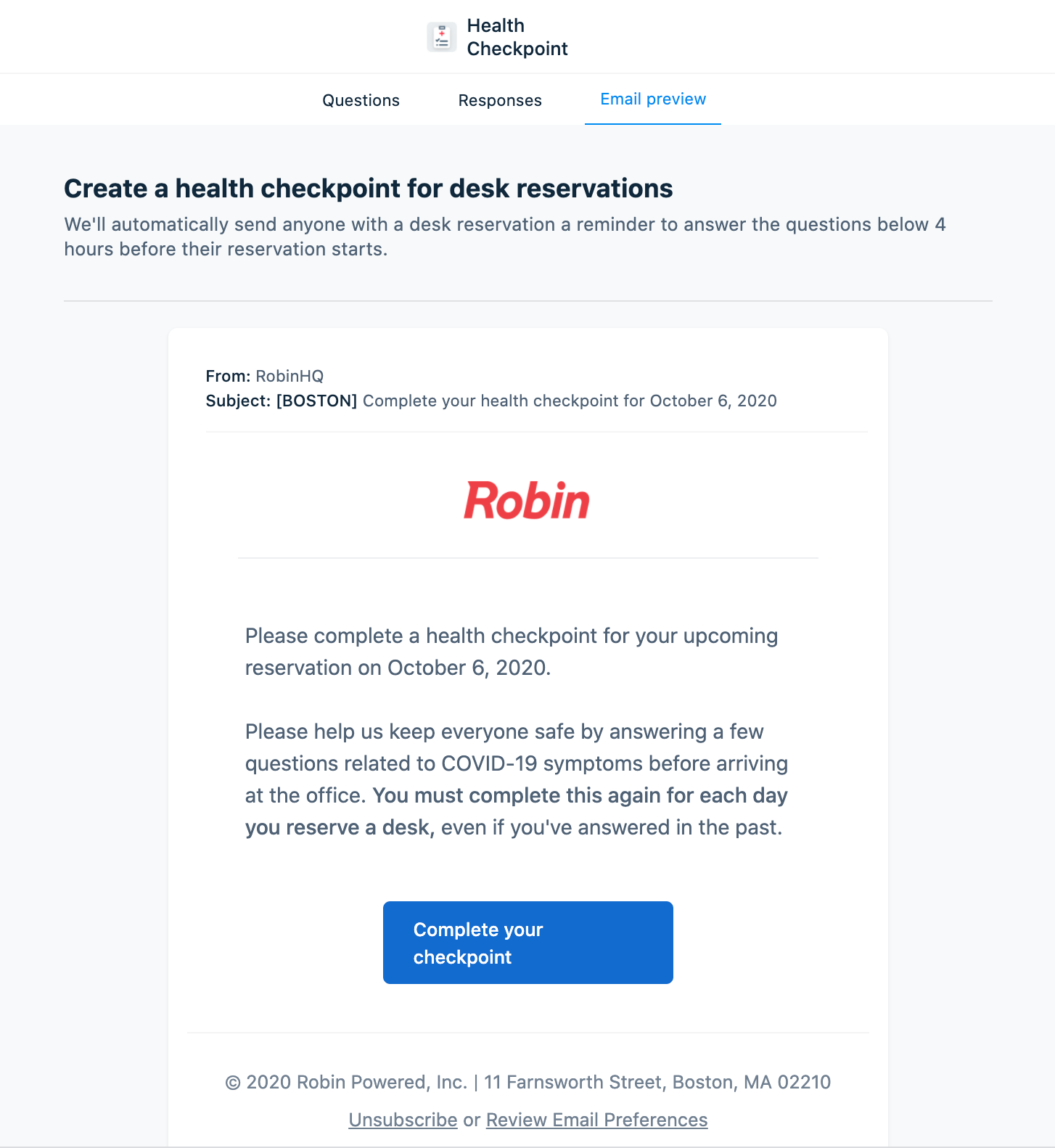 Completing your Health Checkpoint
If you've made desk reservation or seat assignment for yourself, or if an admin did it on your behalf, you'll receive a Health Checkpoint email titled, "Complete your health checkpoint for [date, time]".
Follow the link in the email to complete the Health Checkpoint questionnaire. You don't have to be logged into Robin to complete it. For non-Robin members, the Health Checkpoint is sent to the email used to make the seat assignment or desk reservation.