Use the Office search list to view available resources in your workspace. 
Reserving a desk
1

Click the Desks bubble to reveal resource-specific filters. 
A. Do you need particular equipment at your desk? Use the amenities filter to help find the best desk for your needs. 
B. Choose a date & time duration using the drop-down fields. The start/end times respect your office's work hours. 
Click the date(s) you need a desk for. To deselect a date, click it again or hit reset. If your office supports hotel desks, you have the option to make reservations for 1+days by selecting the multi-day check box in the calendar modal.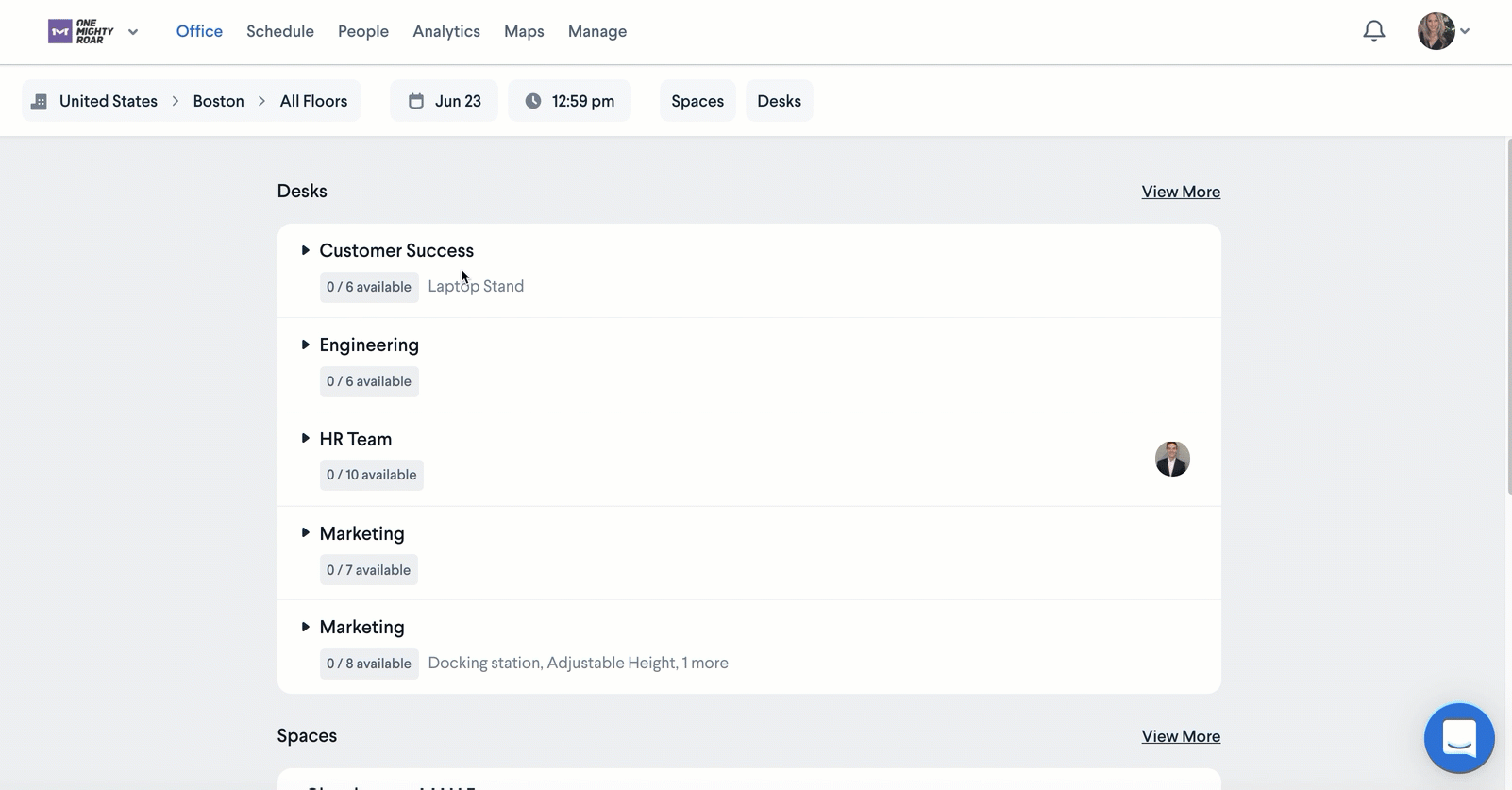 2

Poke around at different desks from the list until you find a good fit.
An info card will pop up with the desk details including; available amenities, location, & office reservation policies.
A. Enter your name in the field > select Reserve.

B. Admins & custom roles with desk delegation and/or desk assignment permissions can reserve or assign desks for others. 

C. Check the "Send notification email" box if you wish to notify the employee of their new desk reservation/assignment. 

If the desk is reserved or is a shared desk while an assignee is OOO it will show who is occupying that desk or who typically occupies the desk.
🔥 Hot tip: Use the search bar to find a specific desk pod, desk, or person (at a desk). 

Changed your mind?
Click on the reservation to open the module again > select a cancelation option based on the status and type of reservation made:
Select Cancel reservation for a reservation that hasn't started yet.
Select End reservation if the reservation is already in progress.
Select Change dates for a multi-day reservation.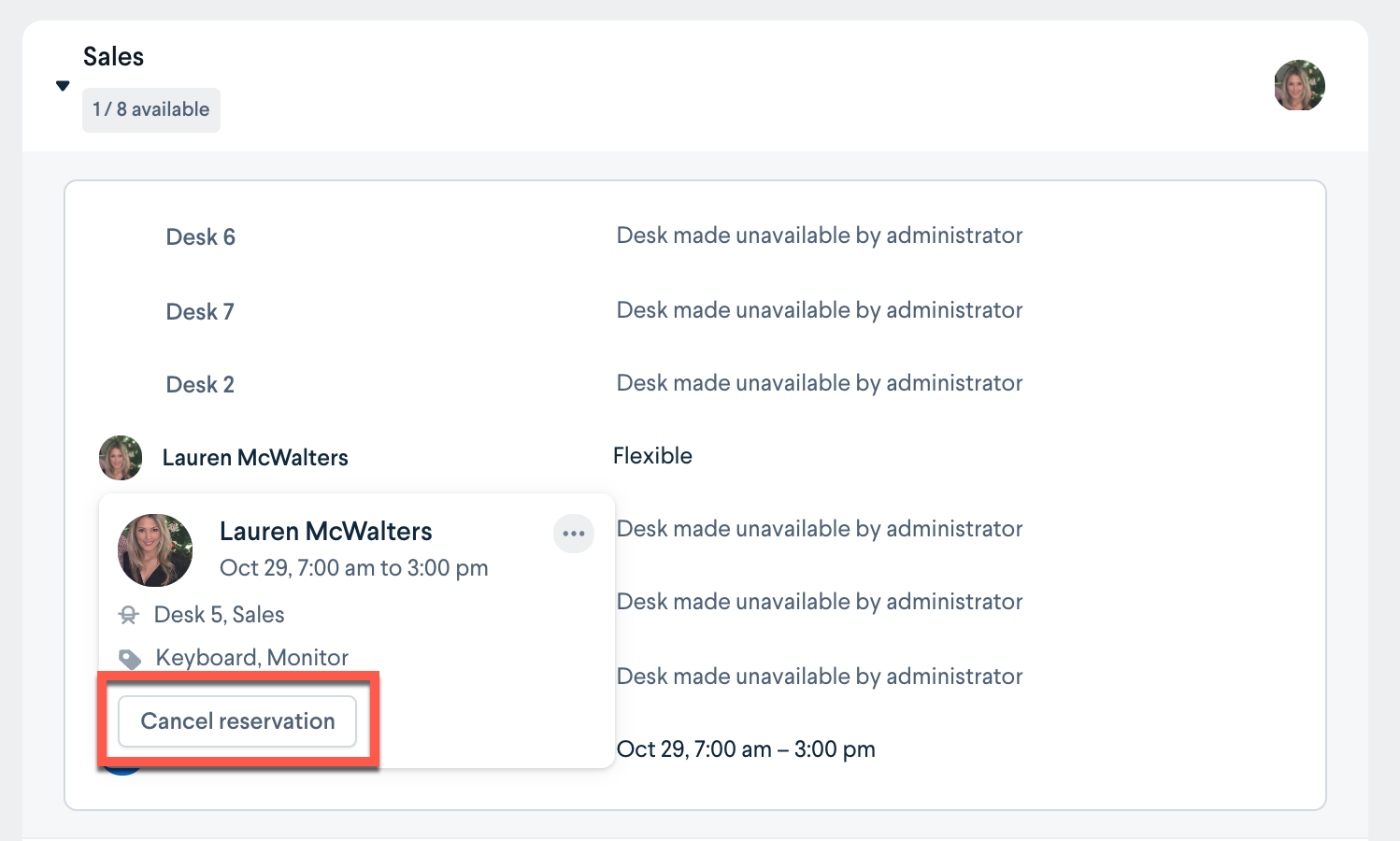 After you've completed your reservation, you'll receive an email confirmation:

Viewing & modifying desk reservations
Navigate to your user profile in the top right corner > Profile.  This is where you can review, modify, & end/cancel current or upcoming desk reservations/assignments.
Note:  If the desk reservation is in progress you'll see the option to "End reservation". If the reservation is for a future date you'll see the option to "Cancel" the upcoming reservation.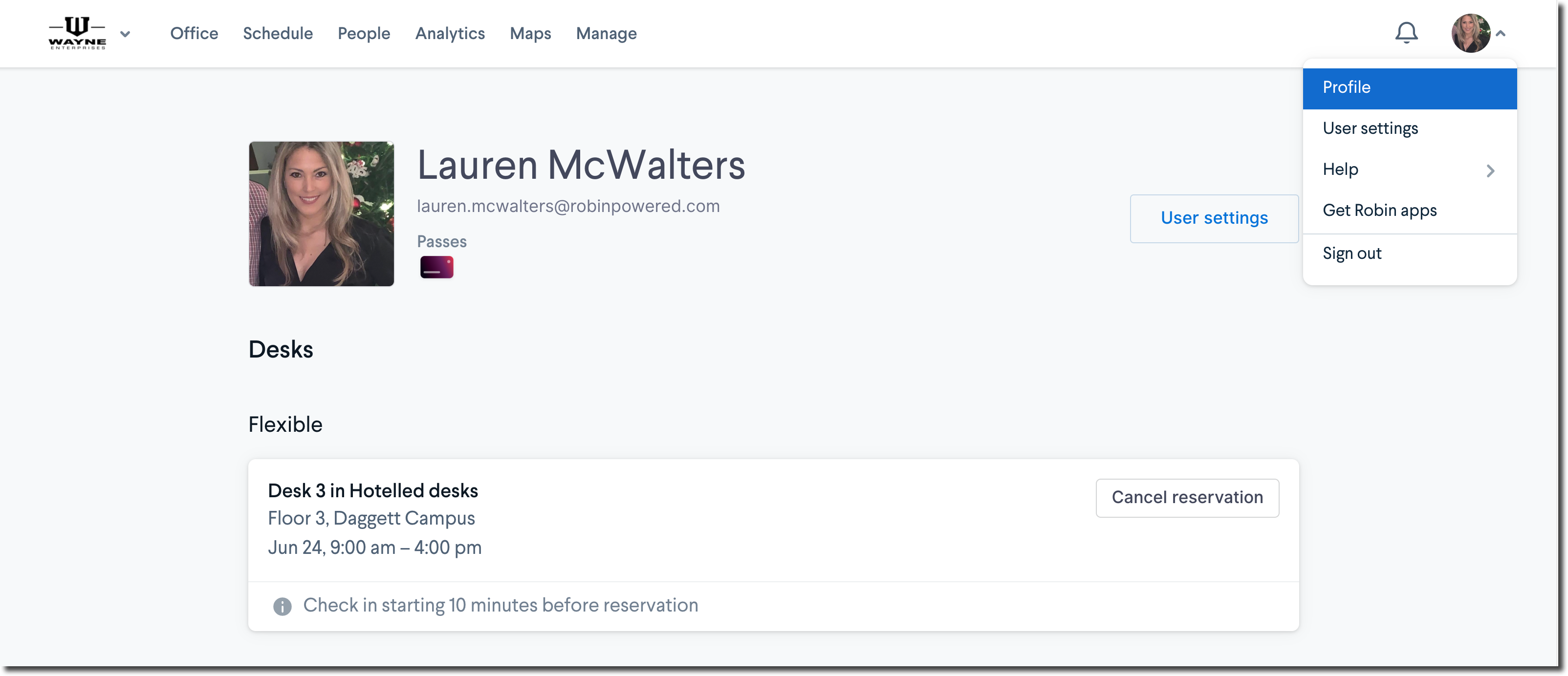 For multiple-day reservations, select change dates (captured above) and use the calendar (captured below) to add or remove dates to your reservation. 
Reserving a space
1

Set the search criteria
A. Click the Spaces bubble to reveal resource-specific filters. Filters are optional to help narrow your search (e.g. amenities, # of attendees, & space type)
B. Select a date, time & duration using the drop-down fields.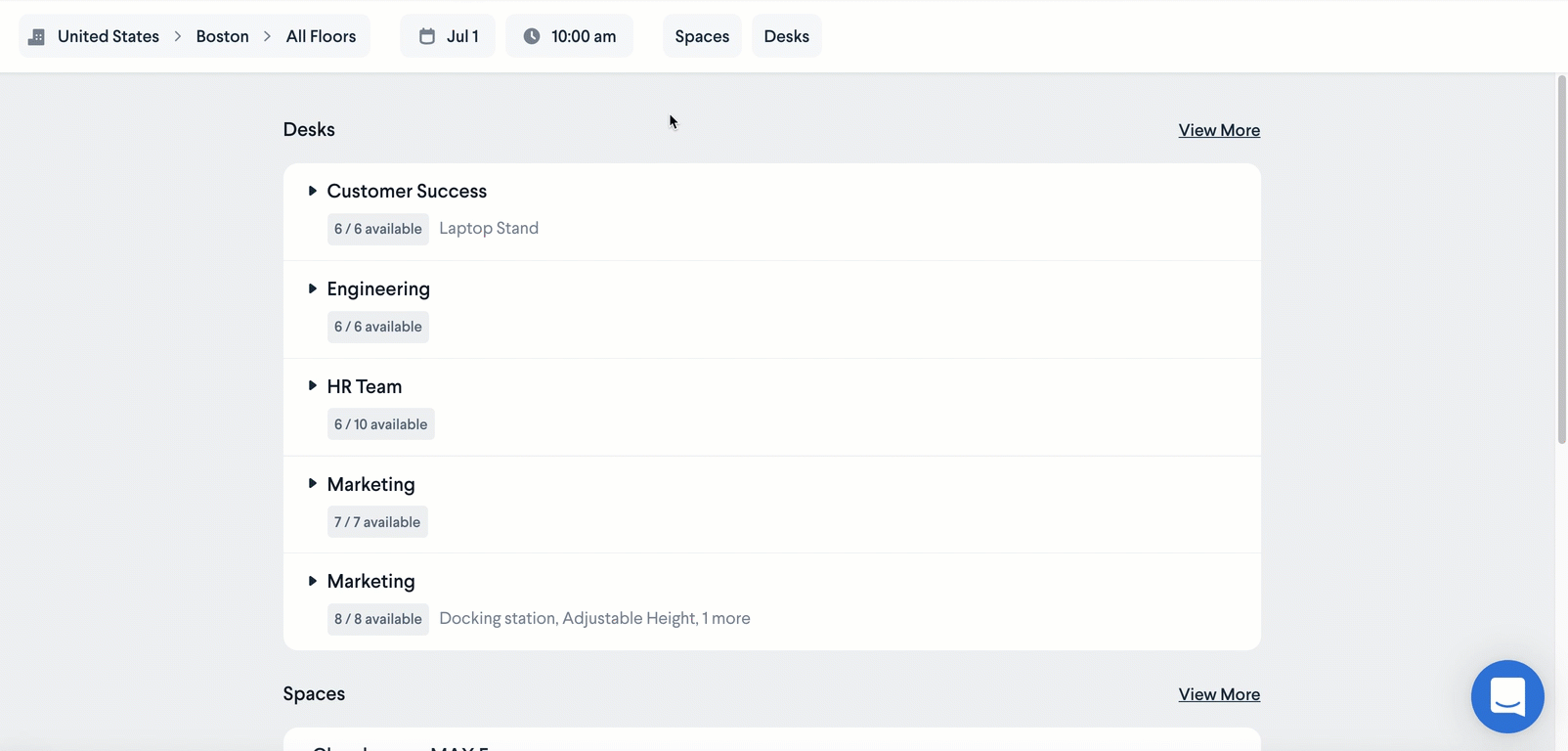 2

Explore your options
When you see something you like, click on either the Book Meeting button or one of the green time pills to open the event composer to complete the booking. 
Note: If you see spaces that say "Create request", those are special spaces that require approval before you can officially reserve the space. Learn more here.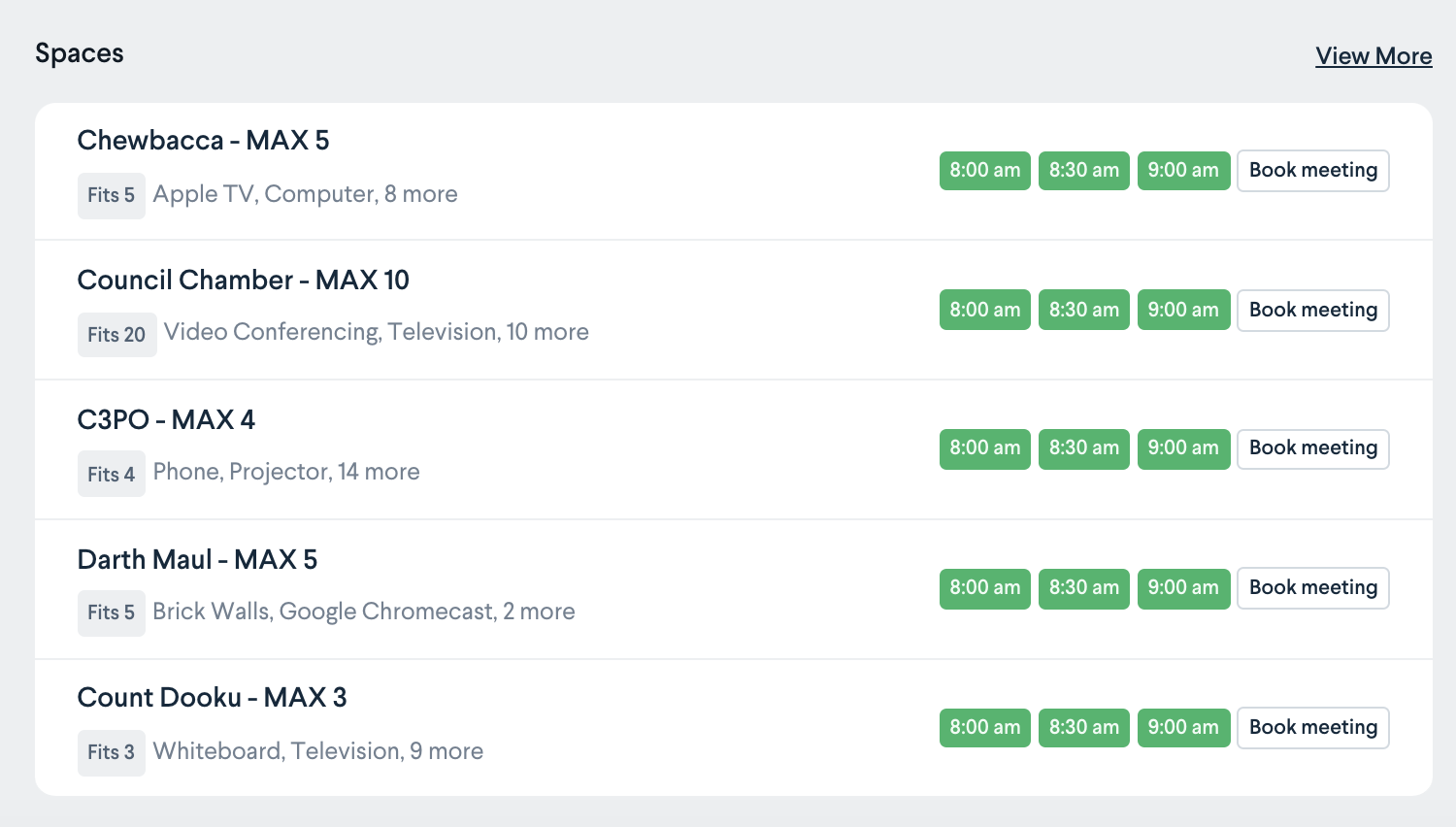 3

Complete the booking

Use the event composer to fill in your event details & complete the booking.

For more information on organizing events for others, check out this article.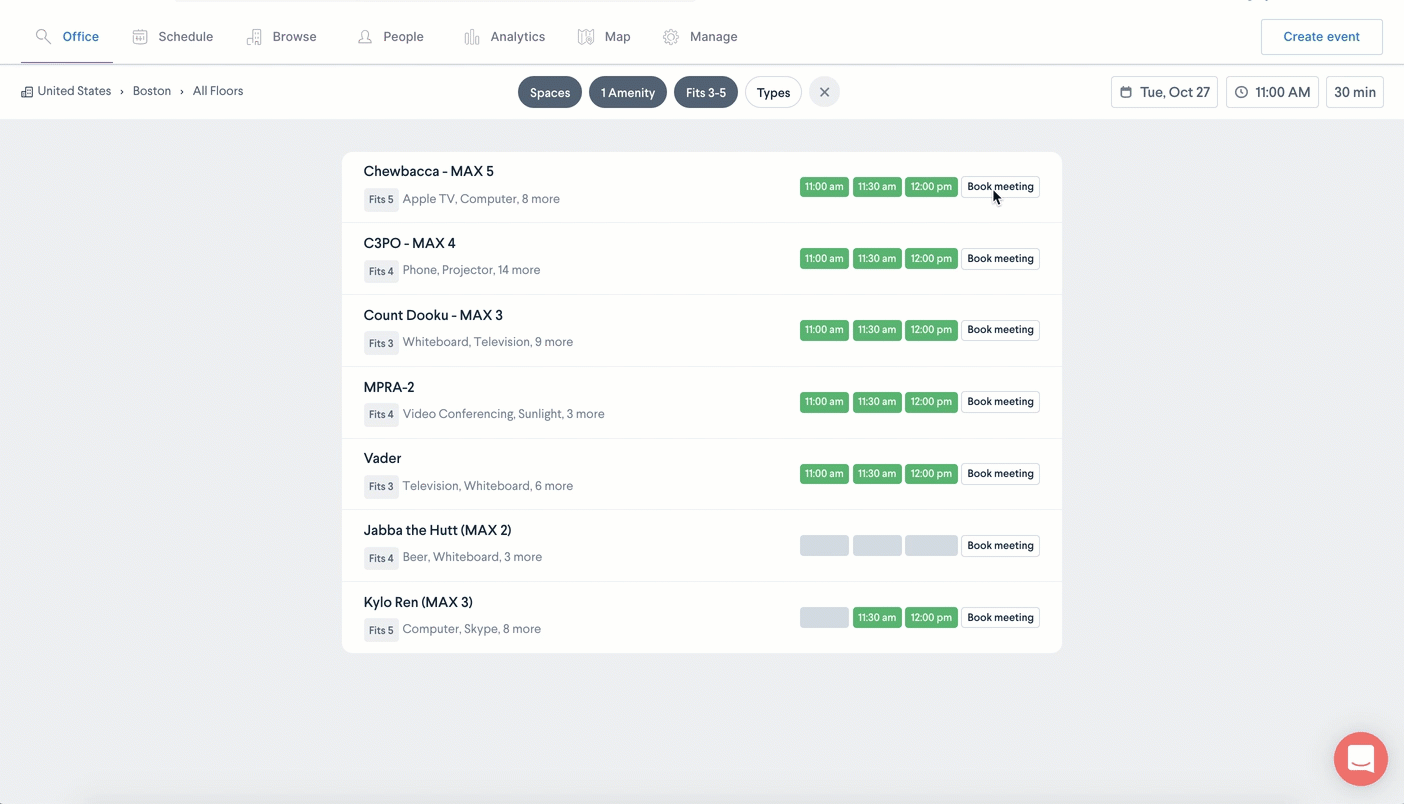 Want to learn more about the event composer?
If your event composer looks like the image above, head this way.
If your event composer looks a little different (no space details sidebar), head this way. 
Viewing scheduled meetings
You can review your scheduled events and their details from the Schedule view.