Use the People tab on the mobile app to see when the people you connect with regularly are heading into the office and where they're sitting, so you can join them!
Managing "Create teams" feature
By default, the People Finding (team creation) feature is enabled org-wide. Admins can choose to disable this feature on the organization level by navigating to Manage > Organization > scroll down to Features > toggle to disable/enable.

Note, in order for users to create teams via the People Finding functionality, users also need to have access to the People tab in the web dashboard. This permission is enabled for all users by default and can be managed from the user permission settings found here.
Creating a personalized team
Create one team of as many people as you'd like. Don't worry, the people you choose to be on your team will not be notified. You can edit your team at any time too. Note, you can only create one team.
1

Open the mobile app and navigate to the People tab or the Pass tab.
2

Tap Create team from the prompt at the top of the People tab or from the prompt at the bottom of the Pass tab.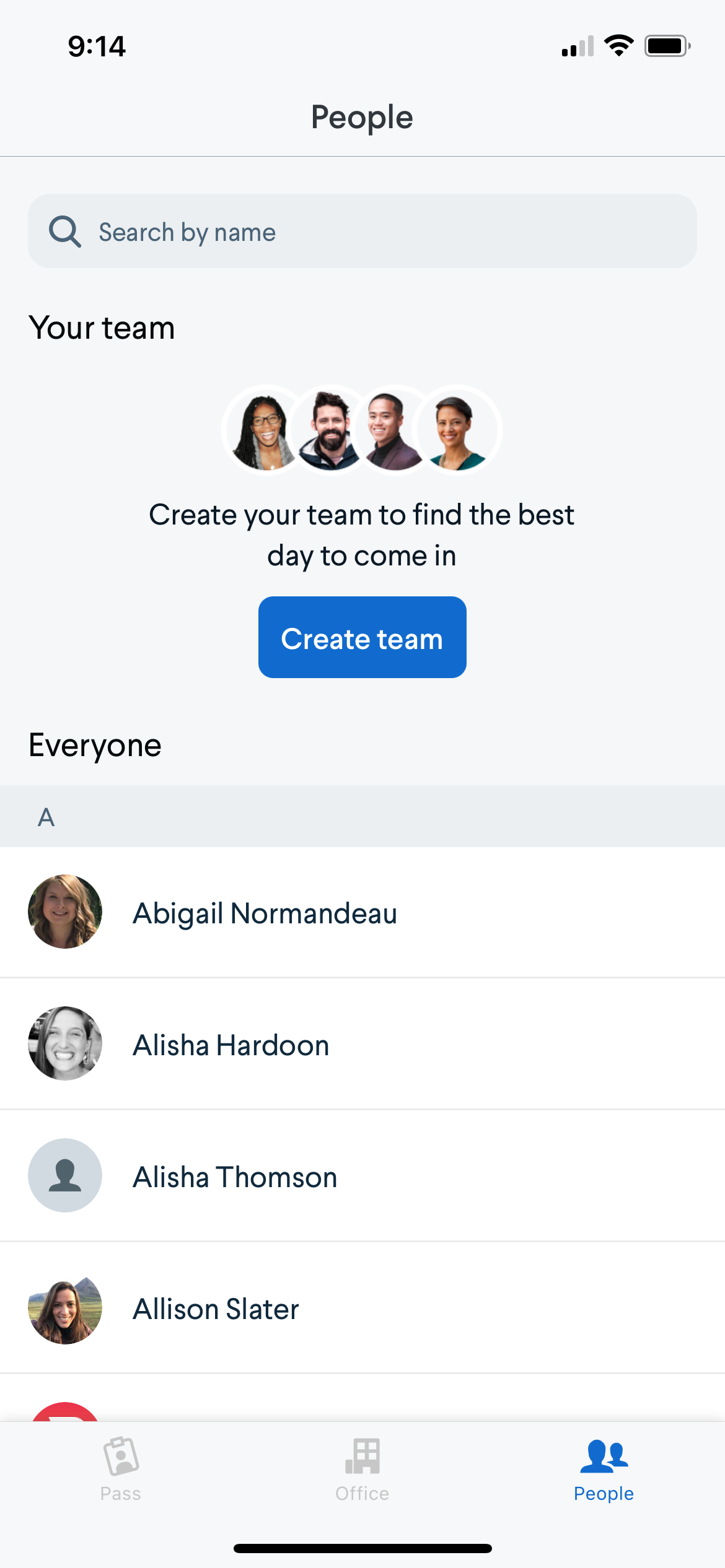 3

Begin searching for teammates-- enter their name or scroll through the list.
Think of the people on your team as "favorites"; like folks you often collaborate with, or direct team members, lunch buddies, managers, and etc.
4

Tap the + button to select a person. Tap the blue checkmark to unselect a person.

People are not notified when selected for a team.
5

Once you've selected all your teammates, tap the blue Create team button at the bottom to save your team. You'll notice all the folks on your team will be surfaced to the top of your People tab for easy finding.
6

If you need to edit your team, select Edit in the top right corner and tap the blue checkmark to unselect a person, then save your changes.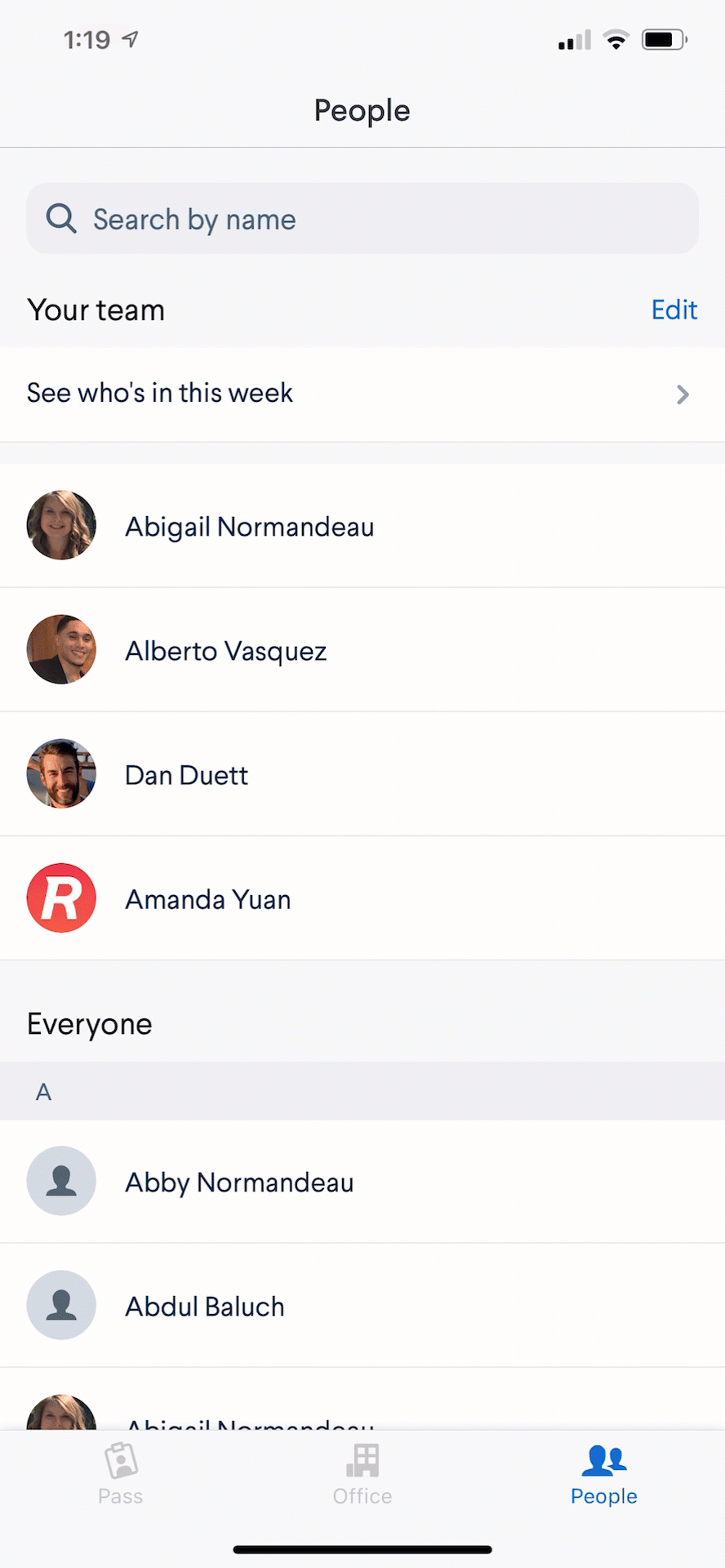 Viewing team schedule
Now that you've created your team of "favorites", you can easily see when they'll be in the office and where they're sitting over the course of the next week.
1

Tap See who's in this week at the top or search for a specific teammate.
2

You can see a day-by-day scrolling view of all of your "teammates" who have a desk reservation or assigned seat scheduled for the week.
3

Tap on a teammate to see where they'll be sitting and scroll around the map to find a seat next to them.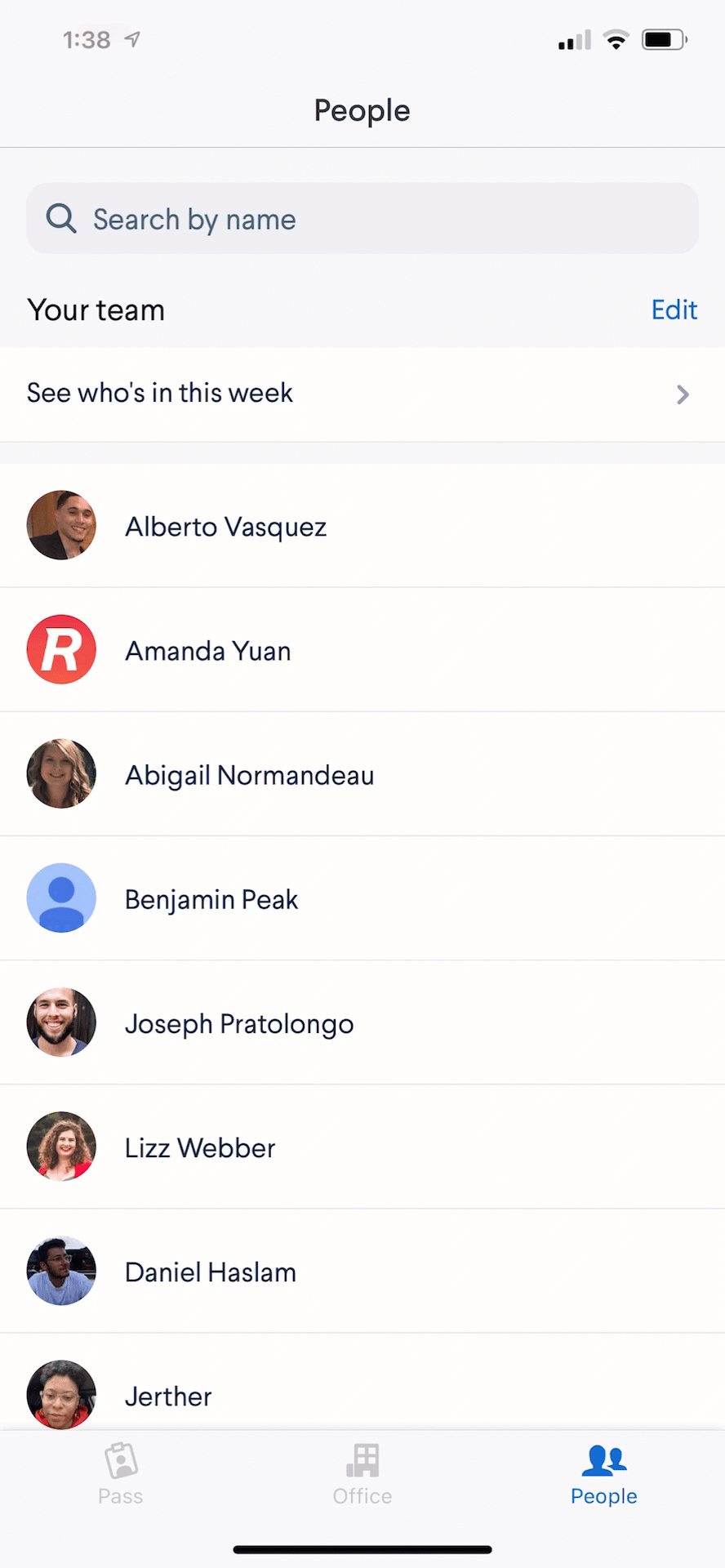 Also, you can book a desk from the Pass tab for a guided booking experience that highlights your teammates as well!