Your Robin office experience is a one-stop-shop where you can plan your office visits with co-workers, reserve desks near teammates, book meeting rooms, and more. This guide is a great jumping-off point for new users. Scroll through the guide or use the table of contents on the right to skip around.
Join your organization
You can join your company's Robin account one of two ways:
By email invitation
If you've received an email invitation to join Robin, get started by clicking the link inside the email. Keep in mind that each invitation is unique, usable once, and can only be accepted by the email it was sent to. Invite link expires after 2 weeks.
1

Click the link in your email invitation. It will take you to a registration screen for the Robin web dashboard.

2

Create your account using the same email address which received the email invitation. Then complete setting up your user account.
Single Sign-On (SSO) with your work email address
If your Robin administrator has enabled single sign-on, you may sign in using your existing credentials for either Google Workspace (fmr. G Suite), Office 365, or SAML.
1

Open your web browser and go to https://dashboard.robinpowered.com/login

2

Type your company's name - an admin can help you with this if you don't know it. Then select your desired single sign-on method and use those credentials to log in and join your team. Follow the onboarding workflow to complete setting up your user account.
Download the mobile app
Robin has a free mobile app for iOS and Android phones. Scan the QR code with your phone or follow the links below.

They work best when connected to wifi or cellular data, and are running updated operating systems. This means iOS 12+ and Android 5+ on a supported device.
Tag your "favorites"
Now that you have the mobile app downloaded you can start tagging your co-workers as "favorites". Starring your favorite co-workers makes it easy to see which days they're scheduled to be in the office and where they're sitting, so you can grab a seat next to them.
You'll see a Star your favorites prompt on the Pass tab or you can do it from the People tab to get started.
Understand your office access
With safety in mind, coming back into the office can feel like the first day all over again, but with Robin you'll know if you can use the office, when you can use the office, and where you can sit in the office, making trips to the office a little smoother.
On mobile
1

From the mobile app, tap the Pass tab.
This is where you'll see your branded access card(s) with your access details, including which buildings are available for you to use, and which days you're able to use the office.
Example A: Lauren has multiple passes. A "Boston pass"- All access pass that grants her access to book desks at the Boston building Monday thru Friday and an "Early Riser pass" that grants her access to book desks at the Toronto HQ only on Tuesdays & Thursdays.
Example B: Lauren does not have a pass and does not have access to book desks in her office.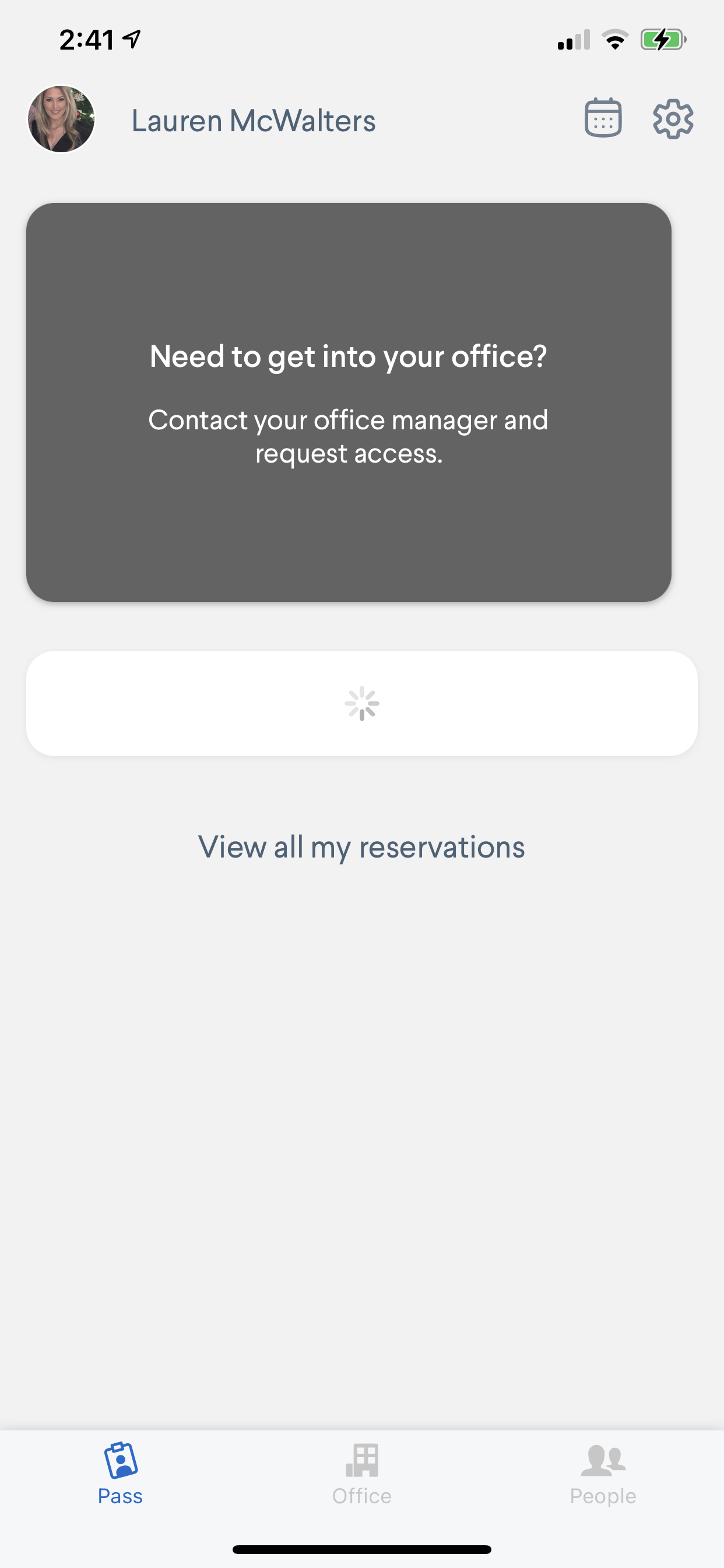 On web dashboard
Example A: The user has a pass that grants them access to book desks (or spaces) at the Boston office Monday-Friday on Floor 2. You'll also notice we call out the number of available desks left.
Example B. The user does not have permission to use the office on Tuesdays and is suggesting the user try again on Wednesday when they do have access. And you'll notice the "book a desk" and/or "find a space" buttons are no longer visible.
Start planning office visits with teammates
Now that your favorites are tagged and you're familiar with your office access, it's time to start setting your schedule with co-workers.
1

Tap Find a place to work.
If you have multiple passes, use the drop-down menu to select the office you want to visit.
2

This takes you to the office search tab to complete your desk reservation.
Book a room for a new meeting
On mobile
Tap Find a space. This takes you to the Office search tab where you can find and reserve the best fit space for your meetings, events, and activities.
On web dashboard
From the office search page, click Find a space and select your meeting details and criteria. For more details, like decoding your office map, head this way!
Office policies to have on the radar
Note, not every office implements these office policies, so if this doesn't sound familiar skip this section.
For example, you can complete your health checkpoint right from the Pass tab on the mobile app:
Why is there a sticker on my desk?
Scan the sticker with your phone to find a desk, book a desk, and check in to a desk. Learn more here!
View your upcoming desks
On mobile
You can also look over your upcoming reservations by following the link at the bottom of the Pass tab.
On web dashboard
You can manage your desk reservations and/or seat assignments under your user profile.
View your meeting schedule
On mobile
You can view your upcoming meetings on your schedule and create a new meeting by tapping on the calendar icon in the top right corner:
On web dashboard