Supported Plans
User Permissions Required
Global Admin role (Basic+ plans)
User permission required for custom roles
Announcements Location level (Premier plans only)
Use the Announcement feature to share office updates and policies with employees in real-time.
This is a beta feature
Today, all announcements are considered "mandatory announcements", meaning users must read & acknowledge them before they can continue in Robin.
Creating office announcements
1. Admins, navigate to Manage in the web dashboard > Announcements.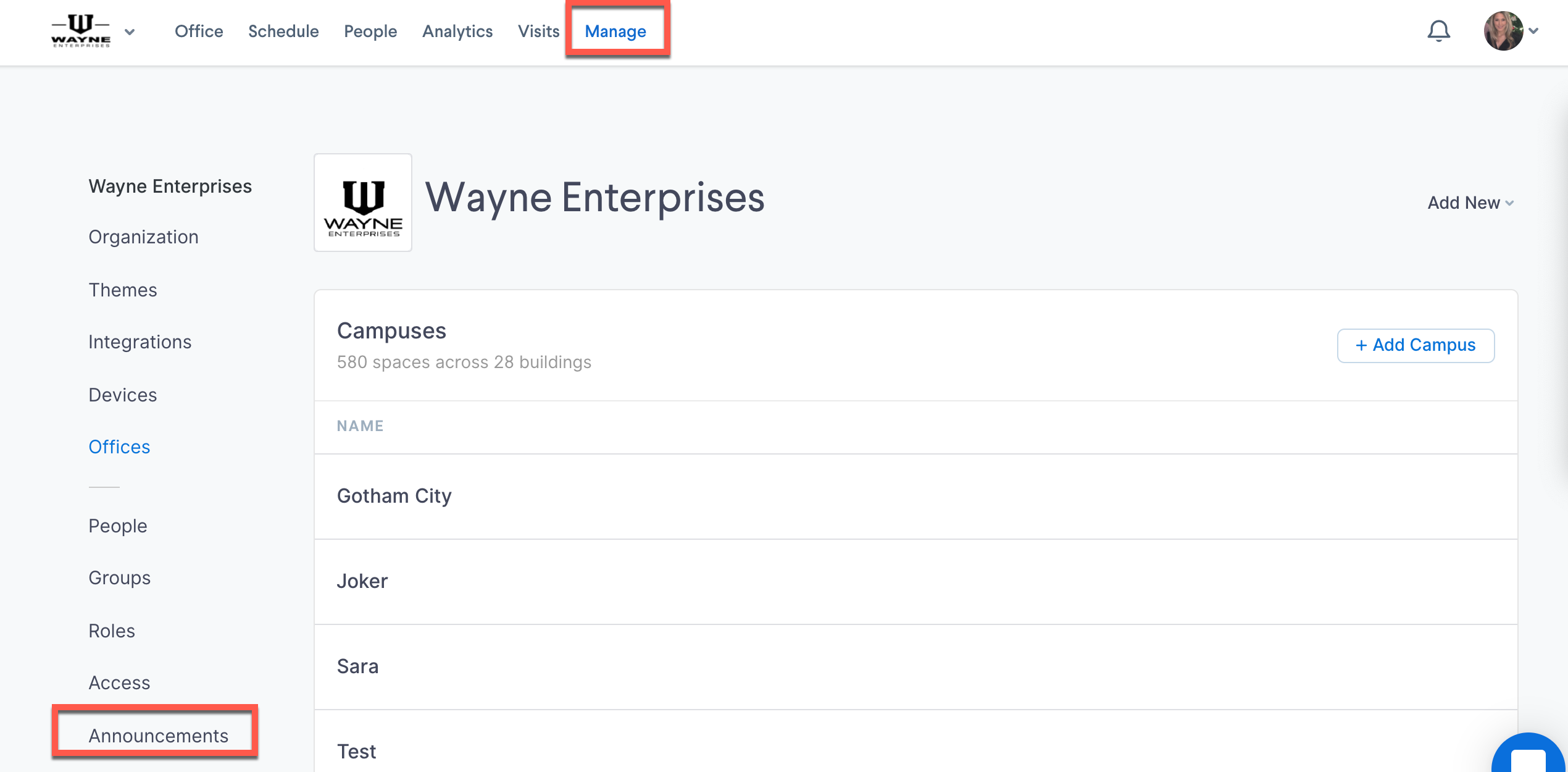 2. Click New Announcement in the top right.

3. Name the announcement --this is for your internal reference only. The name is not visible to employees.
4. Enter the announcement details.
Keep in mind, announcements are considered "mandatory announcements" while in beta and users must acknowledge them before continuing to use the application.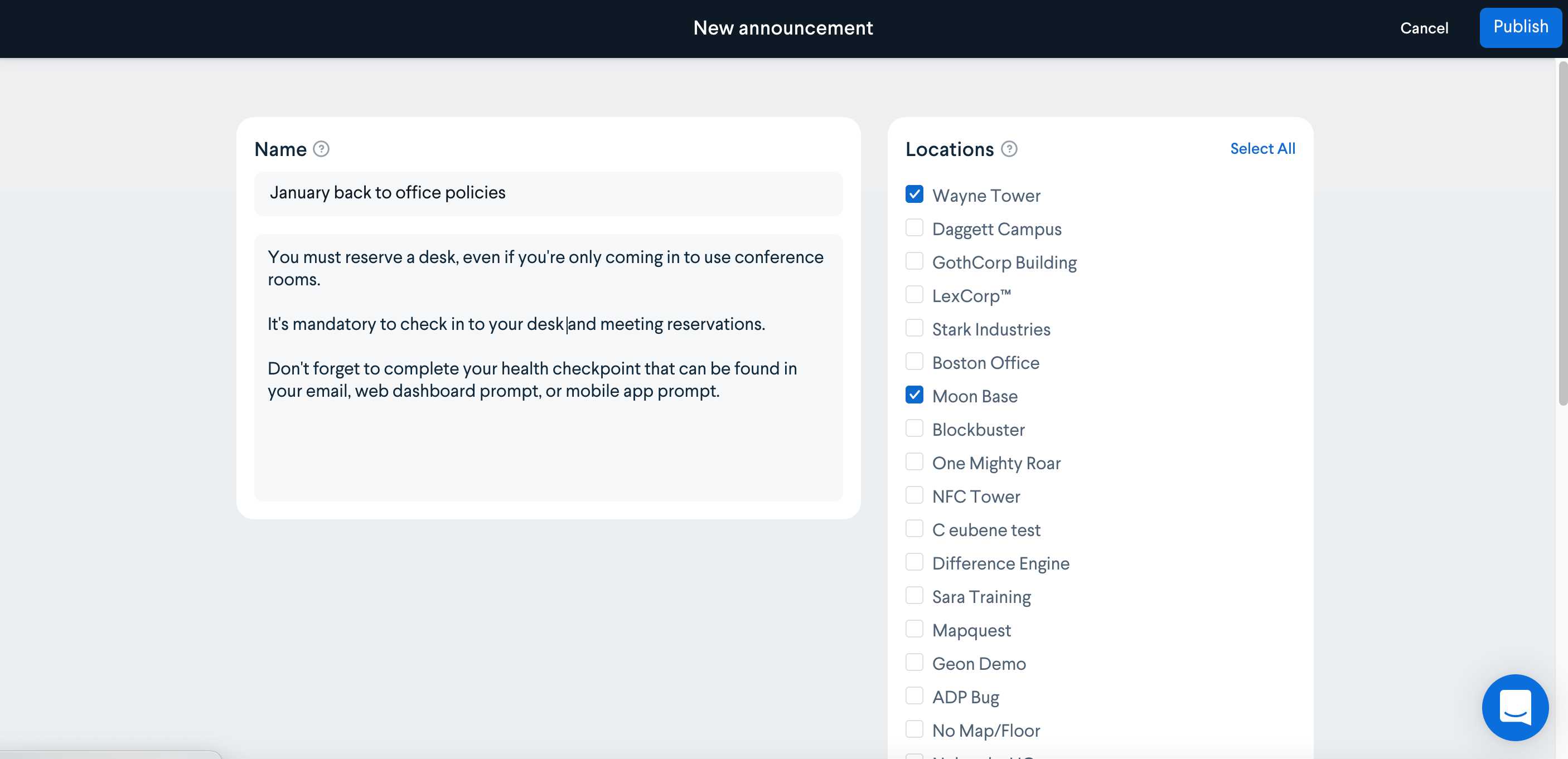 Announcements support rich text - meaning bold, italics, underlined, URLs and emoji.
5. Select an office(s) to share the announcement to. Announcements are displayed on the Robin mobile app to any employee that has access to the building(s) selected.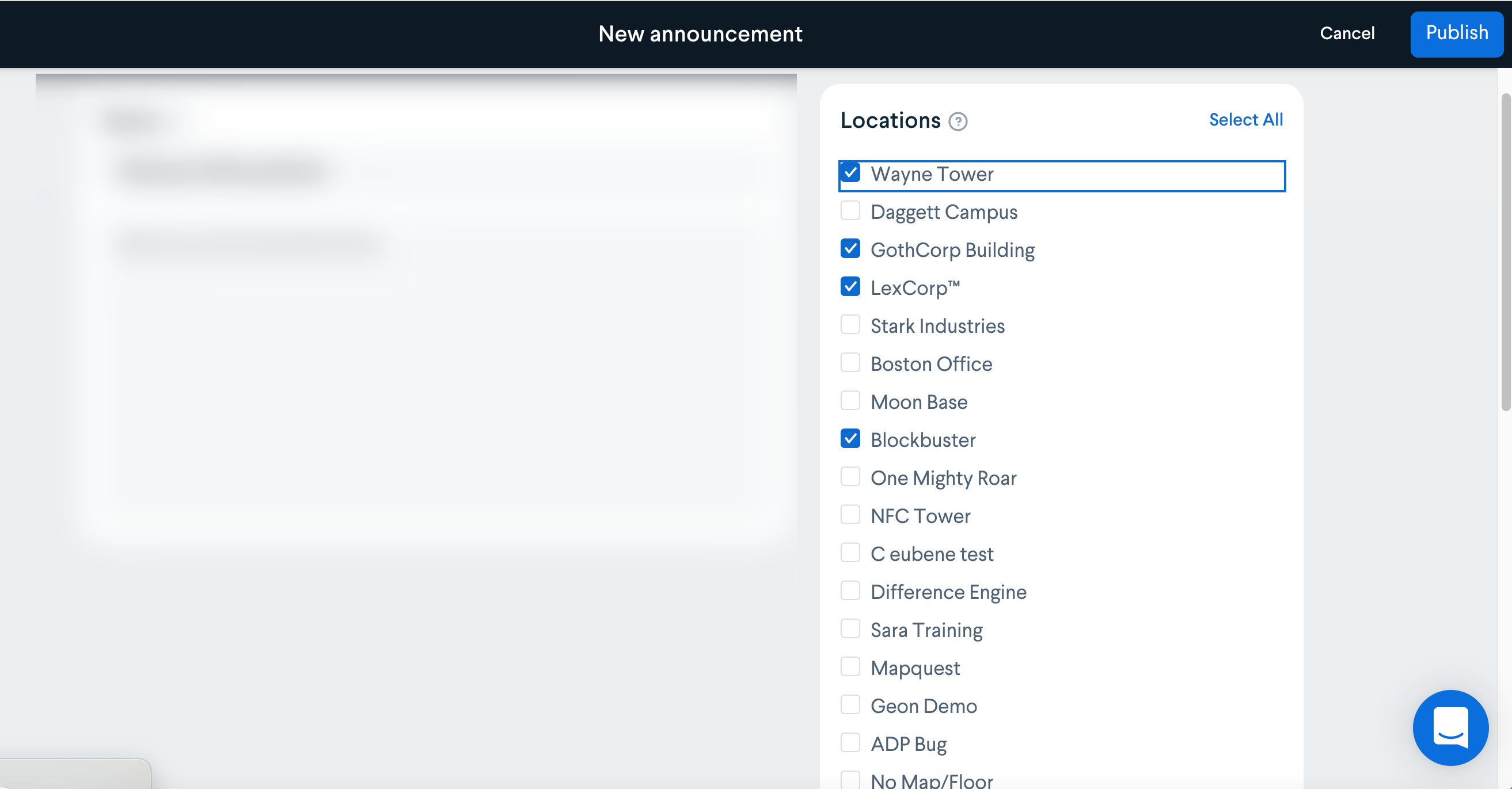 6. Click Publish in the top right corner --announcements go live immediately.
Managing announcements
All announcements live in the announcement list where you can edit, archive, and view basic information: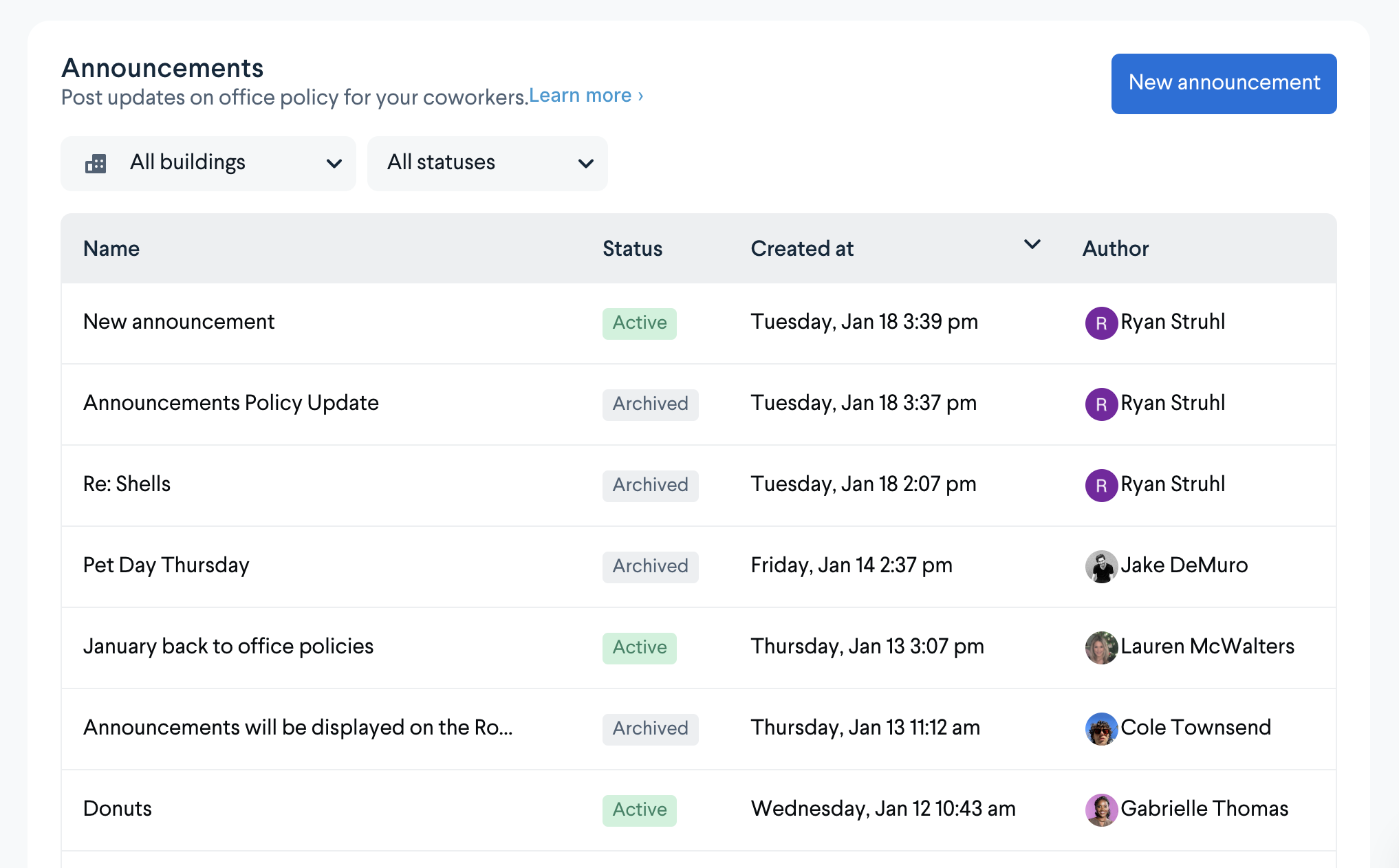 Editing announcements
To edit, click on the announcement name.
Note, updating an announcement does NOT repost it and therefore anyone who has already seen it will NOT see the updated version.
Archiving announcements
Click on the announcement name to open it then click Archive in the top right corner.
After an announcement is archived you can't un-archive it or reinstate it.
Viewing announcements
(Mobile only- beta)
1. Announcements populate immediately upon opening the mobile app when there is a new, unacknowledged announcement posted by an admin for your office location (provided the user has been onboarded and is logged in).
2. After you've read the announcement, "Press and hold" the acknowledge button for 3 seconds to confirm and dismiss the announcement.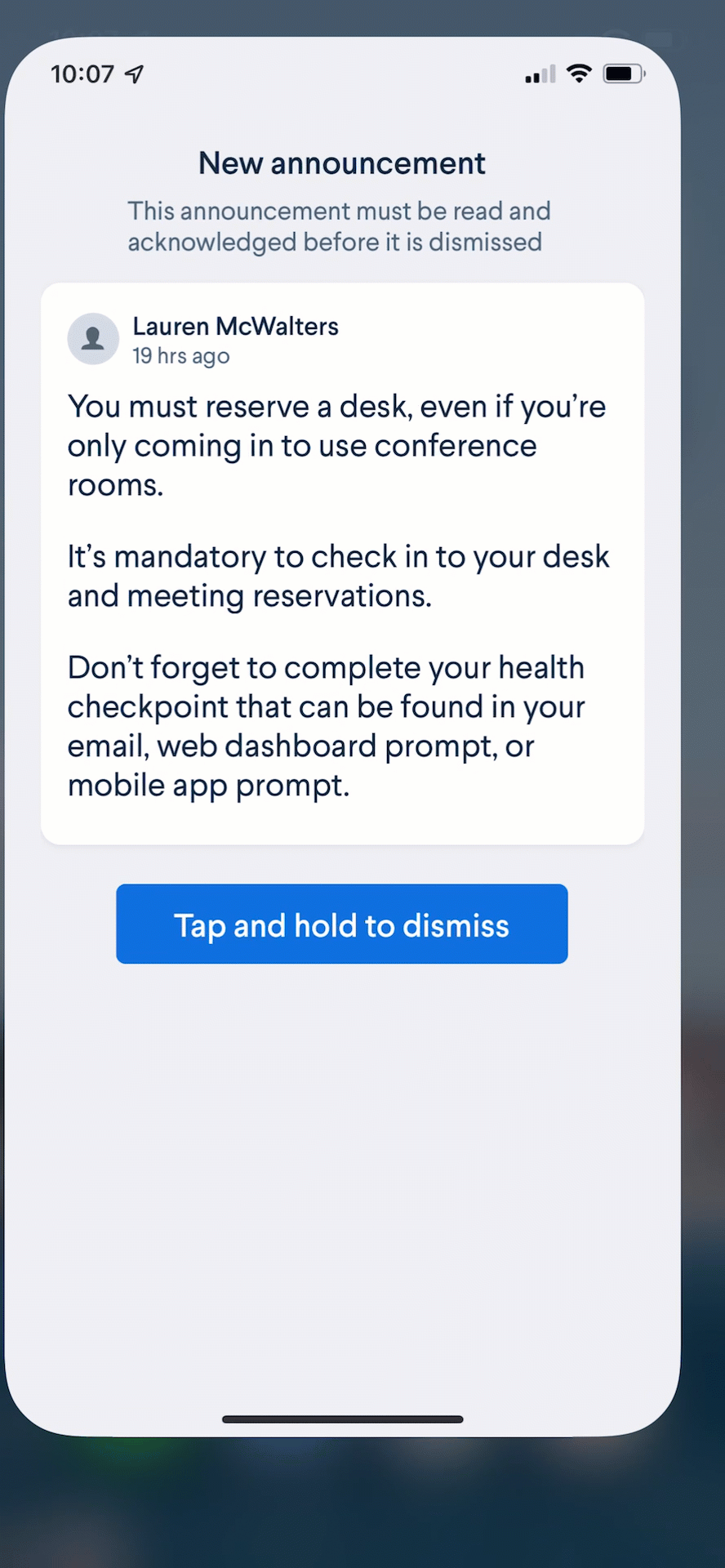 If you have an office sentiment survey waiting for you, as well as a new announcement, the announcement takes precedence, and we wait for the next time you open the app to display the sentiment survey.