Requirements
Purchased via Rippling App Shop
Global Robin Admin
The Robin + Rippling integration allows Rippling customers to seamlessly integrate their employee data with Robin to provide an automated in-office experience for their hybrid employees.
Benefits
Automatically manage Robin Groups via Rippling Groups
The groups you manage in Rippling seamlessly transfer to Robin. By maintaining a consistent data structure between Rippling and Robin, you'll have more time to focus on creating impactful workplace experiences.
Synced work locations
Effortlessly synchronize employees' work locations from Rippling to Robin, eliminating the need for manual setup and assignment of office locations in Robin. Additionally, the groups you manage in Rippling automatically transfer to Robin.
Easy user provisioning
Easily set up Robin accounts from within Rippling, giving new employees a great start on their first day in the office. And add an extra level of security with Single Sign-on, letting employees use their Rippling credentials to access their Robin account.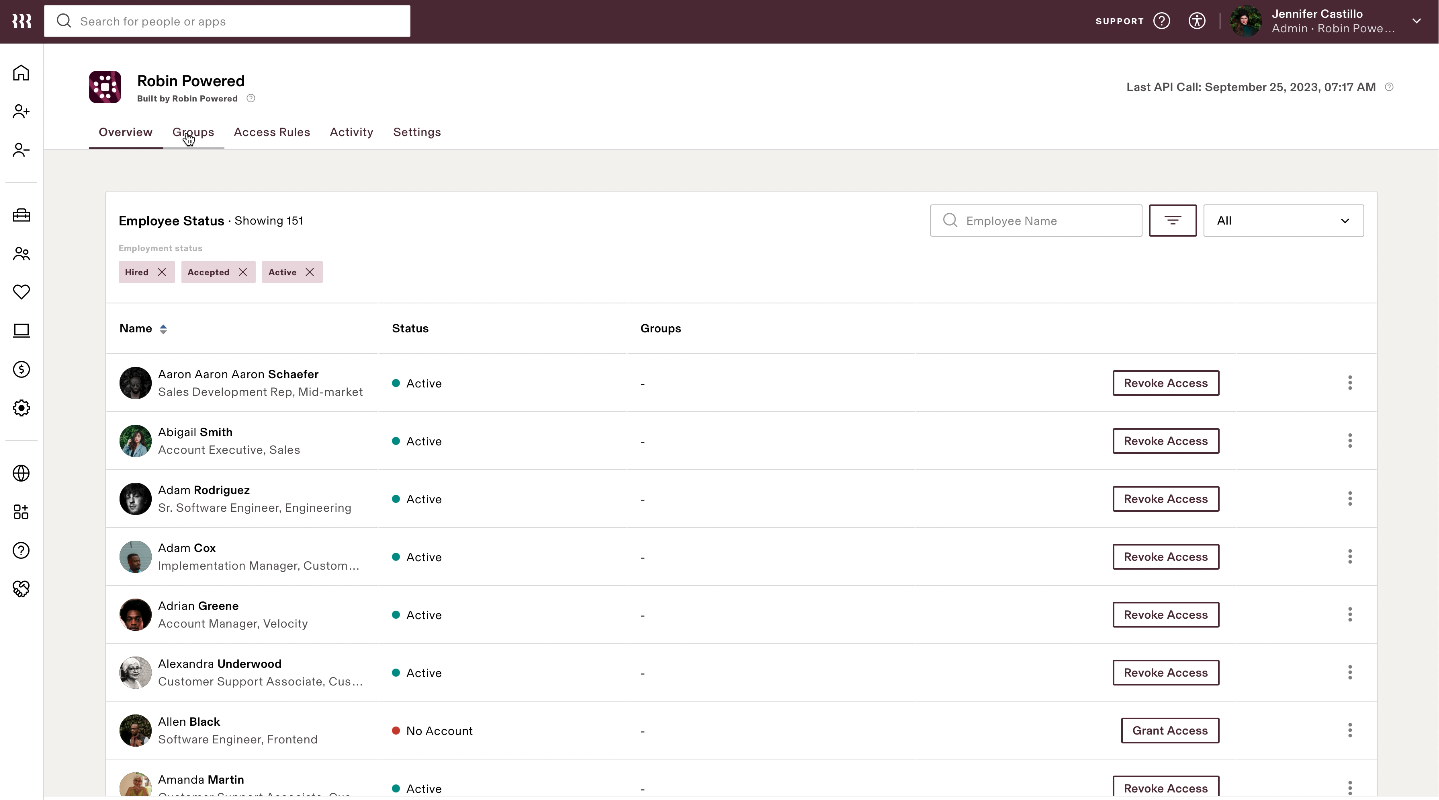 How to set up Robin + Rippling
There are 3 parts to the setup steps:
PART 1: Rippling set up
In Rippling, navigate to the Facilities page to locate the Robin Powered integration.

Select Connect account.

Select "I'm the Robin Powered admin, I'll install it." In order to connect Robin Powered to Rippling, you need to be the admin for your company's Robin Powered account.

Review the app access rules and click Authorize.

Choose who should automatically get access to Robin Powered when they join Robin Powered and click Continue.

Choose when users should get access to Robin Powered and click Continue. Next up, connect your Rippling account to Robin.
PART 2: Connect Rippling to Robin
1. Robin should open the Rippling integration connection page automatically or after you log in.
2. Agree to the privacy policy & terms of service and then click Get started. Robin will begin syncing your user and building data from Rippling.
3. Review your building information. Fill in the gaps to make sure it's correct and select Looks good.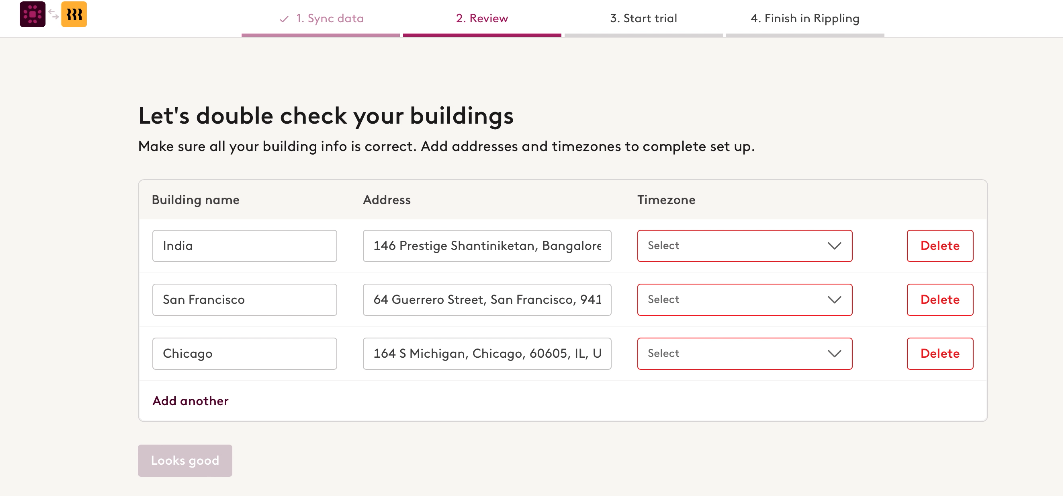 4. While Robin is syncing your data, return to Rippling to finish setting up your account. Click Continue > Finish set up in Rippling.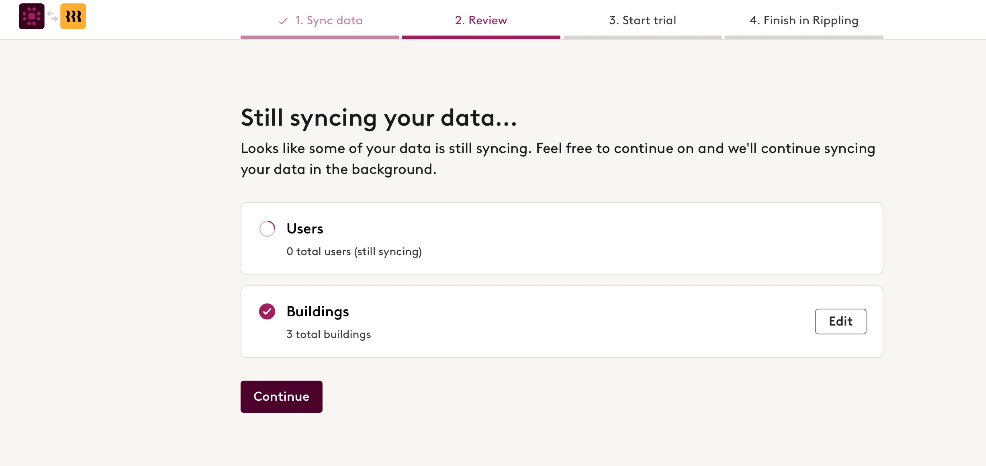 5. For customers purchasing through Rippling, you'll see an "Add a payment method" step. You can add a payment method now or skip it and add it when your trial period ends. (If you're an existing Robin customer, you can skip this step.)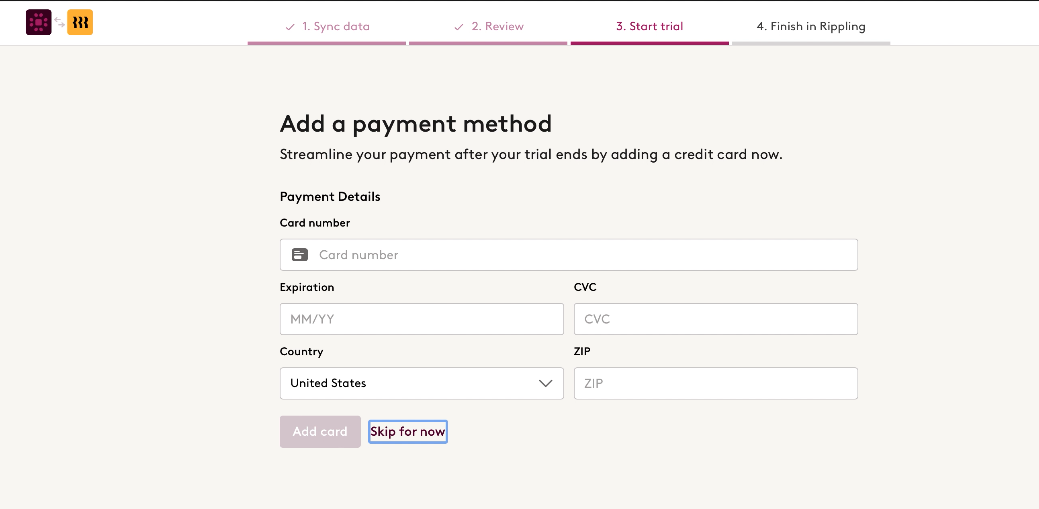 6. Click Finish set up in Rippling to complete your account setup.

PART 3: Return to Rippling to complete the Robin app setup
1. After you've successfully connected your accounts, you have the option to set up Single Sign-on (SSO) for Robin or jump to the overview page instead.
Setting up SSO allows your employees to log in to Robin with one click. Before setting up SSO note the following:
Invited employees to Rippling before turning on SSO integration. Turning on SSO integration automatically disables the ability for users to log in using a username and password.

Employees who currently have access to Robin will lose access until they have created a Rippling account.

2. Decide if you want to allow other people in Robin to sign in to the Robin admin account. This provides a convenient way to centralize access to admin functionality across 3rd- party applications.

3. If you don't have any group attributes set up yet you can create them now or click "Continue" to skip to the next step.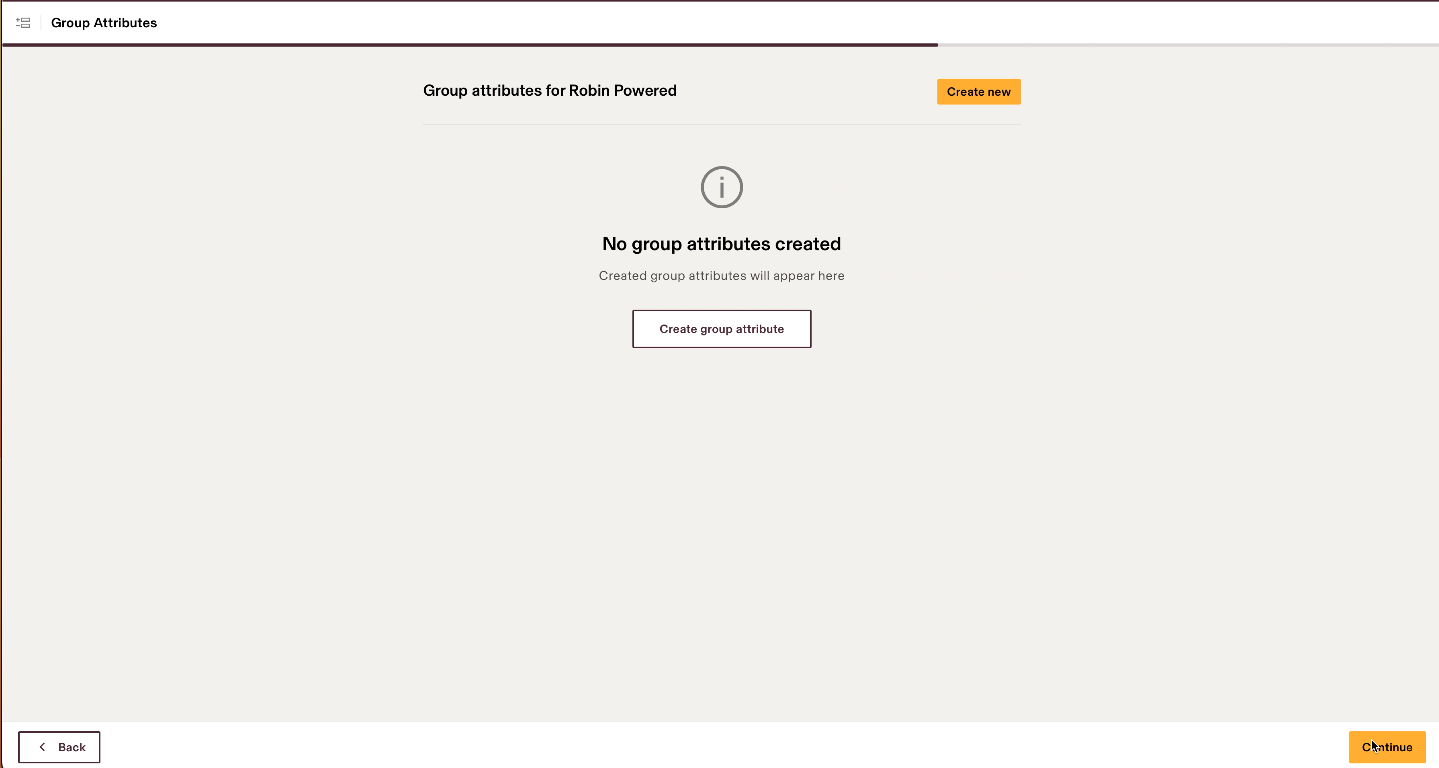 We recommend testing Rippling's connection to Robin by logging in to Robin through Rippling by clicking "Connect via Rippling." Or click Continue to skip.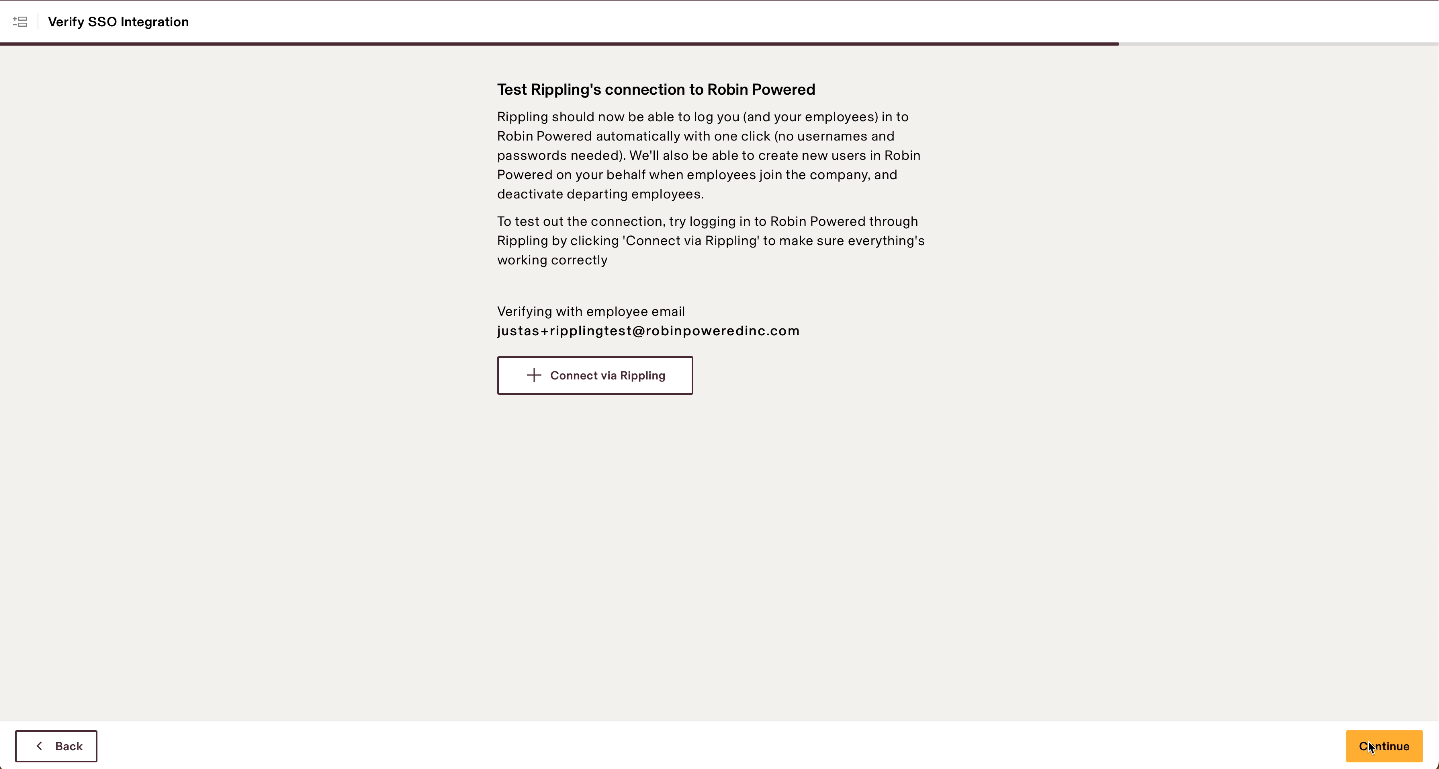 After verifying the connection was successful, click Visit the app to check it out!
The Robin app in Rippling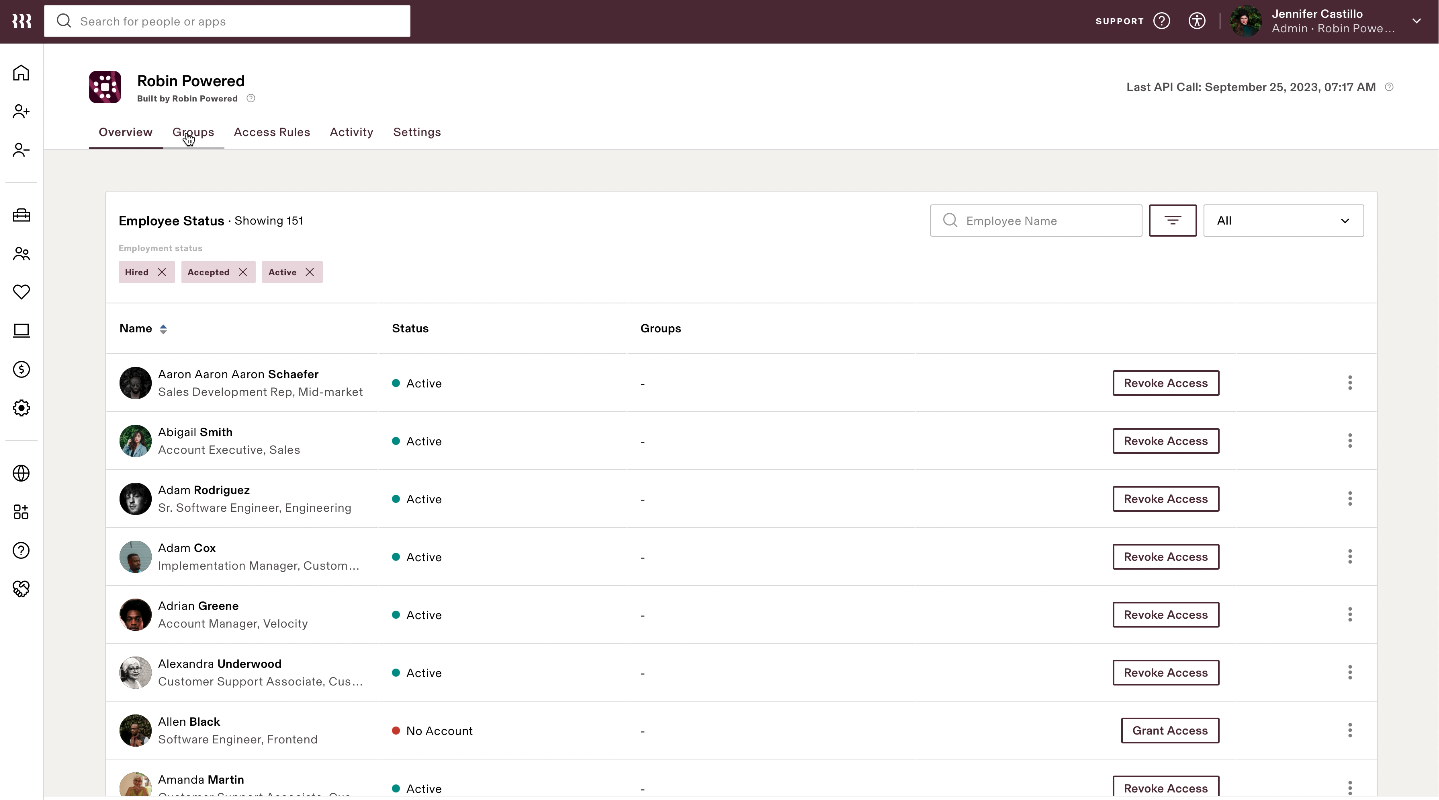 Things to know about Groups:
User groups need to be created in Robin before you can manage them in Rippling.

When you're creating a user group in Robin, you must select "Group managed by Rippling."

After user groups have been created in Robin and synced to Rippling, you can edit the group in Rippling to define who is included in the group moving forward. Any changes made to the groups in Rippling will be reflected in Robin (People page).