Requires
Robin account
Google Calendar
Office 365
Exchange
When you connect your individual work calendar account with Robin you can access a handful of additional features and customize scheduling. Follow the guide to learn more about the scheduling features and how to connect your account.
Sign into Robin using Single sign- on
Your account will be connected automatically if you already sign into Robin using Single Sign-On for Google or O365.
Tips to get started:
Make sure you have enabled pop-ups in your browser in order for the Oauth verification window to open to complete the connection.
Check with your internal admins about the "personal booking"feature. This setting is optional, but if it's enabled for your organization, you will need permission to book on room calendars. Or else your events will be declined.
Exchange users
This isn't supported with Exchange. To access more advanced scheduling features we recommend transitioning to Office 365.
How to connect your account
If you haven't connected your individual work calendar account yet from the in-app prompts or from logging in using single-sign-on, you can connect it manually under your user profile setting.
In-app prompts or event composer dropdown:
From the in- app prompts, select your calendar system and the follow the Oauth steps to connect your calendar (See image below).
From the event composer directly, navigate to the dropdown menu in the bottom left corner & select > Connect your Google or Office 365 . From here, follow the Oauth steps to complete the connection.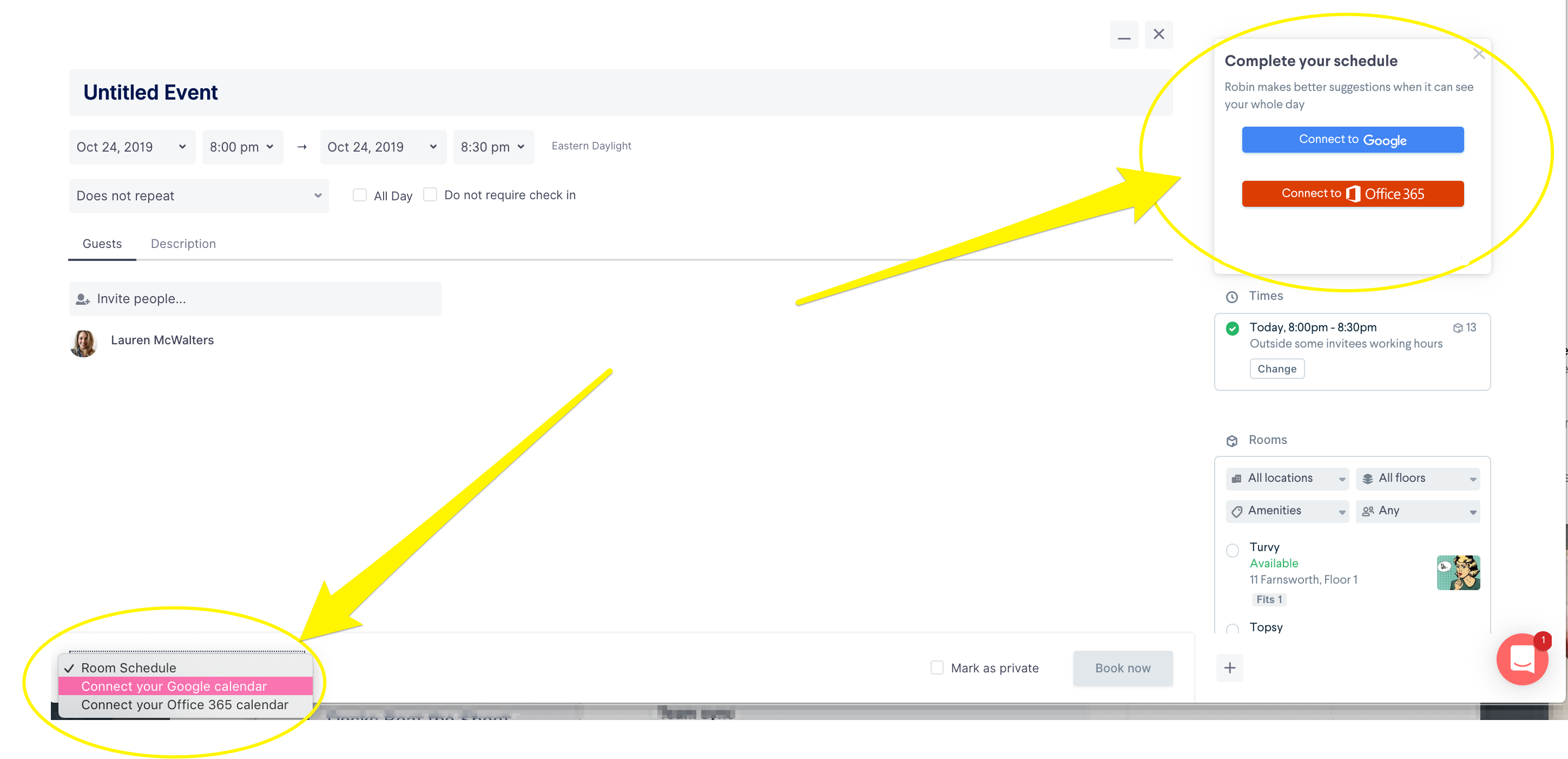 Manually:
Navigate to your user profile under your Avatar > User Settings > Integrations

.

From the Integrations page, Connect

either your G Suite or Office 365. From there, follow the Oauth verification steps.

Permissions
When you connect your account, you're giving permission for Robin to access the following information:
View your email address
View your contacts
View (only) your calendar for free/busy
Manage your calendars
Supercharged scheduling features
View all of your events in Robin
Once your user calendar is connected you will be able to see all of your events on the Schedule Overview page in the Robin dashboard and mobile app, including:
Events without a space attached.
Events on your individual work calendar account (e.g. coffee date with a co-worker)
From the Robin dashboard, navigate to the Schedule tab in the top ribbon > select a calendar view; upcoming, day, week, or month to see your events.
Note: Users will only see the events they're invited to or have organized on their schedule. Robin will not share or sync any event data for events outside of Robin-powered spaces.
Preview co-workers availability
If you (and your co-workers) have your work calendar account connected you can see who's free or busy before creating events. Resolving conflict before it happens!
But can co-workers see my event details?
Robin will always respect user privacy. When Robin checks invitee availability, we're checking against the calendar's free-busy API only. Meaning we can only see if the user (invitee) has an event or not – we can't see any details from that event.
Invitees will auto-populate from your contact list
When Robin has access to your account, your contacts' email addresses will auto-complete into the invitee form when you search by (display) name.
Note: For Microsoft users, this means Robin will pull any contacts saved to your "My contacts" list in Outlook. Keep in mind the "My Contacts" list is different from the Outlook office directory.
Additional features (requires admin configuration)
When the "Allow personal booking" setting is enabled for your organization (+ your work calendar is connected), you're the owner of your events, unlocking a few extra scheduling perks. This means you're managing your schedule as yourself and all events scheduled through Robin are created and owned by you, instead of the account your organization has integrated with Robin.
Robin creates the event as you, the user, and respects the user permissions you've been granted in your native calendar system. Therefore, you can
Manage your events from anywhere, such as canceling your event or changing the event time,

date, location, attendees, or etc.

Book events on behalf of others if you have delegate calendar access.
Note, "allow personal booking" is not yet supported for Exchange yet.