Requires
Room displays must be running version 3.1 or higher
Admin access within Robin
Admin access within your MDM provider
About ASAM
Supervised devices, either through the Apple Configurator or Apple's Device Enrollment Program, will support Autonomous Single App Mode (ASAM). You can enable this setting within your MDM provider to regulate displays, or from the Room App directly.
When ASAM is enabled, the Rooms app will remain in the foreground in Single App Mode. If the device were to lose connectivity, it will exit single app mode for easier troubleshooting, and then return to ASAM automatically when the app is open and the device is back online.
How to set up Single App Mode via MDM
Check with your MDM provider for platform-specific instructions on how to manage your devices in Single App or Autonomous Single App Mode. If you need the app's bundle identifier, use com.robinpowered.rooms.
How to set up Single App Mode in Robin
From the Rooms app, navigate to the Space Info screen then scroll down to the Software and System Info section. Tap "Enter Single App Mode". Supervised devices will automatically lock to the Rooms app.
If your device is unsupervised, you'll be directed to the device settings to enable Guided Access Mode.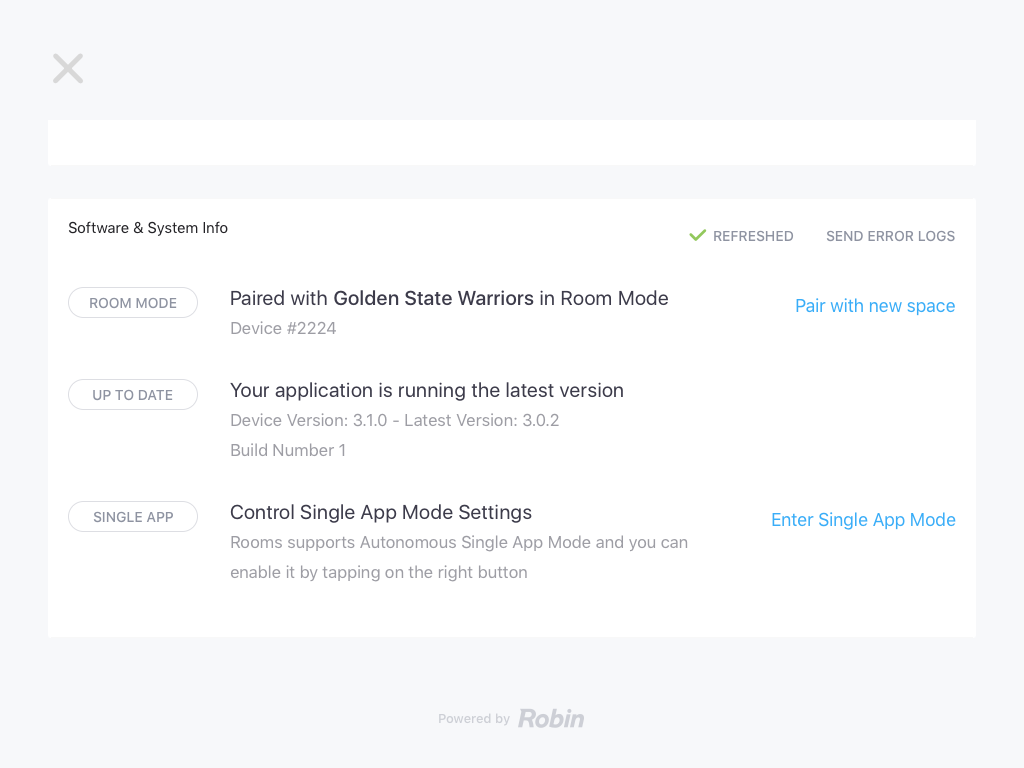 Heads up:
Admins may want to restrict access to in-app settings like Single App Mode by adding PIN protection. Adding a PIN prevents users from updating settings; this guide covers how.