We never send marketing or promotional emails without your consent. When we need your confirmation to start sending certain types of email, you'll see prompts like the one below: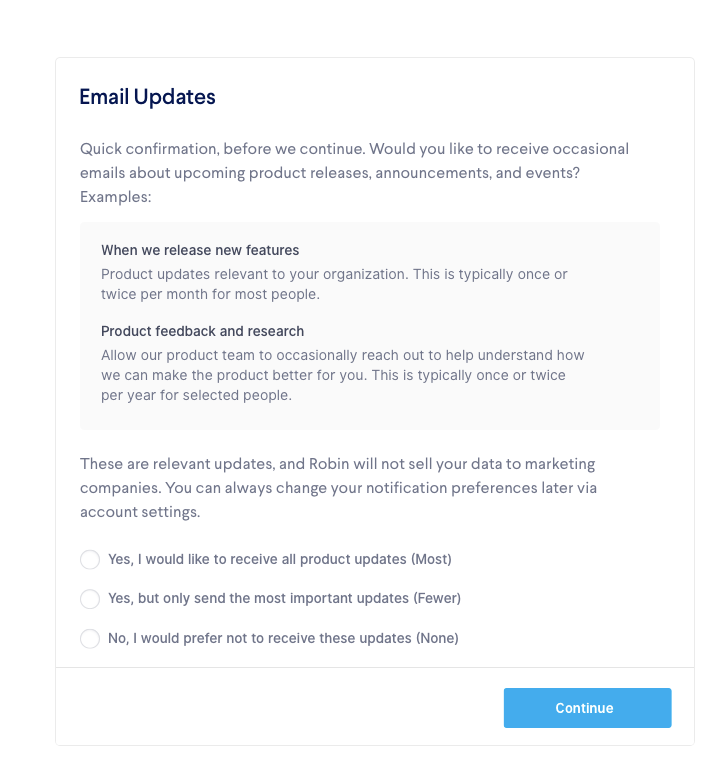 Transactional Emails
Based on your activity in Robin (and your user role), you'll receive some emails sharing important information about your account. Here's an overview of the transactional emails our system generates:
Everyone
Changes to privacy policy or terms of use - In the event we update our privacy policy or terms of use, all users will receive an email with information about the changes.
Admins
Trial updates

- You'll receive an email when your Scheduling or Desks trial is about to expire and when it ends.

Registration and set up

- You'll receive an email when you sign up for an account or create an organization.

Billing updates

- If your plan expires or there's an issue with a scheduled payment, your account owner will receive an email.
Employees
Invitation email

- When an admin invites you to join an organization on Robin, you'll receive an invite email to sign up.

Reset password or find organization - If you have trouble signing in, you can submit your email and we'll send a reset password link or your organization info.
Meeting cancellation - If an event on your calendar gets cancelled, you'll receive an email notification.
Desk assignments - Any time you're assigned a desk or reserve a desk, you'll receive a confirmation email.
Note: This list may change as we add and remove features.
If you receive a transactional email, you're not automatically subscribed to receive other emails from Robin. Transactional emails are system generated and sent in the instances listed above. Subscribing to receive other marketing or promotional updates is optional.
If you've signed up to receive emails such as product updates, we'll keep them coming. If you're looking to unsubscribe, you can manage notification settings here.
Think you received an email in error? Let us know and we'll take a look.