Local desk check-ins with stickers make it easy & convenient for employees to find a desk, book a desk, and check in to a desk at the office. And it provides the team with accurate desk confirmation data to help make informed decisions about the office.
This guide assumes that you've already:
Admins can choose to use touch-less check-ins as a mandatory check-in method or as an additional check-in option.
If you'd like touchless check-ins to be mandatory for employees, enable the "Local desk check-ins only" setting. This setting disables all other desk check-in methods and requires employees to be at their desk in order to confirm their seat, including any impromptu desk reservations made within the "Advance Check-in Window" threshold from the mobile app or dashboard. Follow along below to learn how to enable this setting and what the employee experience will look like.
If you prefer to set up and use touchless check-ins as a supplemental check-in method for convenience, skip to this step.
How do I purchase the QR code/NFC tag stickers?
As of September 2022, Robin admins can order stickers right from the web dashboard! Navigate to Manage > Stickers to place an order.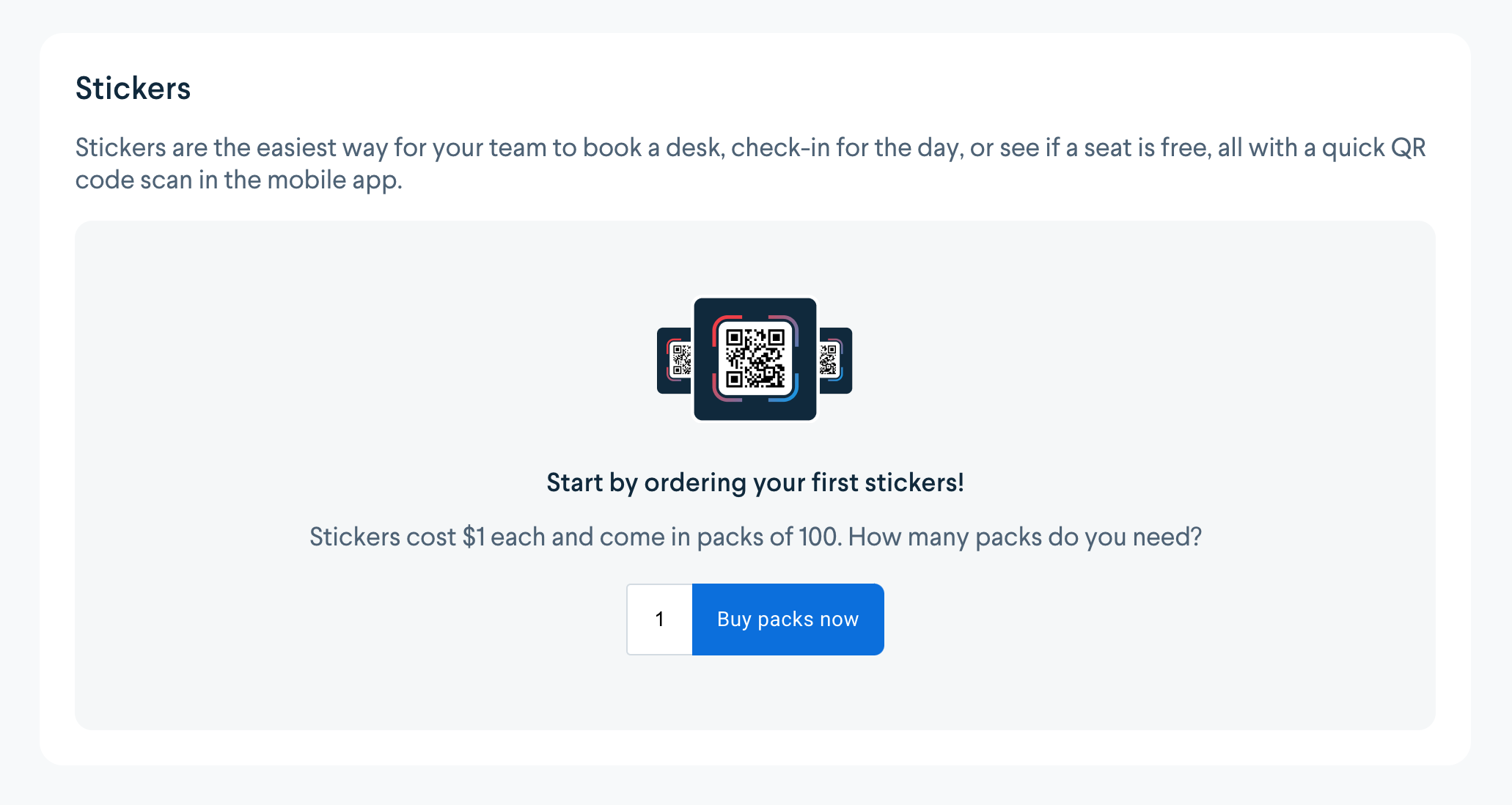 Setting up check-in stickers
[Default admin role required or building level admin role with "Manage Office and Maps" permission required for set up]
Use the mobile app to set up and manage the QR/NFC tags for desks.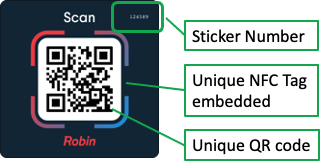 Associating a sticker to a desk
Navigate to the Office tab on mobile > tap a desk > tap Add sticker > camera will open, scan QR code > tap done. Then the stick is automatically associated with the desk & will show the sticker # in the desk details.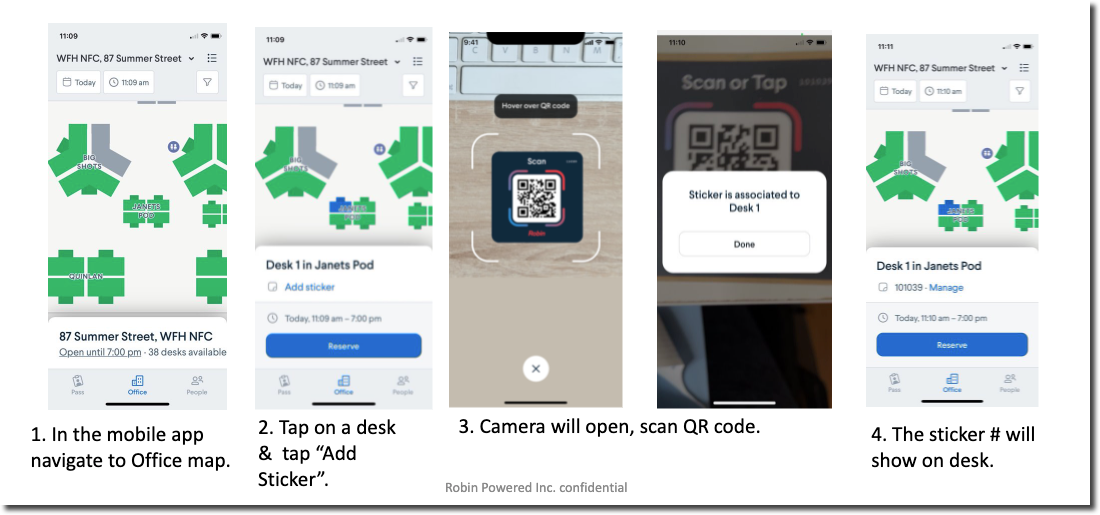 Replacing a sticker on a desk
Navigate to the Office tab on mobile > tap a desk > tap Manage > tap Replace camera will open > scan new QR code > tap done. Then the new sticker # will show in the desk details.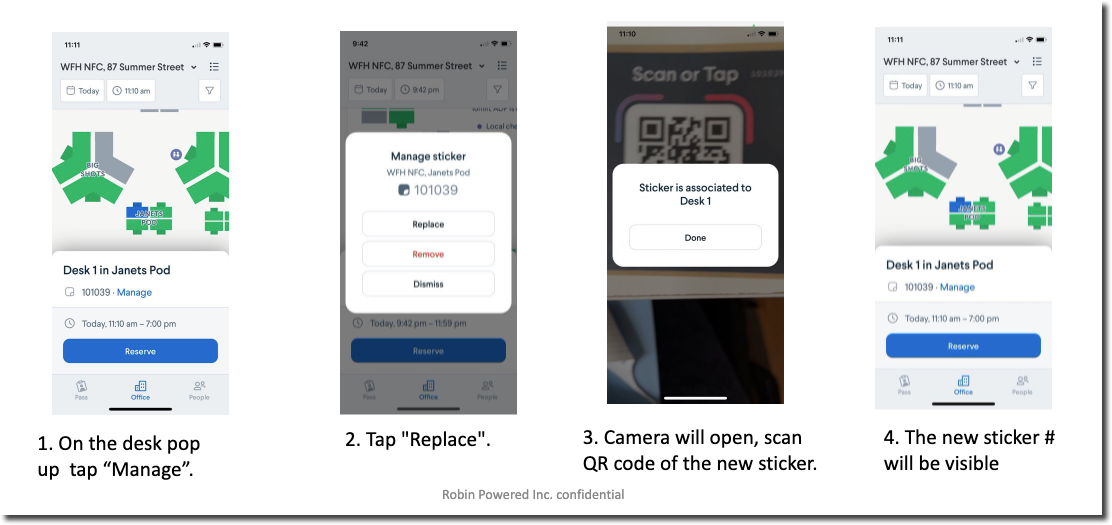 Removing a sticker from a desk
Navigate to the Office tab on mobile > tap a desk > tap Manage > tap Remove. The sticker/QR code is removed and no longer visible.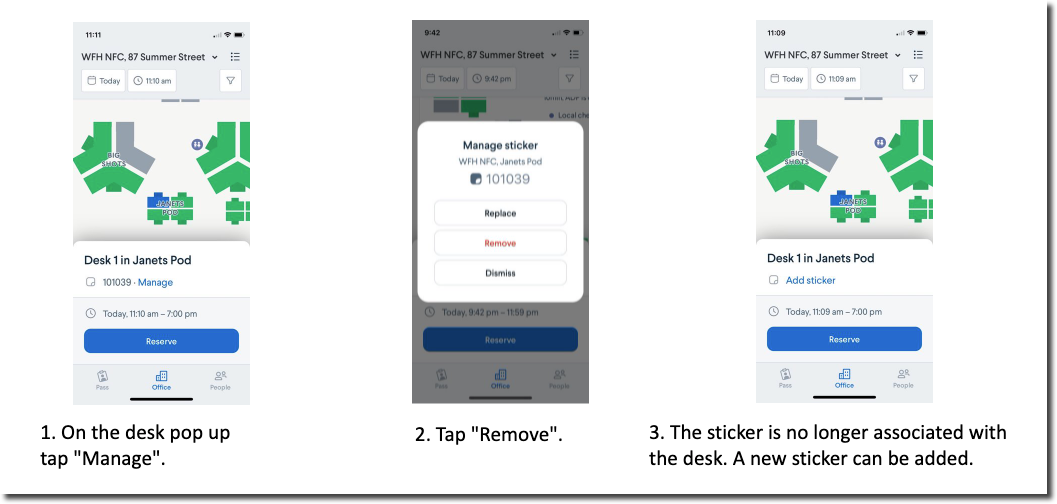 Sticker summary
Use the sticker summary (Manage tab > Stickers) to understand how many stickers you've purchased, how many desks have stickers associated, and the location of those desks.
To see more granular details about which desks have stickers, navigate to the Layout tool using the blue "floor" link under the building drop-down.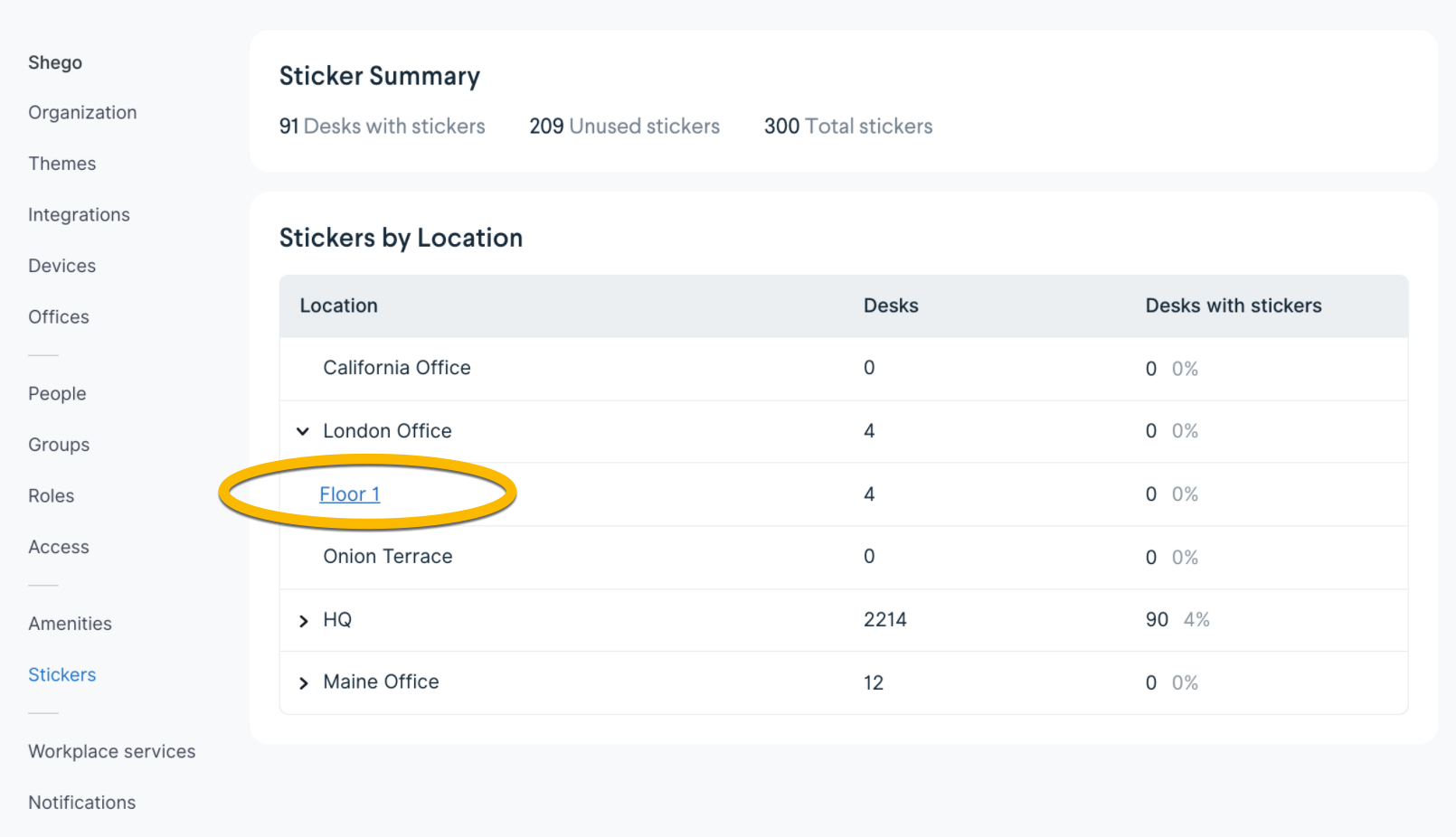 Layout tool summary
In the Layout tool, you'll notice that desks with stickers have an icon on the right lower corner of the desk and the floor overview notes the number of desks with stickers.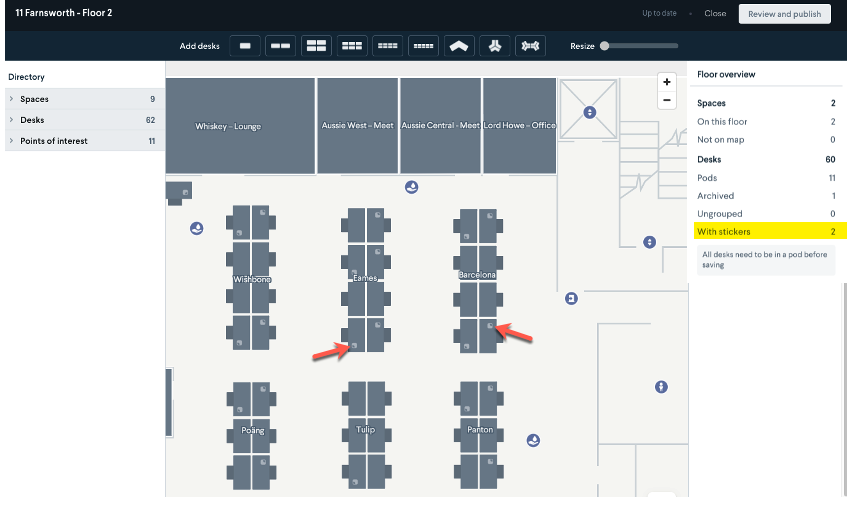 You can see the sticker number associated with each desk in the right-side panel when a desk group is selected.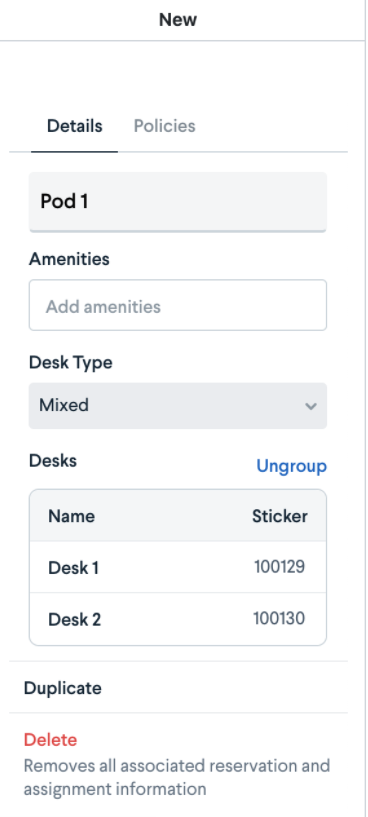 Checking in to a desk
You can check in to a reservation any time from the start of the confirmation window to the end of the reservation by scanning the QR code or NFC tag.
You'll notice Robin helps you stay on top of it with check-in reminders across the Robin platforms. And if the health checkpoint is required too, then you'll be prompted to complete the health checkpoint if you haven't already.
Watch the tutorial or follow along in the guide.
Via QR code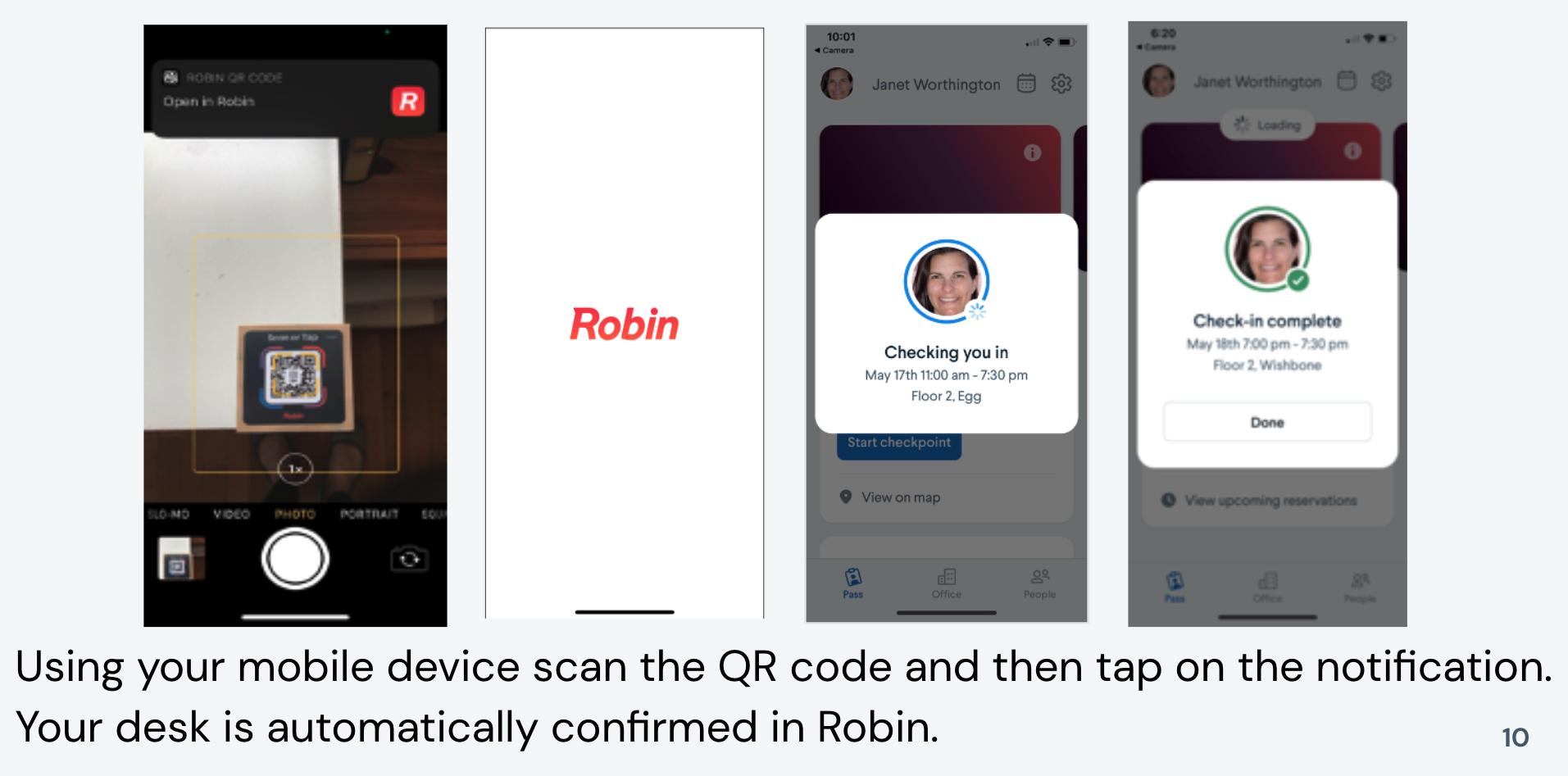 Via NFC tag
Supported on iPhone models XS and higher & most Android devices released after 2017.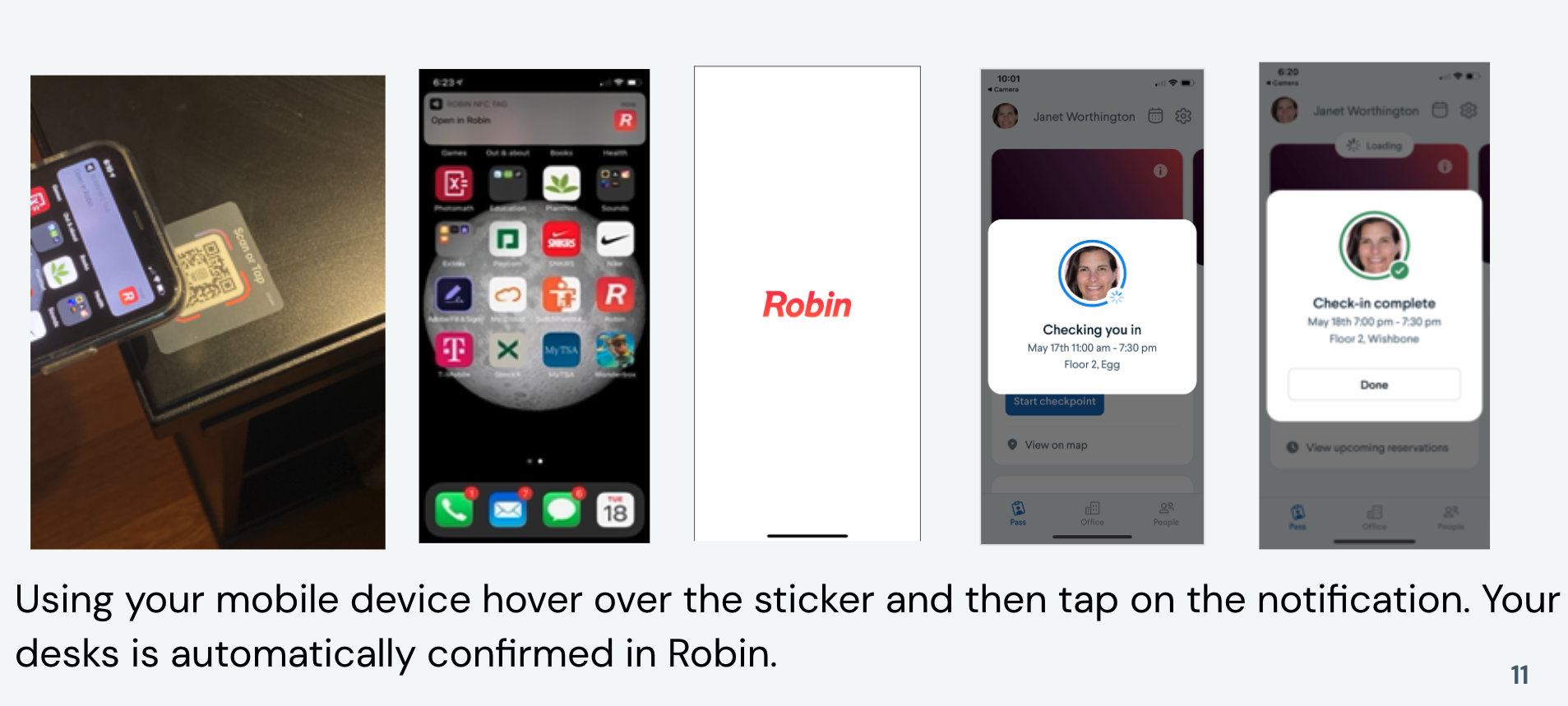 ​
Booking a desk
Find an available desk and scan the QR code/NFC tag, then tap Reserve this desk to make it yours for the day.
Note, you'll be automatically checked in and you'll be prompted to complete the health checkpoint if you haven't already (if it's required).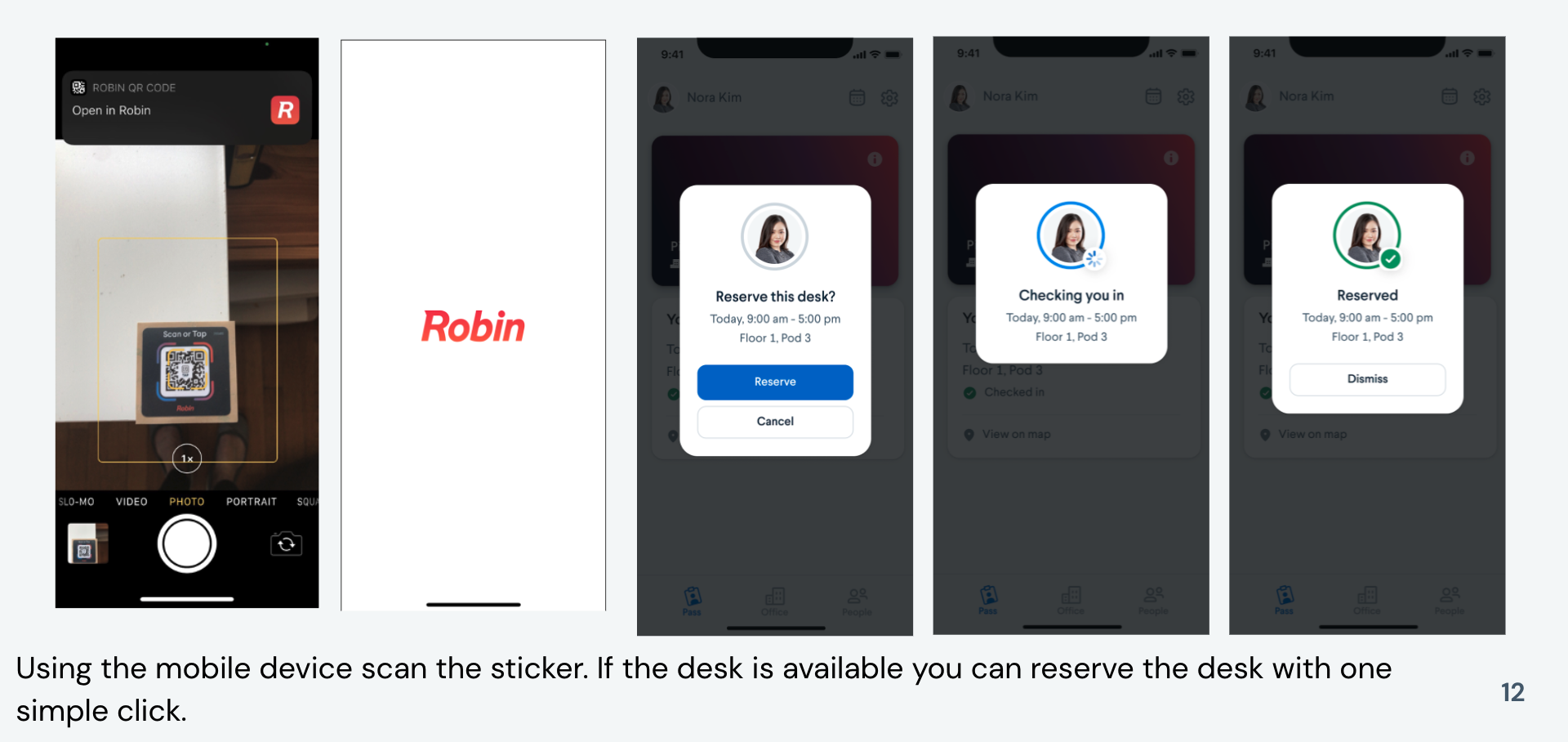 Finding a desk
A. If you scanned a desk that is already reserved, then we'll give you the option to find another desk using your office map.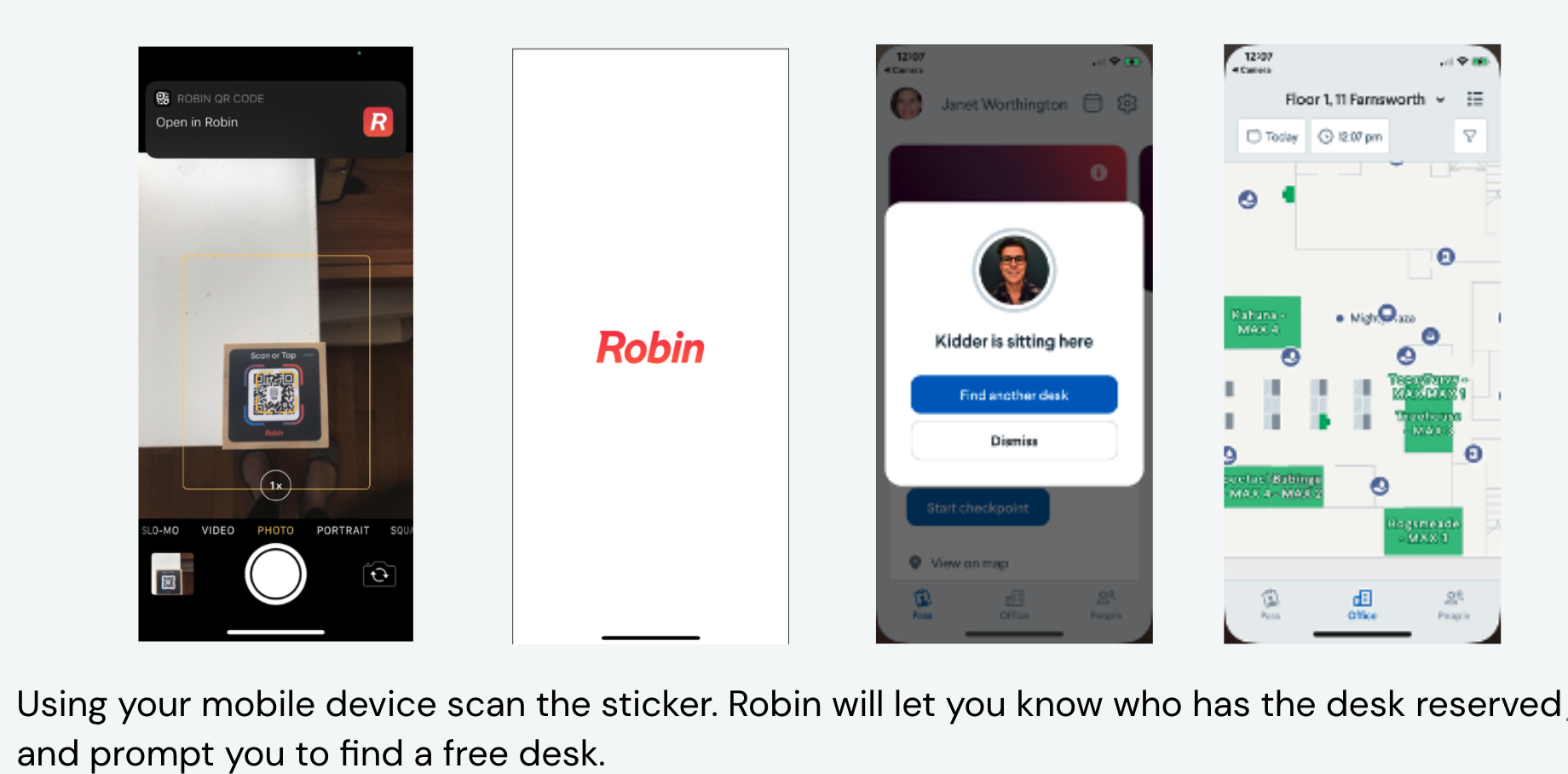 B. If you scan an occupied desk + you already have a reservation, then we'll let you know who is sitting there and that you already have an active reservation with the option to view it on a map.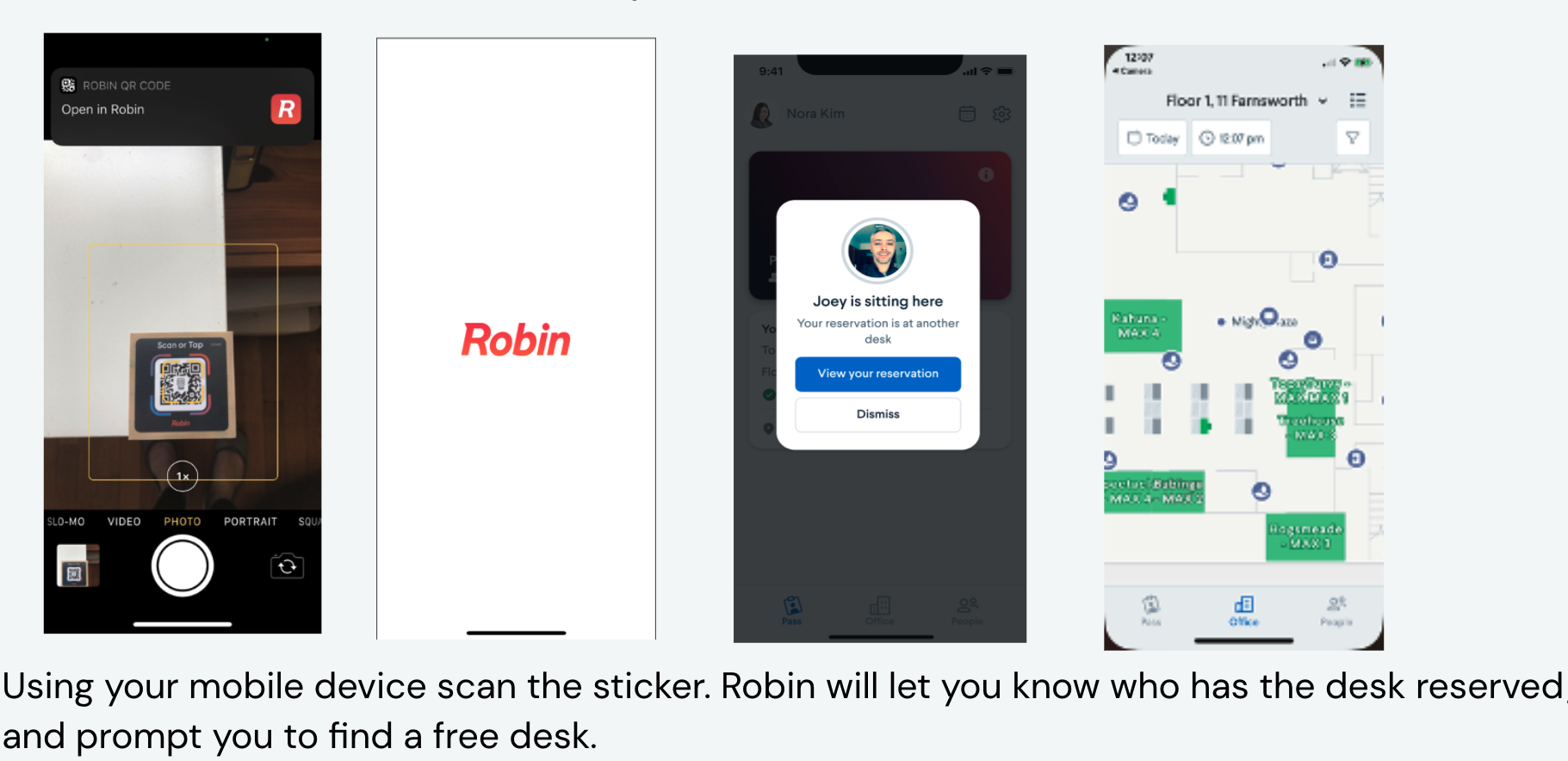 Swapping desks
If you scan an available desk + you have a reservation already, then you'll see a prompt with the option to reserve that desk instead(swap desks), view your current reservation, or cancel the action.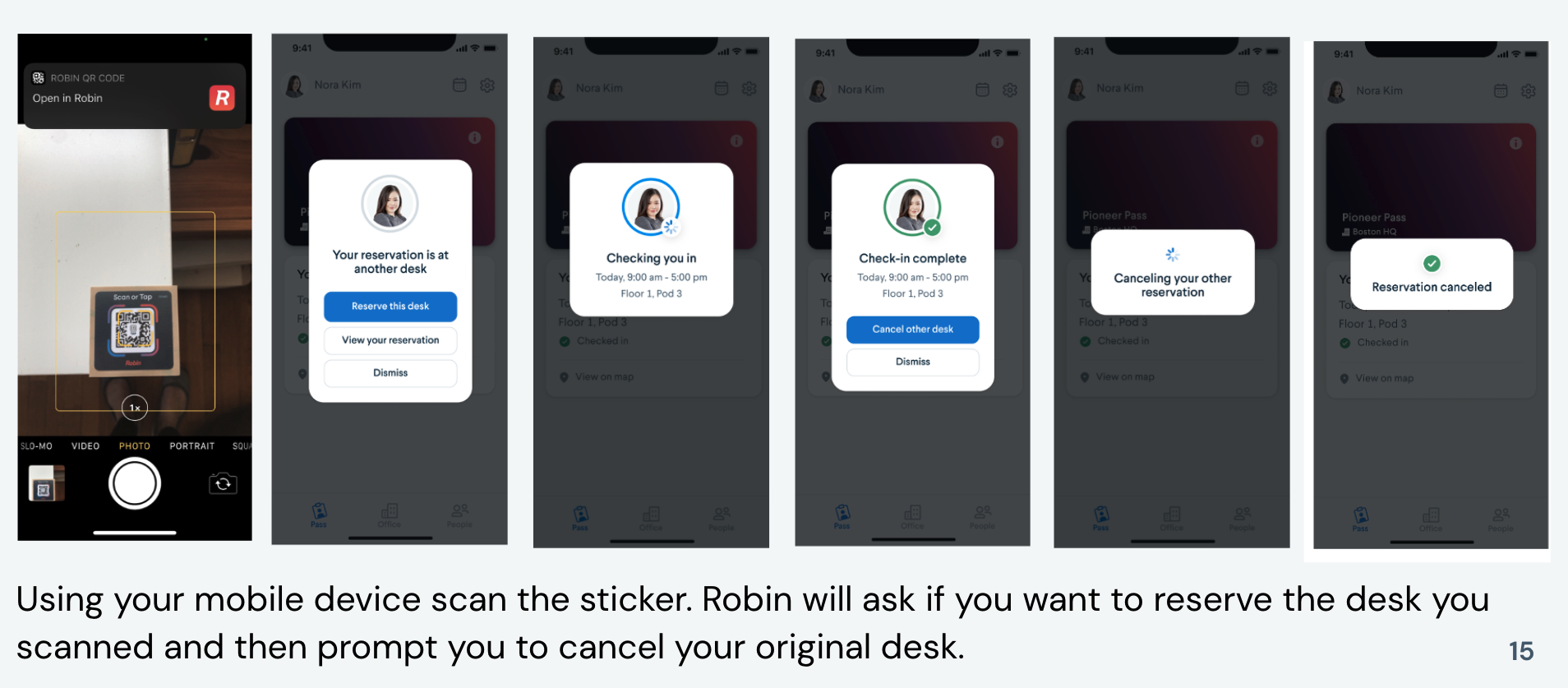 Enabling local desk check-ins only (optional)
Local check-ins only is an optional setting that can be enabled for an entire office building or for desk groups. Employees will get reminders of upcoming desk reservations via email, Slack/Teams, mobile, and dashboard, however, employees will need to scan the sticker at the desk to complete the check-in.
Enable on building-level
Navigate to Manage > Offices > select a building > scroll down to "Desk policies" section > toggle Local check-ins only setting > Apply to all.
Note, "apply to all" will overwrite any pre-existing desk policies.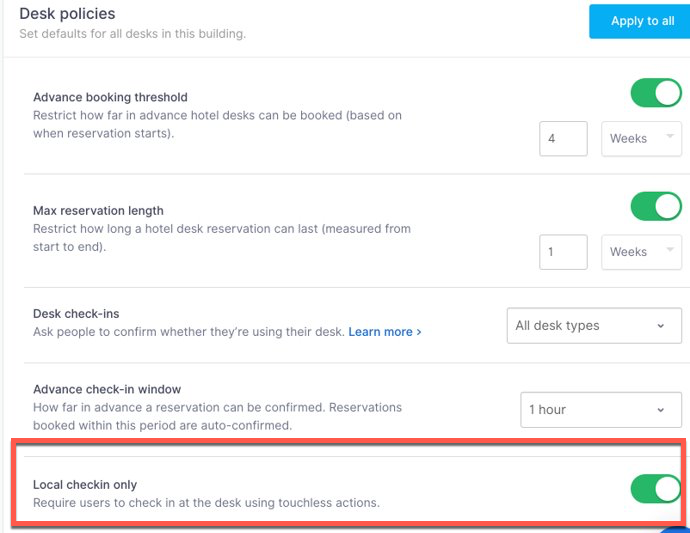 Abandoned desk protection tip
Admins can enable abandoned desk protection when configuring the stickers. With that said, if "Local check-in only" is enabled, we recommend configuring or adjusting the abandoned desk protection threshold to include a buffer to give folks enough time to get to their physical desk to complete the check-in before the reservation is canceled.
Enable for desk group
From the Office search page > navigate to the Edit floor drop-down menu on the map > Layout Desks. Use your cursor to select a group of desks > in the right menu panel click the Policies tab, then toggle Local check-in only policy.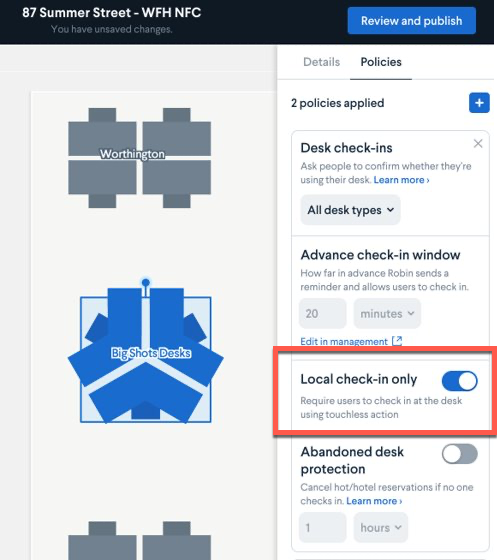 Health checkpoint survey
Robin's health checkpoint allows admins to screen people to mitigate risk, keep everyone safe, and stay compliant. If you're implementing the health checkpoint for your office then the survey will pop up when folks scan a sticker if they haven't already completed it.
Folks who book a desk in advance will have an opportunity to complete the survey before coming in advance via email and will not be prompted to complete it again when they scan the sticker to check in to their desk.

If you book a desk on the fly via a desk sticker, then you'll be prompted to complete the checkpoint survey.
Check-in reminders
To help employees stay on top of their upcoming desk reservations and office policies, Robin uses check-in reminder prompts and notifications across the Robin platforms.
Mobile check-in reminder
The Robin mobile app will prompt users to scan the sticker to check in when the "Local only check-in" setting is enabled.
If you open the Robin mobile app during the check-in window > tap the blue Check-in button on the Pass tab > This will launch your camera and guide you through scanning the QR code to complete your desk check-in.

Below are examples of what desk check-in reminder prompts look like across the different Robin platforms when the "Local check-in only" setting is enabled and disabled.
Web dashboard: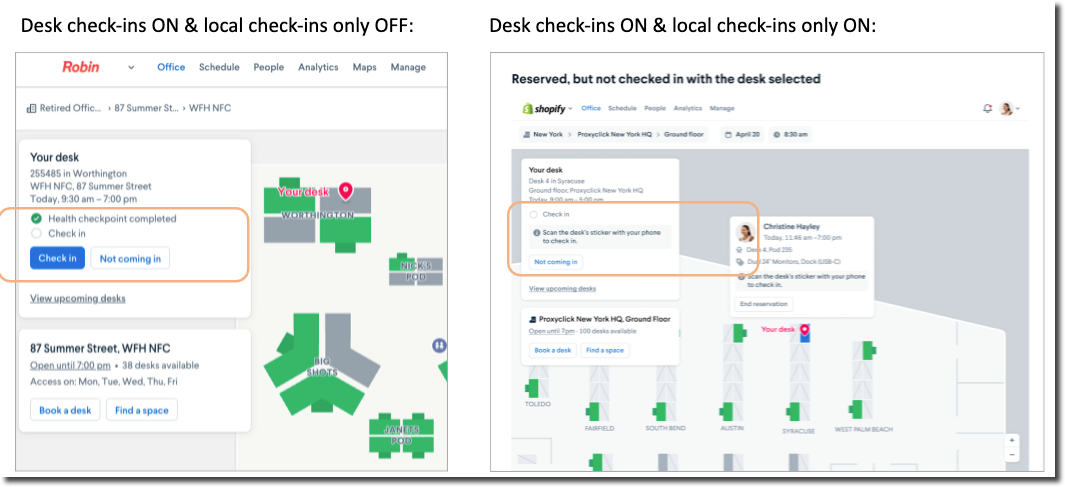 Email: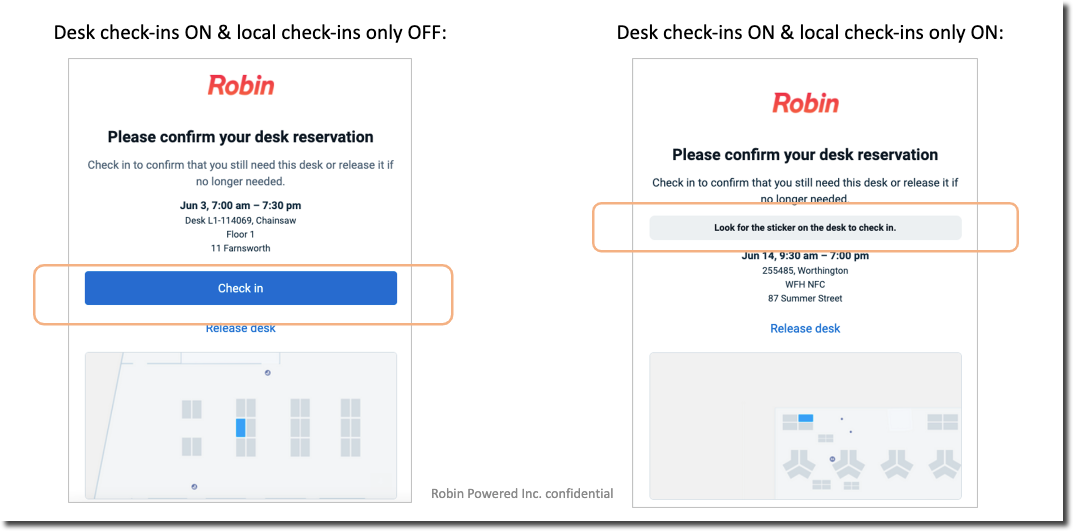 Slack or Teams: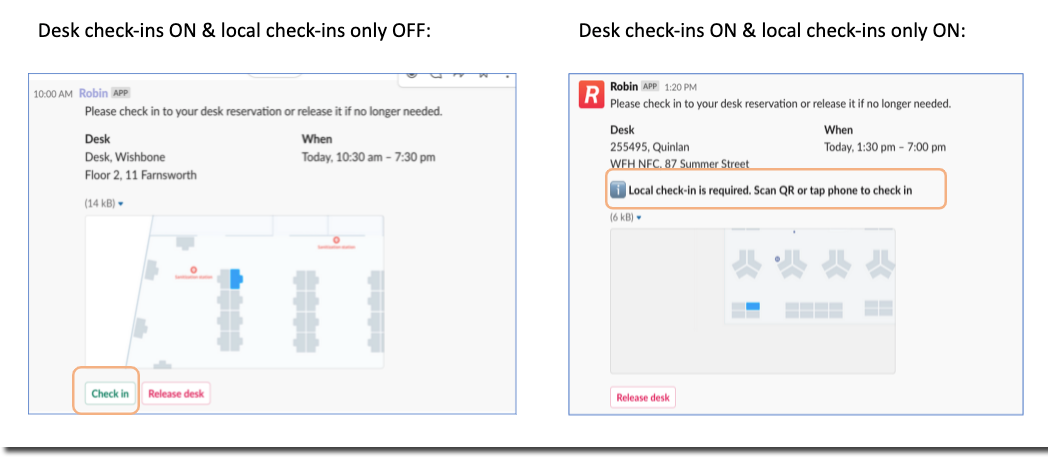 Viewing check-in status
Admins can review the checked-in state on the roster for visibility into who's accessing the office on a given day.
Hover over the check-in mark to see exactly when someone confirmed their desk reservation and how; locally via sticker scanning or "remotely" from the web dashboard or mobile app.