Pair the Google account and calendars you already use to keep your space's schedule in sync.
First, connect your Google Workspace (fmr. G Suite) account with Robin.
If you've already followed these steps to connect your Google Workspace (fmr.G Suite) account, you can jump ahead to step 5 and add a room calendar to a space (right this way).
1

Log into the web dashboard, then select the space with which you'd like to pair a calendar.

2

If your office uses Google Workspace (fmr.G Suite) for email and scheduling, select the Google icon.
3

You'll be prompted to connect your account if you haven't already. A pop-up window will show you a list of your Google Accounts or ask you to enter your account credentials. Select the one you'd like to add to Robin. We recommend using a generic account with access to the shared office calendars instead of a personal account.

4

Robin will ask for permission to access calendar information in order to sync events. Accept permissions to proceed.
Connecting calendars
Once you've connected the Google account with Robin, you'll be able to skip this step for all future rooms and locations.
Next, add a room calendar to a space.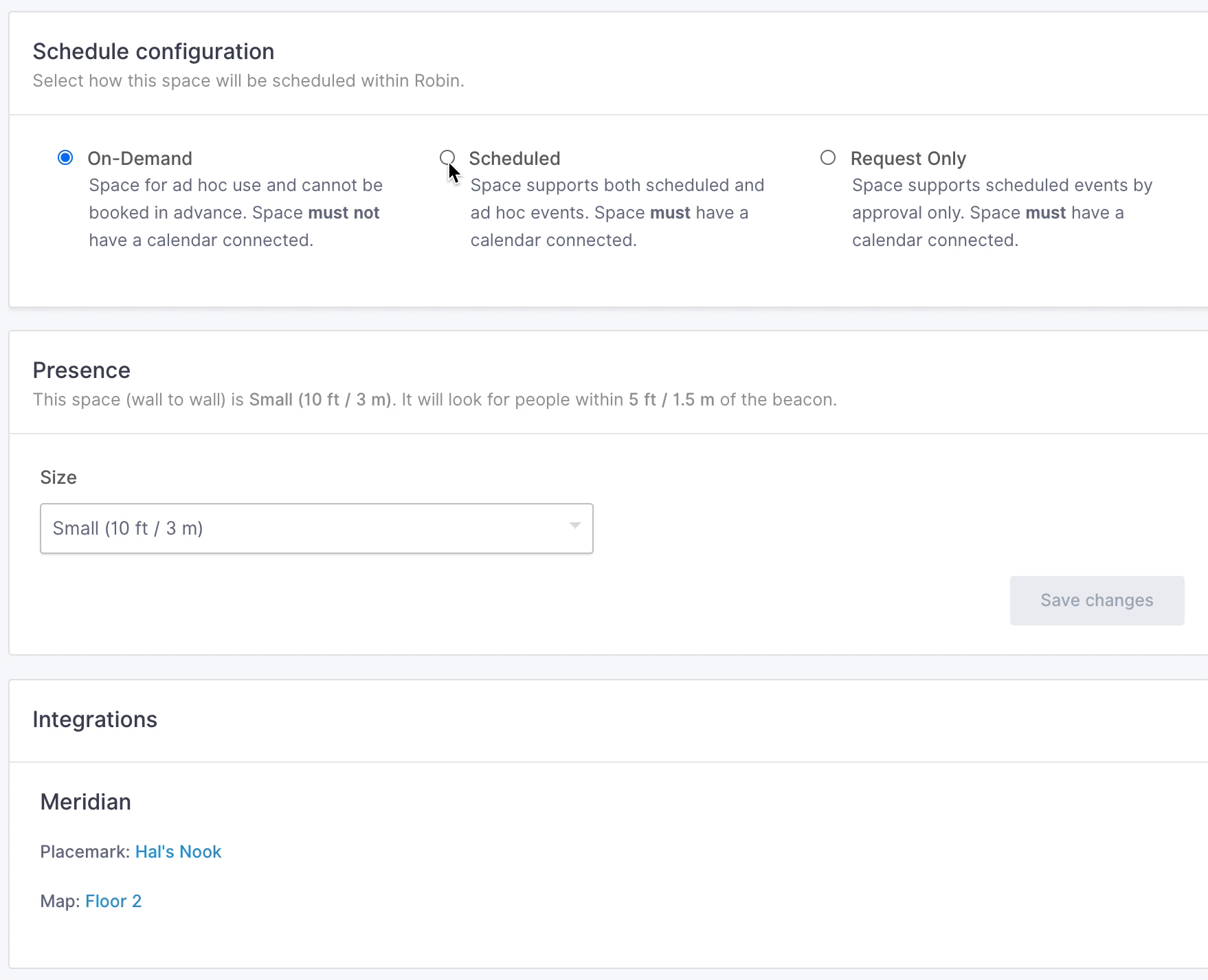 If you connected a Google Workspace (fmr. G Suite) account from Manage > Integrations, go ahead and navigate to one of your spaces to pair it with a calendar. If you don't see this option, you may need to refresh the page after pairing your account.
5

From the space details page, scroll down to the

"schedule configuration"

section > select

Scheduled

option >

choose a calendar to pair with the space. If your office already uses Google calendars to manage your rooms, select "Use an existing calendar."

6

The dropdown menu shows a list of the calendars managed by the connected Google account. Select which calendar you'd like to pair with the space.
Missing your room calendars?
If you're not seeing your resource calendars in this list, make sure you've enabled API access for your Google account. This gives Robin permission to access the calendars.
7

When done, click "Save". Your current and future events will now sync with Robin. It may take up to 10-20 minutes for all events to sync for the first time.
Pro tip: Make sure your Google resource calendars are set to "Auto- accept invites that do not conflict".
This will help prevent the frustrations of double-booked events. Learn more here.
To change, remove or edit calendar settings for your space:
Open to your space details page, and click on the "Schedule" tab. Click "Edit Calendar" to update the calendar or its settings.