Requires
Google Calendar
Robin account
Supported browser
The Robin extension works alongside Google calendar to help folks find the optimal time and space for office activities like meetings, conversations, and focused work.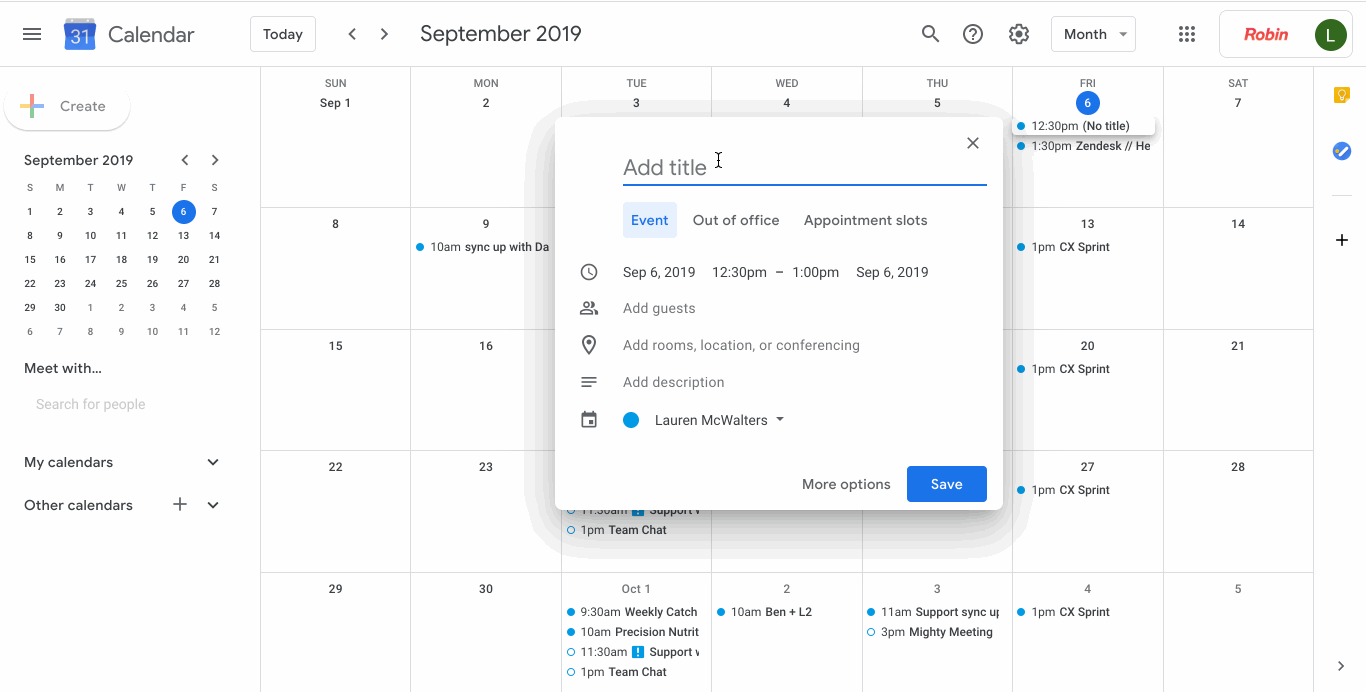 Tips before getting started
Admins, make sure users have the

correct calendar permissions

to book in the extension. Your events will be declined if you don't have access to book directly on resource calendars.
Admins, for users to enjoy the full experience, make sure

amenities & capacity are set for each space.
You'll need to have your organization's username handy.

Here's how to find your organization's username.
If you use Single Sign On, make sure to

enable pop-ups in your browser.
If you don't yet have an account, reach out to the Robin administrator within your company for guidance on

joining your team.
When you book a meeting with the Robin extension, you're actually booking in Google.
A few things to keep in mind:
Robin simply syncs events from your Google calendar to the Robin dashboard, room displays, & mobile app, relying on your native calendar rules to recognize conflict.

When users book through the Robin dashboard or mobile app the booking user is booking the event on the user's behalf.

When users book events in Google calendar they're booking through their own account.

Events booked through the extension have the same behavior as booking via Google Calendar. For users to book via the extension, they need to have the correct permissions to book events on the resource calendars.
Install by browser
Add a room to your event
Reserve a space for your event without leaving the event composer. The extension will suggest the best-suited spaces according to the type of activity. The space selections are determined based on permissions, availability, and fit. If no "best fit" spaces are available at the selected time, Robin will show other options, or suggest times when spaces and invitees are available.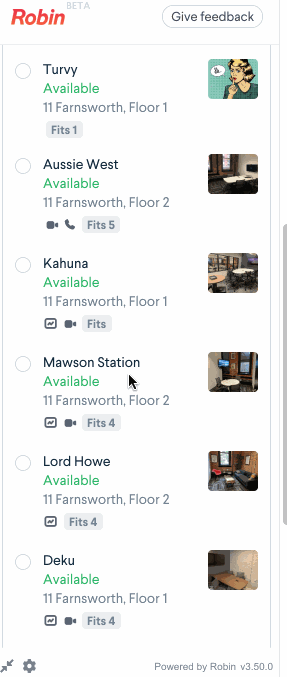 Find an optimal time for everyone
The suggested times help identify time blocks today, tomorrow, or around a specific date when attendees are available. The extension suggests times based on the organizer's set working hours and the known availability of the invitees within the organizer's email domain.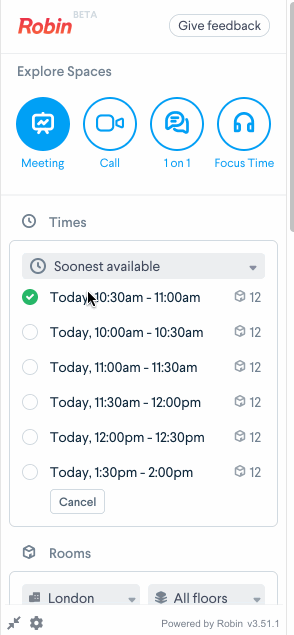 Ready to book your first event? Follow this guide for more tips!
Heads up
Users will need to connect their personal integration under their user profile in order for Robin to check folks free/busy availability to avoid conflicts. Robin respects user privacy and personal events will not be synced.