Robin will make it easy for you to find free space with the right equipment. Here's what you need to know to get started. 
Join your organization
You can join your company's Robin account one of two ways:
By email invitation
If you've received an email invitation to join Robin, get started by clicking the link inside. Keep in mind that each invitation is unique, usable once, and can only be accepted by the email it was sent to.
1

Click the link in your email invitation. It will take you to a registration screen for the Robin web dashboard.

2

Create your account using the same email address which received the email invitation.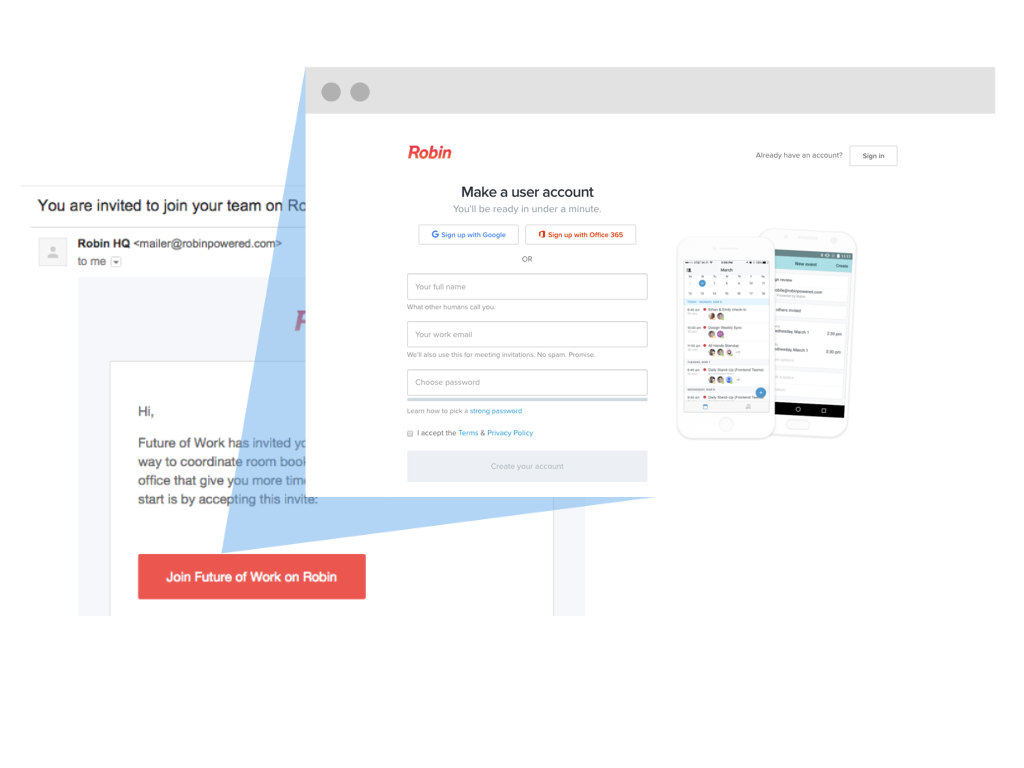 Single Sign-On (SSO) with your work email address
If your Robin administrator has enabled single sign-on, you may sign in using your existing credentials for either G Suite, Office 365,  or SAML.
1

Open your web browser and go to https://dashboard.robinpowered.com/register

2

SSO via G Suite or Office 365: Click "Sign up with Google (or Office 365)". You must use your work email address in order to join your team.
SSO via SAML: Click "Single Sign On". Type your company's name, then enter your single sign on credentials to log in and join your team. 
Common pitfalls
If you log in and see an empty office, then there was an error joining your team. The Robin administrator for your office can manually whitelist your email address to help you gain access. 
Viewing your office on Robin
Robin makes it easy to find and book meeting rooms wherever you are.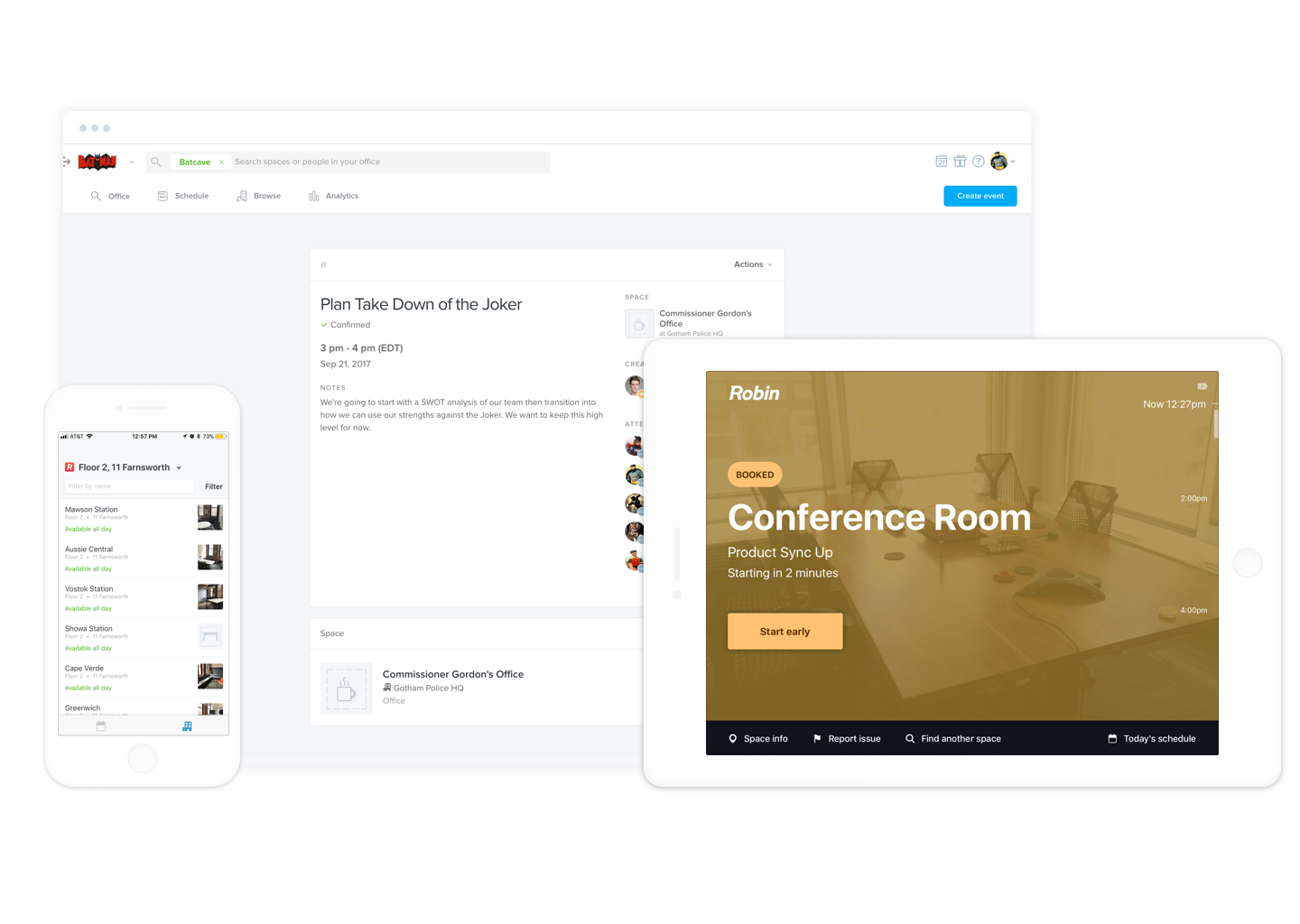 Search for available spaces based on location, capacity, and/or amenities
Reserve rooms for meetings and invite co-workers
Reserve a desk
View and edit your upcoming meetings 
Manage your personal account settings
Log into the dashboard at: https://dashboard.robinpowered.com
The mobile app is your office on the go:
Search your office for available space
Manage your schedule, including work and personal calendars
Reserve rooms for meetings and invite coworkers
Reserve a desk
See who is in the office
Automatically book a meeting room* (Offices using beacons)
The mobile app is available for iOS and Android phones.
From your Google or Office 365 calendar:
Install the browser extension to get more from your native calendar
Search for available spaces based on location, capacity, and/or amenities
Reserve rooms for meetings and invite co-workers
View and edit rooms for your upcoming meetings 
Room displays show daily agendas: 
Book impromptu meetings 
Check in to meetings
View the agenda for the room
Booking events
Book meetings directly from Robin or the calendars you already use. Meetings sync automatically with calendars managed by Google, Office 365, and Exchange, so use whichever you like best.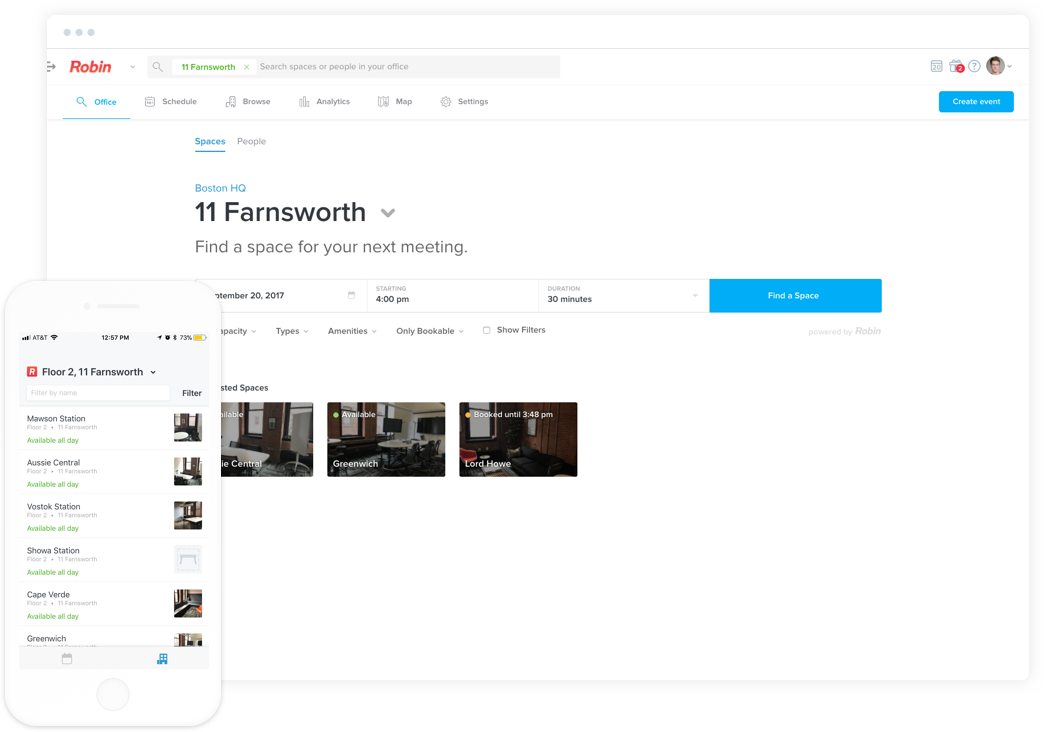 Common pitfalls
Events will show up in Robin when the meeting room's calendar has no conflicts and has accepted the invitation.
Rooms update in real time, and broadcast availability
Room displays show when rooms are available, and when they're not. Let others know when you're using a meeting room by checking in.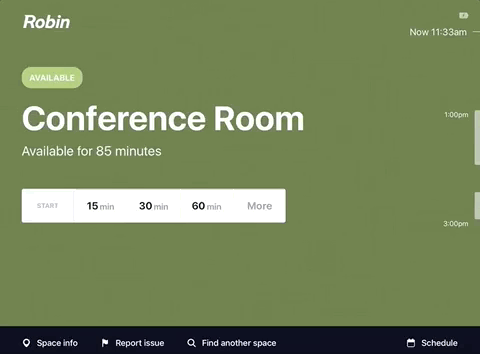 Green = Room is available and can be booked.
Yellow = Room is booked. A meeting is either about to start soon (within 10 minutes) or the meeting attendees haven't checked in yet.
Red = The room is in use.
No-show policy
If your office enforces a no-show policy, the room becomes available if no one checks into a scheduled meeting 10 minutes after the start time. Tap "Start Meeting" to check in.
Need help?
The Robin support team is on hand to answer questions through in-app chat. Just look for the chat box on the web dashboard to get in touch. You can also email support@robinpowered.com.