Looking to jump-start your Robin journey? You've come to the right place! This quick start guide will help you learn all the basics to get going.
Join your organization
You can join your company's Robin account in one of two ways:
By email invitation
If you've received an email invitation to join Robin, get started by clicking the link inside the email. Keep in mind that each invitation is unique, usable once, and can only be accepted by the email it was sent to. Invite link expires after 2 weeks.
1

Click the link in your email invitation. It will take you to a login screen.

2

Create your account using the same email address which received the email invitation. Then complete setting up your user account.
Common Pitfalls
If you hit an error message, reach out to your internal office admin to request an invitation to join your organization's Robin account.
Single Sign-On (SSO) with your work email address
If your Robin administrator has enabled single sign-on, you may sign in using your existing credentials for either Google Workspace, Office 365, or SAML.
1

Open your web browser and go to https://dashboard.robinpowered.com/login

2

Enter your work email, then select your desired single sign-on method and use those credentials to log in and complete the OAuth workflow.

Set your user preferences
Customize your Robin experience with workplace preferences. Navigate to your User settings in the top right corner > Personalization.
Your preferred office is your default view across the Robin platform.

The default homepage is the Schedule page, or you can change it to the Office tab that shows a map for quick bookings.

If you have a consistent schedule, set your default work schedule.
Download the mobile app
Robin has a free mobile app for iOS and Android phones. Scan the QR code with your phone or follow the links below.

Then follow the steps to log in to the mobile app for the first time.
Book your first desk
Jump right in and try booking your first desk using the mobile app!
Mobile app:
1

Open the mobile app and tap Book a desk at the top of the home screen. Or tap the + button at the bottom of the home screen, then tap Book a desk from the menu.
2

Now you're on an interactive map where you can easily see what desks are available.

A. If you need to change floors, buildings, dates, and times use the drop-down options at the top.

B. To book a desk for multiple days tap the calendar icon & toggle on the "Book multiple days" option. Then tap the dates you need a desk for.
3

Tap a green desk on the map to see more information and the option to reserve it.
4

Tap Reserve to book the desk. You can invite co-workers to join you in the office by tapping Share, then select the app of your choice to send your reservation link to a teammate (e.g., Slack).
Learn how to book a room
On mobile
1

Open the mobile app and tap the + button at the bottom of the home screen > tap Book a space. Or tap the Office tab.

2

Now you're on the interactive map, set your room search criteria using the menus at the top.
Use the filter icon in the top right corner to find the best-fit room for your meeting. For example, if your meeting requires any special equipment, like a whiteboard, you can add an amenities filter to focus on rooms that have a whiteboard.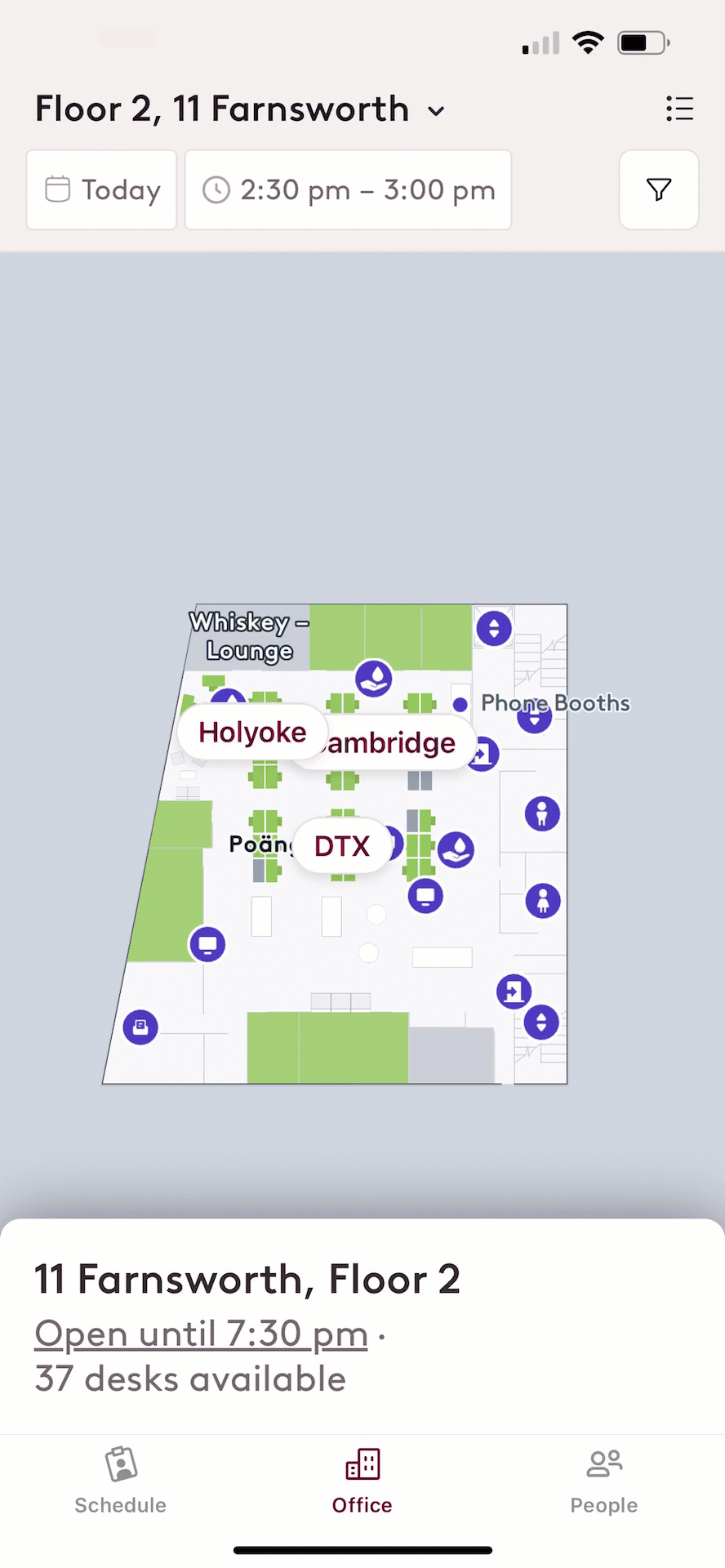 3

Tap a space on the map to book it.
4

Tap Book or New event & fill out your event details. Then tap Create to complete your booking.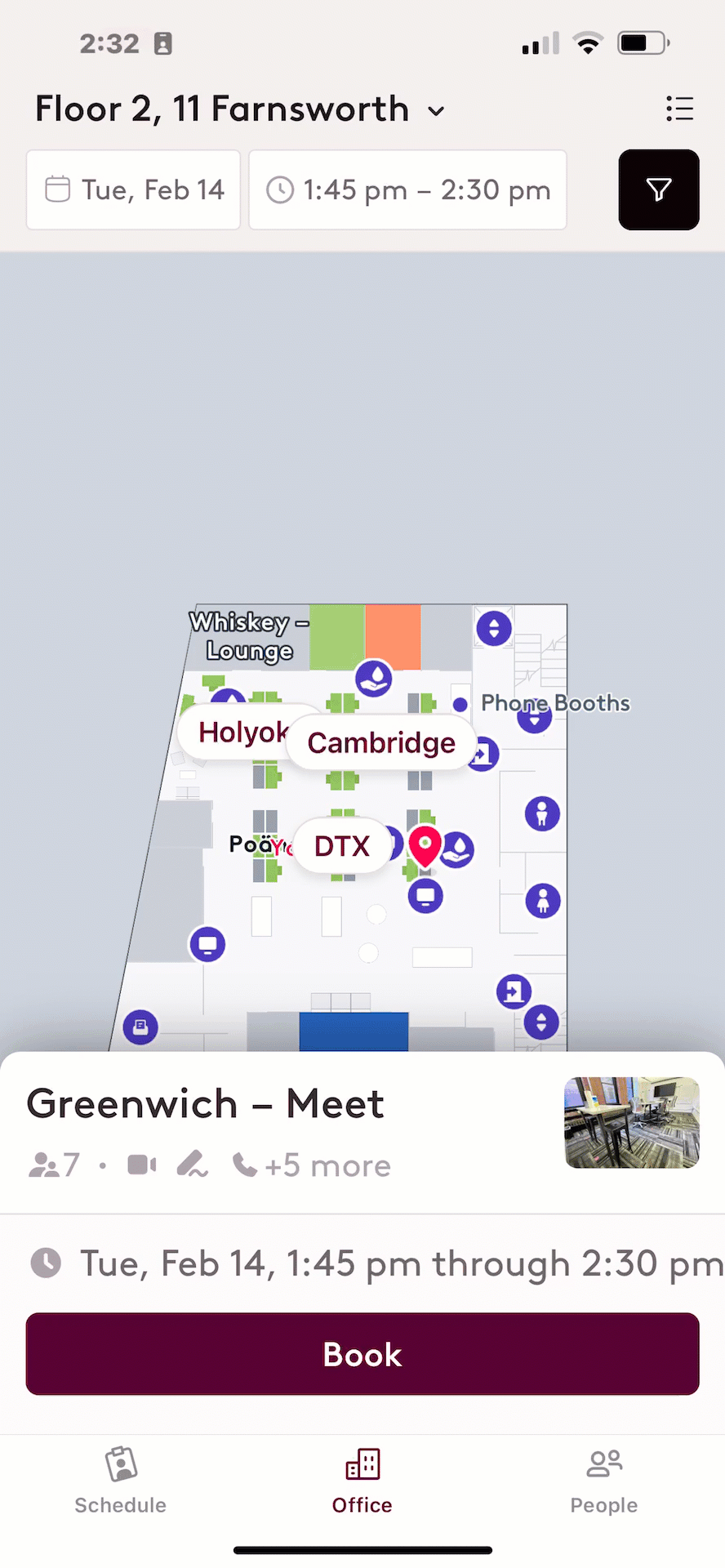 On web dashboard
From the office search page, click Find a space and select your meeting details and criteria. For a deeper dive into event bookings, head this way!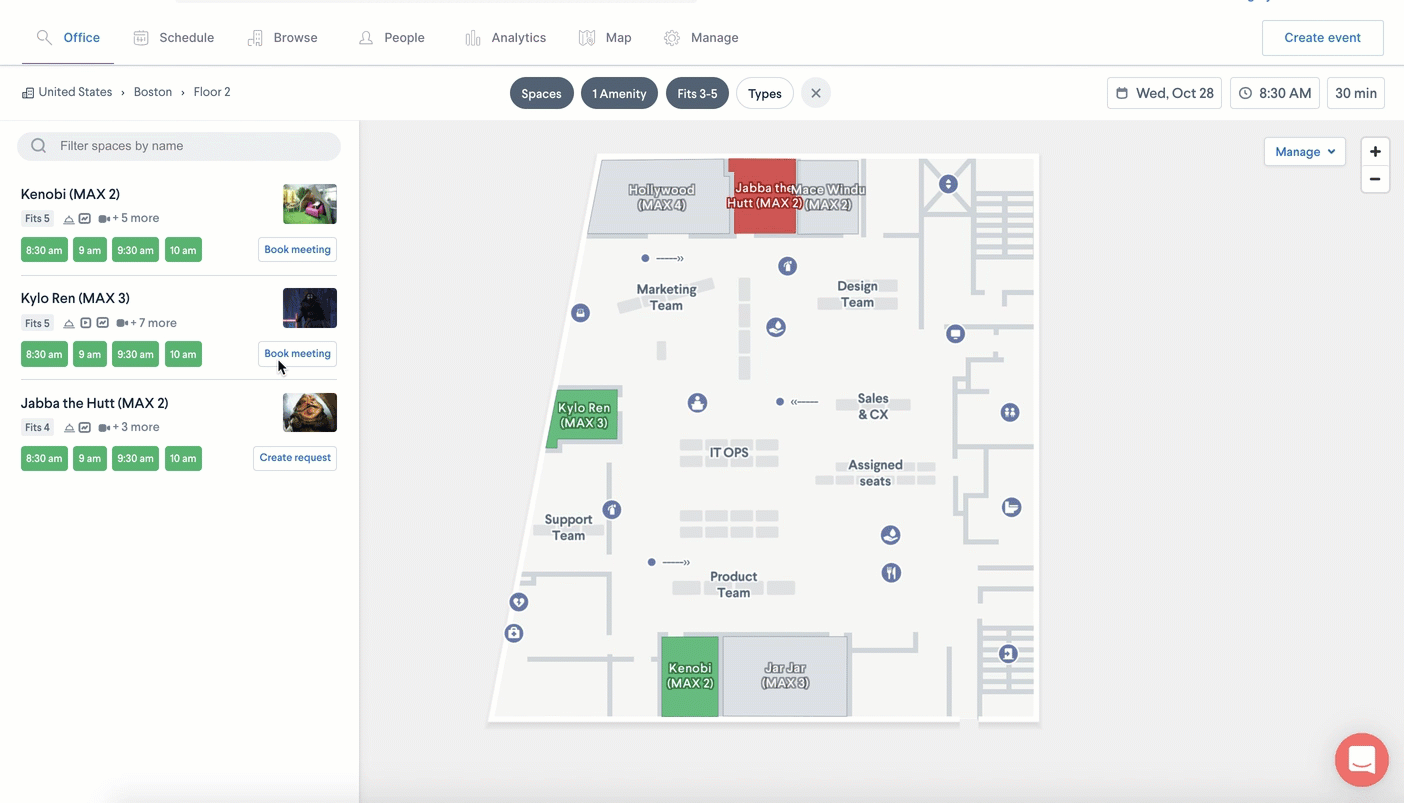 Now that you know how to book a desk and a space, let's take a quick look at how easy it is to plan your week.
Planning your workweek
Robin's Schedule tab in the web dashboard and mobile app are interactive schedules that make it easy to plan the optimal days for in-office work. This is where you can:
Book a desk if you need one.

Update your work status to let others know when you'll be in the office without having to book a desk.

View a list of everyone who's planning to be in the office and where they'll be sitting, so you can book near your team. Click "View all" to expand the list.

Join social events with office activities.

Stay up to speed with office announcements.

Update any changes to your plans.
If you have a hybrid work schedule, check out How to plan your work week & see who's in guide!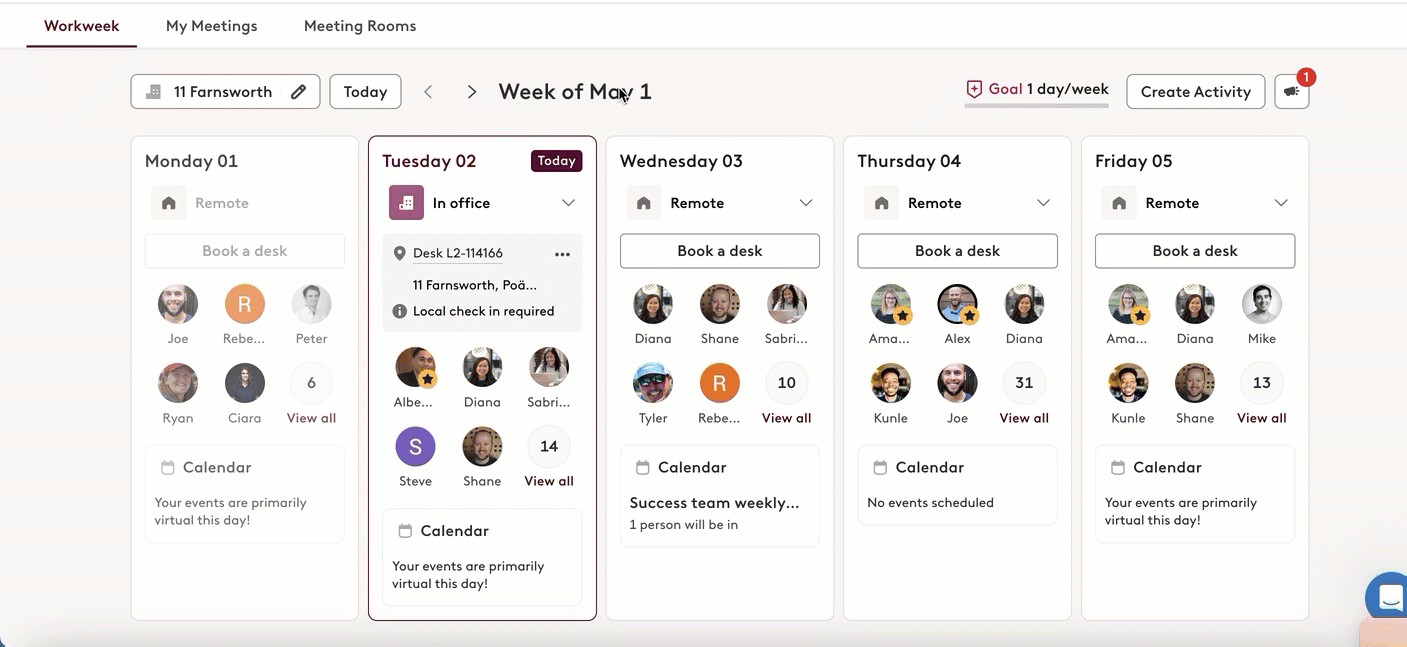 How to view your desks reservations
On mobile
You can also look up your upcoming reservations by following the View all reservations link on the mobile home screen (Schedule tab).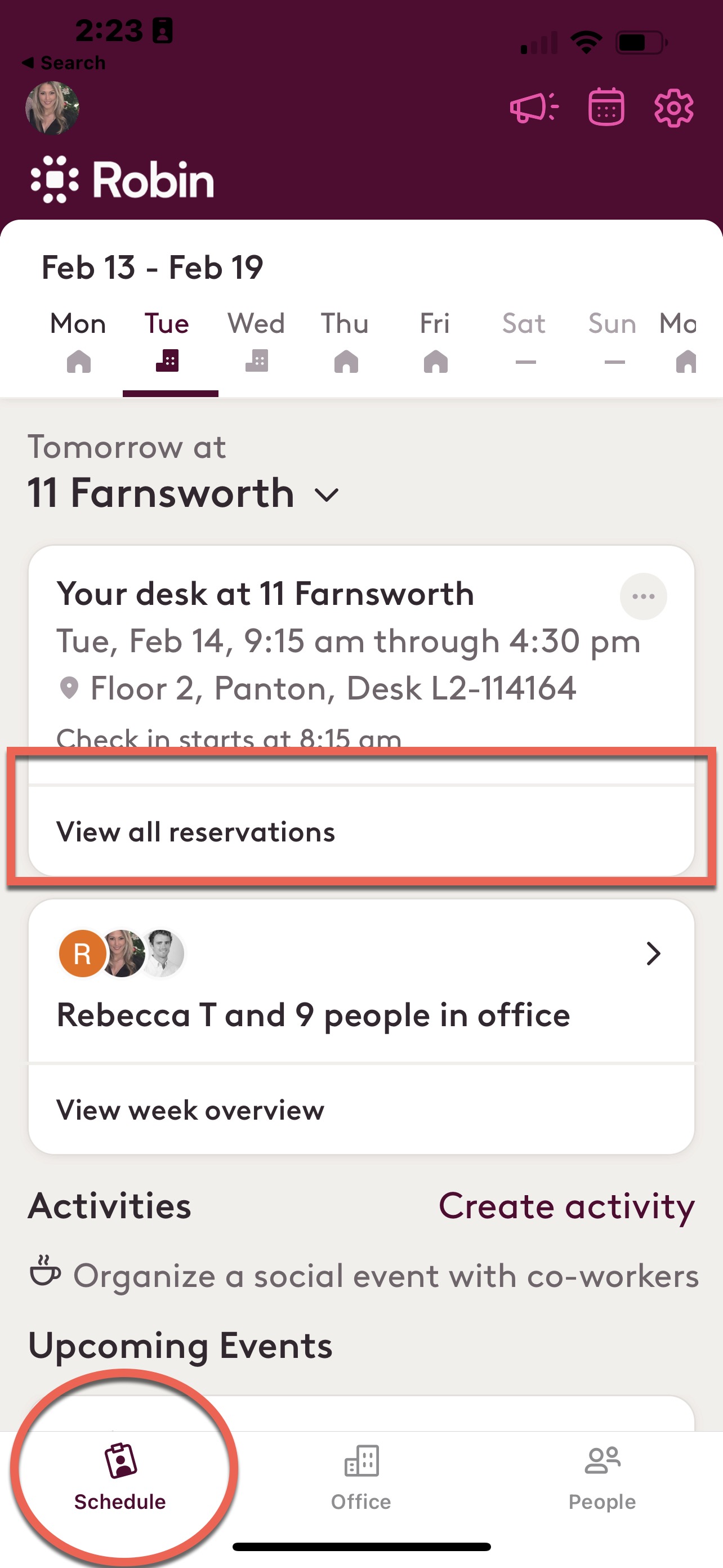 On web dashboard
You can manage your desk reservations and/or seat assignments under your user profile.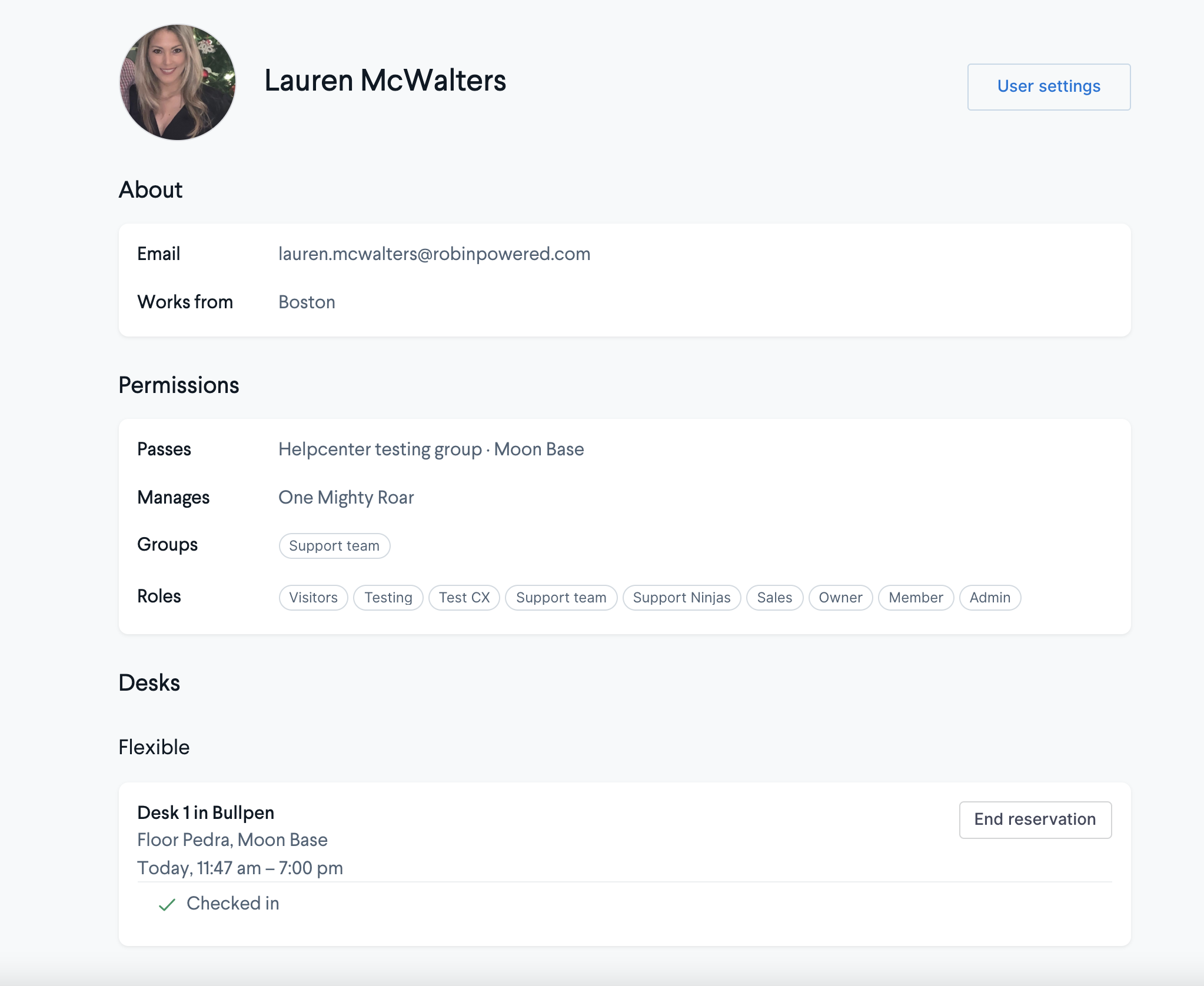 How to view your meeting schedule
On mobile
The mobile home screen highlights your upcoming meetings for that day, and for an expanded view of your schedule, tap the calendar icon in the top right corner. Tap the event to open the module where you can:
- See meeting details
- RSVP
- Edit the event if you're the organizer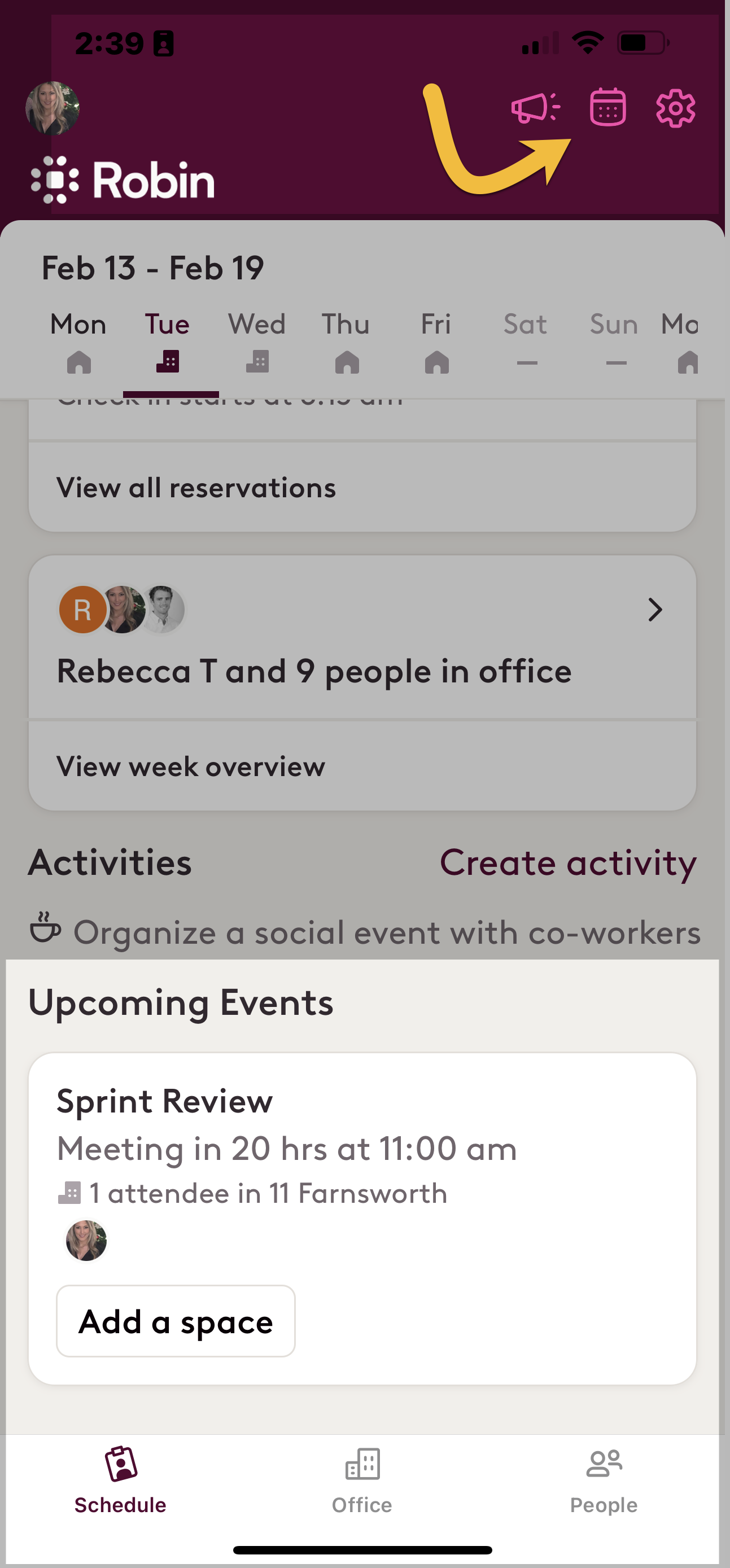 On web dashboard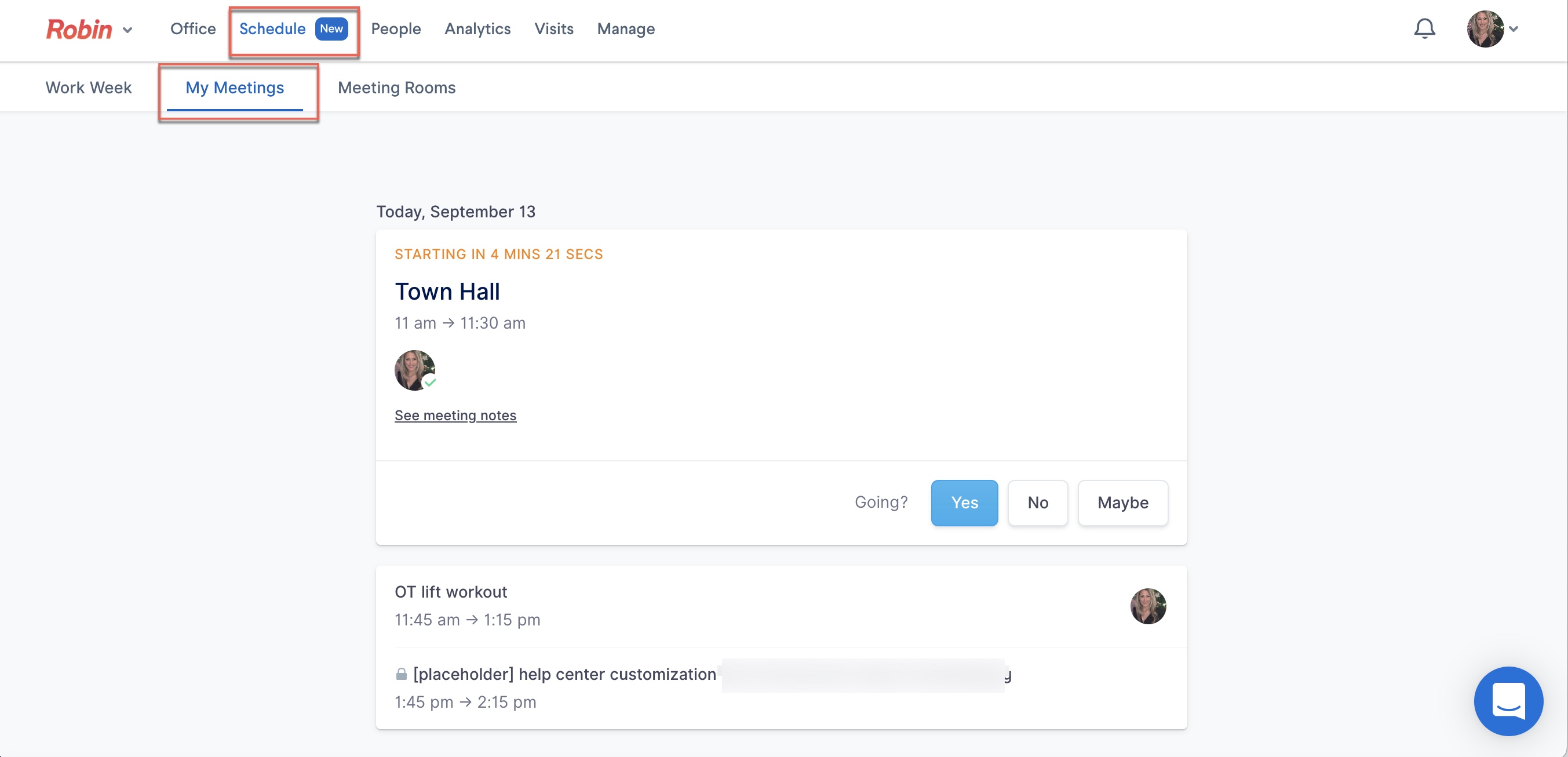 Office policies to have on the radar
Note, that not every office implements these office policies, so if this doesn't sound familiar skip this section.
Is your office requiring desk and/or meeting room check-ins? Not to worry, it's super simple!
Do you need to complete a health check survey before entering the office? Completing a health check survey is easy!
Office search tips
Desk status colors to help you find a desk quickly:

Green = Available

Dark grey = Occupied, click to see who is occupying it.

Grey Slash (/) = An administrator made the desk unavailable for use. Reach out to your office admin to learn more.

User permissions: You can see all spaces/desks from the map, but only the resources you have permission to book (and are available) will show as "green" and available to reserve.

Office access: Robin will call out the days you do and don't have permission to use the office. You'll notice the "book desk" button is not emphasized and the desks appear faded on days you don't have access.

Office hours: Your office may restrict reservations to working hours only and we'll let you know when you're attempting to book outside of office hours.

Office capacity: Robin measures your office capacity--calling out the total number of desks that are available to book and when the office has reached capacity and is no longer accepting desk reservations for that day. Note, that assigned desk types are not included in the capacity count and appear as unavailable. This is because "assigned desks" aren't bookable.

As an employee, this helps you understand if you need to plan on working from home or plan for heading into the office.