Robin makes it easy to navigate your office and discover your workplace resources. This guide is a great jumping-off point for new users.
Join your organization
You can join your company's Robin account one of two ways:
By email invitation
If you've received an email invitation to join Robin, get started by clicking the link inside. Keep in mind that each invitation is unique, usable once, and can only be accepted by the email it was sent to.
1

Click the link in your email invitation. It will take you to a registration screen for the Robin web dashboard.

2

Create your account using the same email address which received the email invitation.
Single Sign-On (SSO) with your work email address
If your Robin administrator has enabled single sign-on, you may sign in using your existing credentials for either Google Workspace (fmr. G Suite), Office 365, or SAML.
1

Open your web browser and go to https://dashboard.robinpowered.com/login

2

Type your company's name - an admin can help you with this if you don't know it. Then select your desired single sign-on method and use those credentials to log in and join your team.
Download the mobile app
Robin has a free mobile app for iOS and Android phones. Scan the QR code with your phone or follow the links below.

They work best when connected to wifi or cellular data, and are running updated operating systems. This means iOS 12+ and Android 5+ on a supported device.
Your office access
Coming back into the office can feel like the first day all over again, but with Office Pass you'll know if you can use the office when you can use the office, where you can sit in the office, and what you need to do before heading in, making trips to the office a little smoother.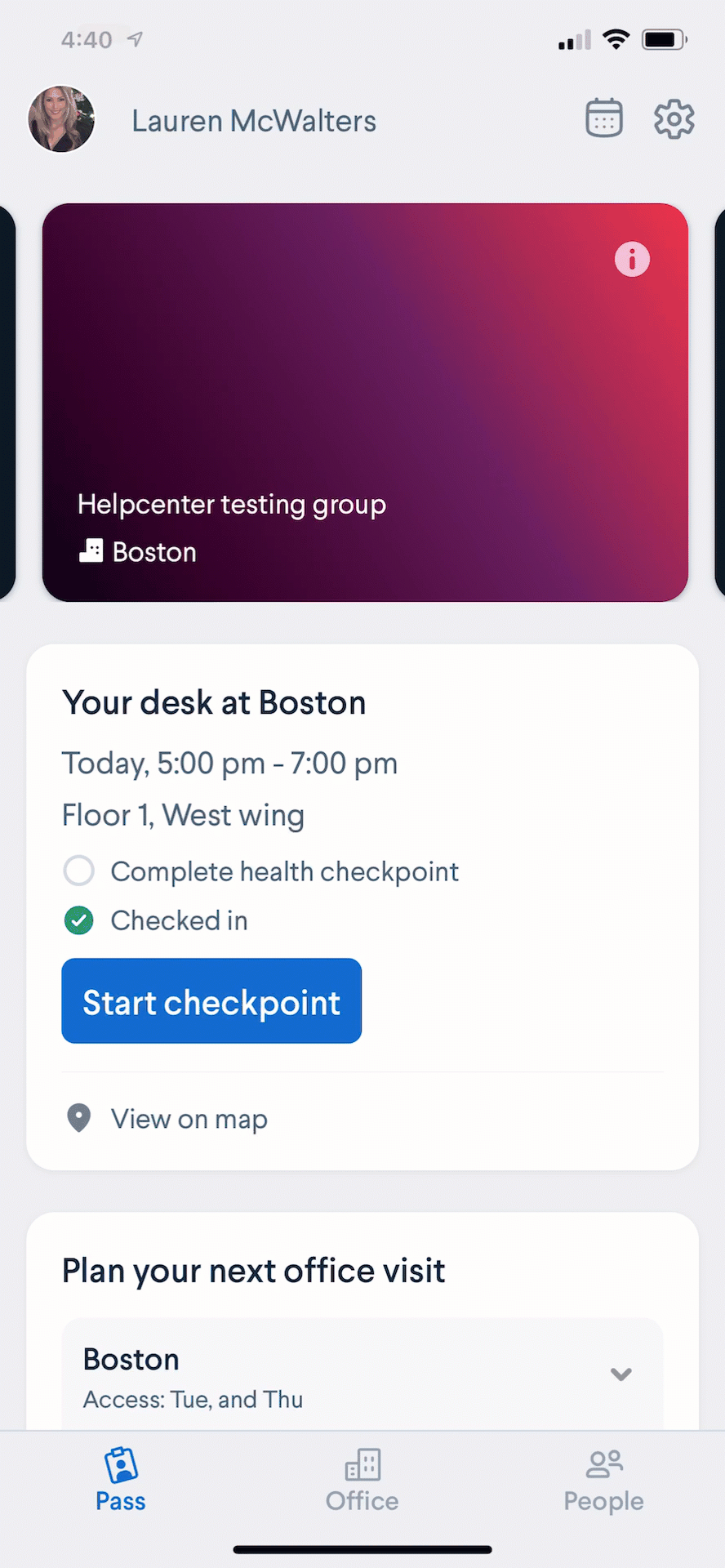 Your office on Robin
Robin makes it easy to find and use your workplace resources wherever you are with easy, on-the-fly booking via the desktop, kiosk, or mobile app.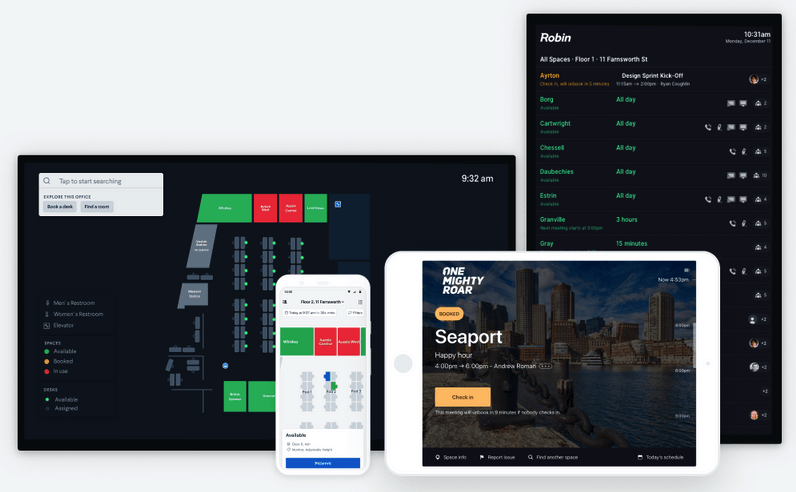 The web dashboard
Use the web dashboard to:
Log in to the dashboard at: https://dashboard.robinpowered.com
The mobile app
Your office tools and resources on the go, use the mobile app to:
The mobile app is available for iOS and Android phones.
Book meetings from your Google or O365 calendar:
Install the Robin plugin to get more from your native calendar for scheduling meetings. The Robin extension works alongside your calendar to help you find the optimal time and space for office activities like meetings, conversations, and focused work.
Here's a preview of the plug-in for Google users: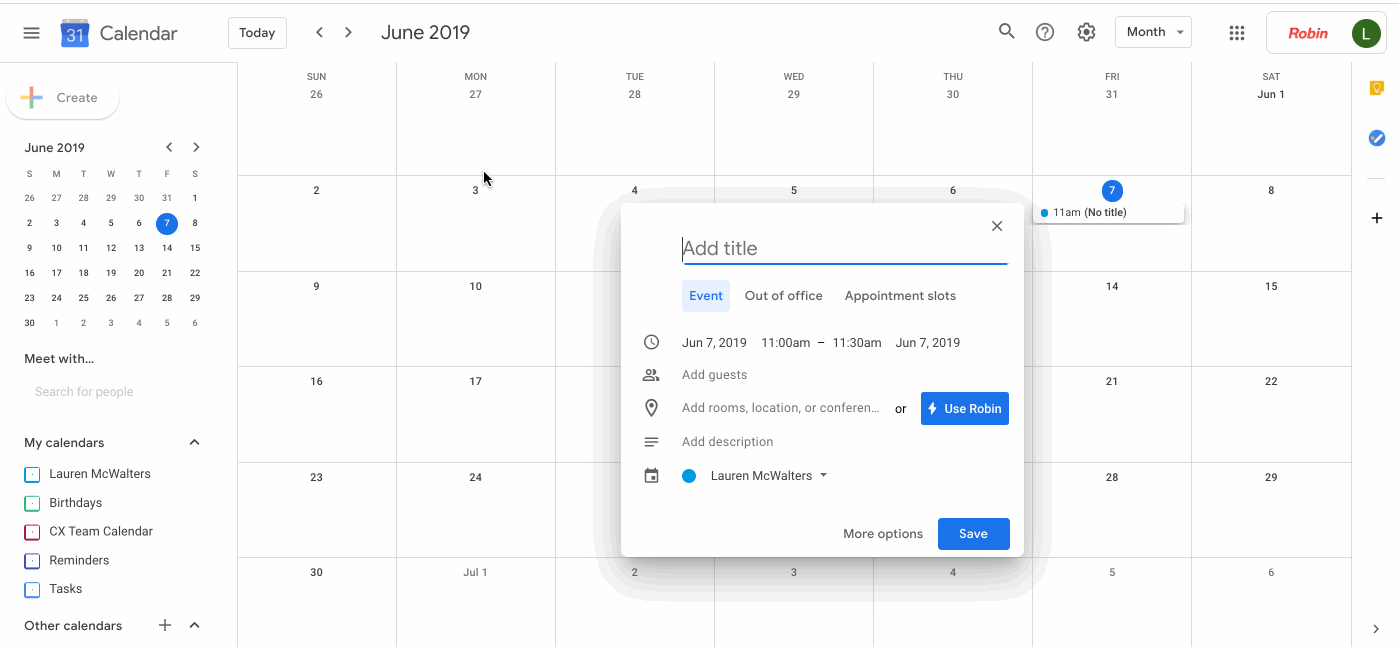 Devices displayed outside meeting rooms
Room displays show when rooms are available, and when they're not. They let others know when you're using a meeting room by checking into your scheduled meeting or starting an impromptu meeting.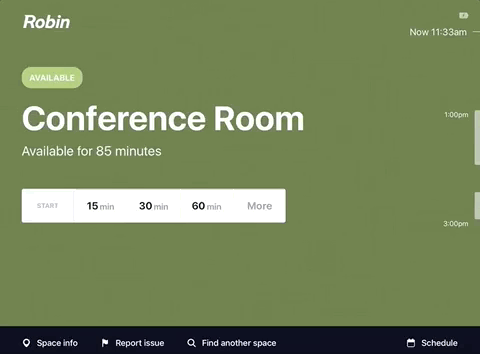 Green = Room is available and can be booked.
Yellow = Room is booked. A meeting is either about to start soon (within 10 minutes) or the meeting attendees haven't checked in yet.
Red = The room is in use.
(Note, if your office uses custom status colors, yours may look different. )
No-show policy
If your office enforces a no-show policy, the room becomes available if no one checks into a scheduled meeting 10 minutes after the start time. Tap "Start Meeting" to check-in.
Need help?
The Robin support team is on hand to answer questions through in-app chat. Just look for the chatbox on the web dashboard to get in touch. You can also email support@robinpowered.com.