With the Robin app for Slack, you can easily see who is in the office the week with the option to join and receive timely desk and room notifications without switching between apps. In this guide, we'll cover how to connect Slack with Robin on the organization & user level, as well as the different ways you can use Robin in Slack.
Admins, add Robin to your Slack workspace
In order for employees to receive notifications and/or interact with Robin from Slack, an admin needs to add Robin to your organization's Slack workspace. To do this:
1

As an admin in Robin, open

Manage > Integrations > Add to Slack

option.
2

This will open a window where you can sign in to your Slack team.
3

Select your Slack team, then authorize the app.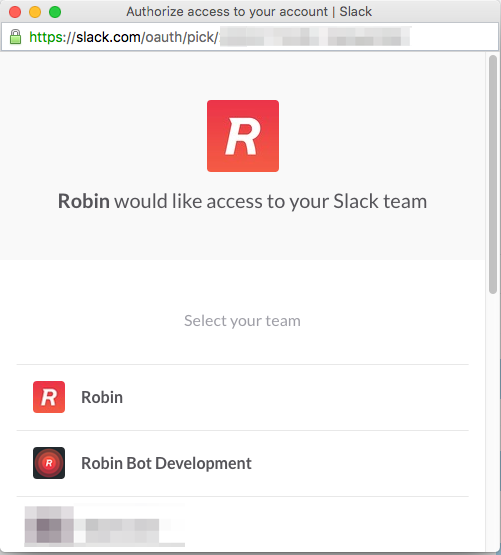 4

Once you press "Authorize," Robin will connect to your Slack team automatically and can be found via the Team Directory. Invite it to a common channel, or just leave it as a DM-only tool. Pro-tip: you can select a DM with yourself from the dropdown!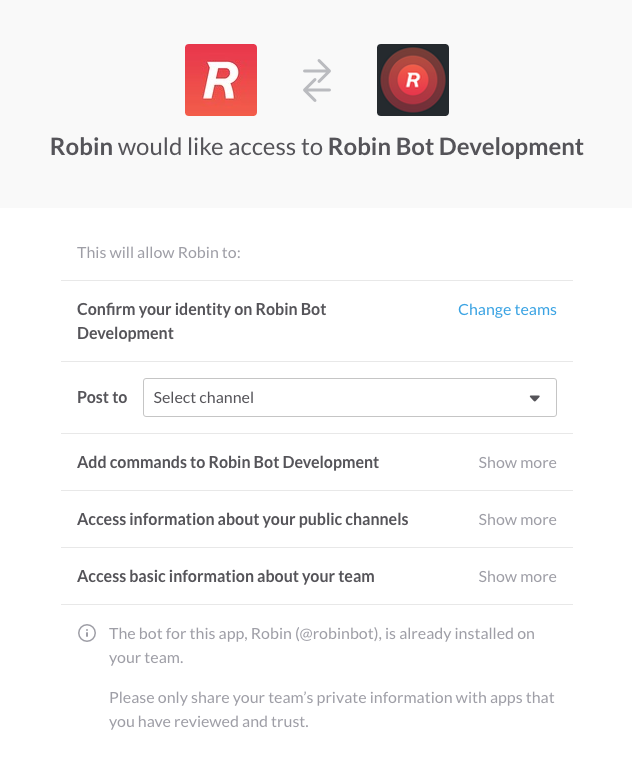 Receive Robin notifications in Slack
After an admin has successfully integrated your organization's Slack workspace with Robin, then you can connect your individual Slack account to receive Robin notifications. This is done under your user profile settings.
1

Navigate to your avatar > User settings > Integrations.
2

In the integrations section, select Connect.
If you cannot select the connect button, reach out to an internal admin for assistance.

3

Click Sign in with Slack.

4

From here, click

Continue in the Slack popup window to authorize access to your Slack account.

Be sure that the dropdown in the upper right corner is set to your organization's connected workspace.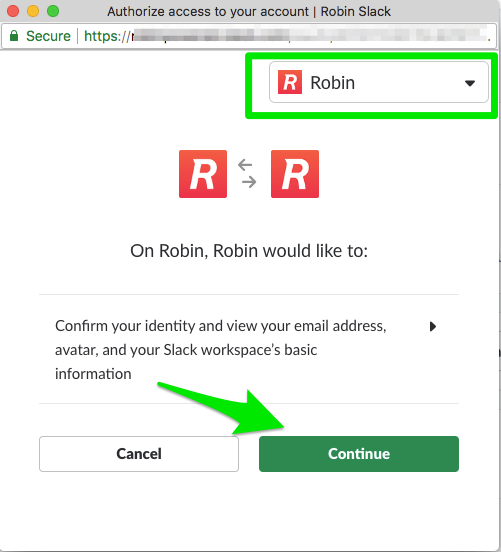 5

Once you've connected your account, you'll receive a Slack message confirming the integration was a success.

Next, set your notification preferences
Now that you've connected your individual Slack account with Robin, next up is choosing the type of notifications you want to receive in Slack. You can manage your personal notifications under your user settings.
Navigate to your Avatar > User settings > Notifications.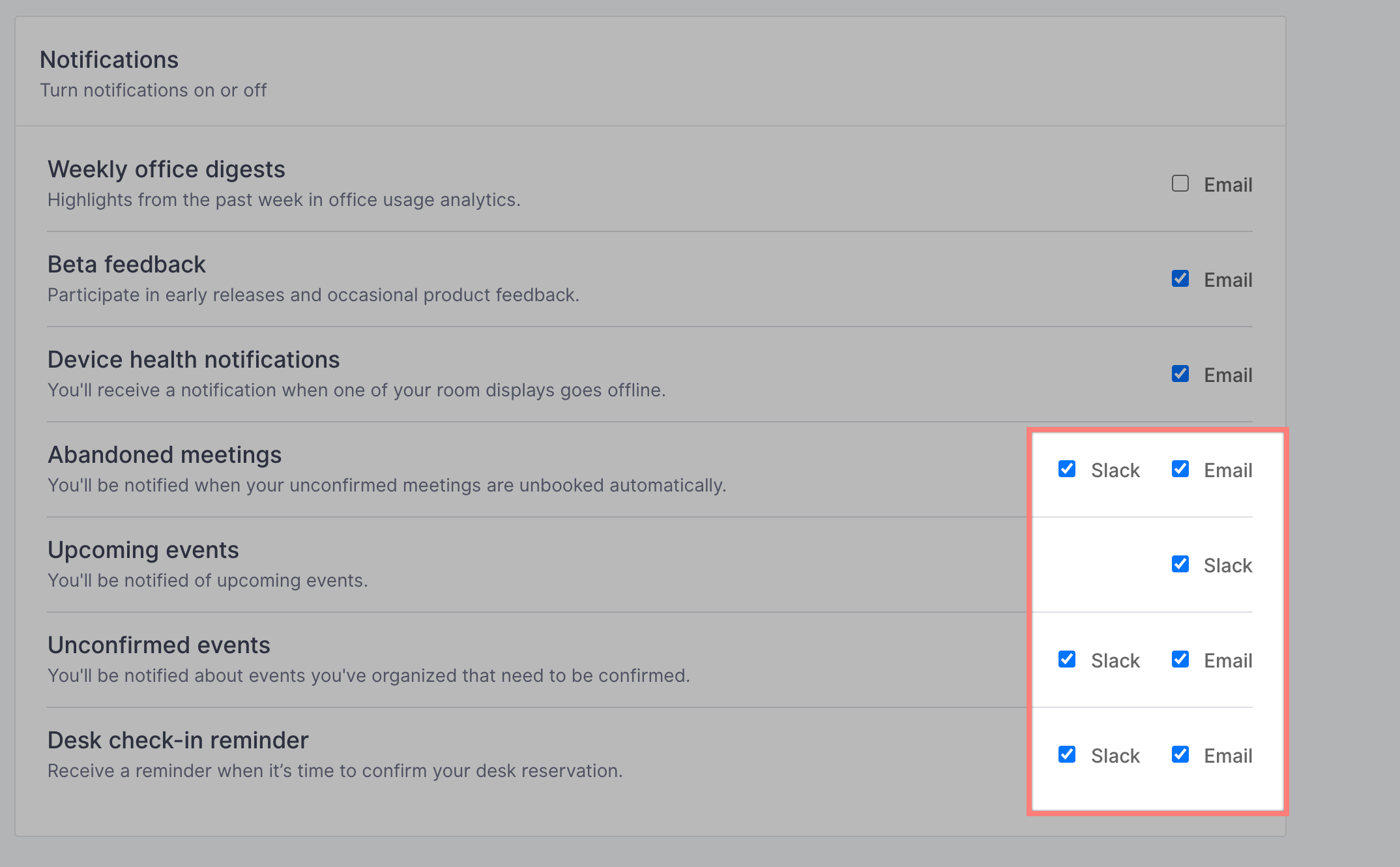 Types of notifications
Flexible desk check-ins
If your office uses the desk check-in feature and a hot/hotel reservation is booked ahead of the confirmation window, then the reservee will receive a check-in notification at the start of the confirmation window.
You can check in or release your desk reservation right from Slack. It will look something like this: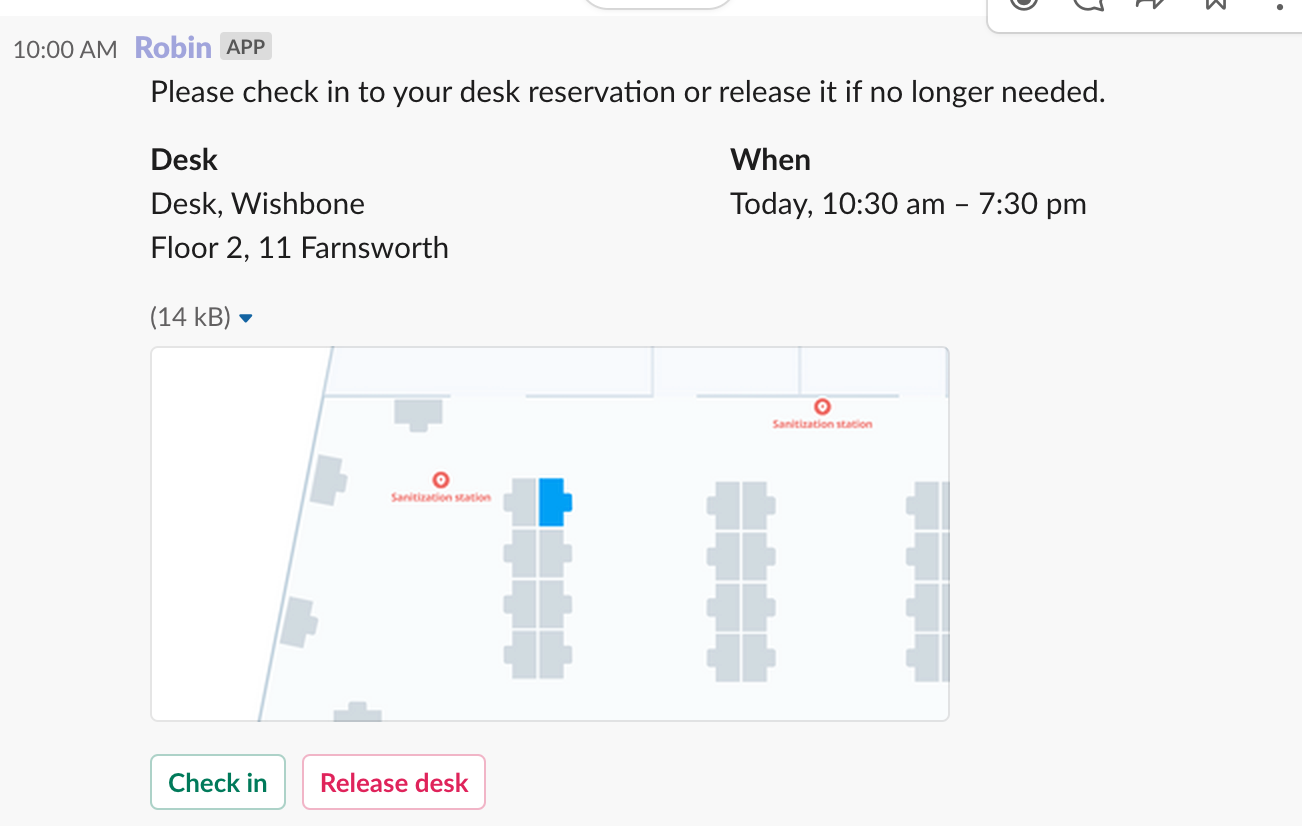 Assigned desks not supported yet
Only hot/hotel desk check-in notifications are supported today. We plan to add assigned desk check-ins in the future.
Meeting rooms & events
Need a reminder for your meetings and events? We've got you covered with 3 types of Slack notifications.

A. When you're attending a meeting you'll receive a reminder message in Slack 5-10 minutes before it begins.

B. When you're the organizer of the meeting you'll receive a reminder to confirm your event for that meeting space. This is a very helpful reminder if your office enforces the Abandoned Meeting Protection covered below.

C. If your meeting is automatically canceled because no one confirmed/checked in, we'll let you know. This only applies to offices that enforce the Abandonded Meeting Protection feature.

Interact with Robin in Slack with the "Who's in" digest

You can use the Robin Slack app to automatically receive the "who's in" digest each week, or you can "ask Robin who is in the office this week" with a Slack command.

How to automatically receive the "who's in digest"

Locate Robin under your Slack apps, and on the home tab under "Who's in digest summary", click Create new digest.

Select the office you want to keep tabs on, when you want to receive the notification, and which Slack channel you want the digest to post in. * All members in that Slack channel will receive the digest, not just you.

Then click Schedule, and you're all set!

Now you can easily see who plans to visit the office each week without lifting a finger! For example, this user will receive the digest every Monday at 8:53pm in the Slack channel called bot-testing.

How to "ask Robin" for a summary of who's in the office

Use the command /who-is-inas a direct message to see who has plans to visit your (preferred) office this week. Having trouble with the "/who-is-in" command? See the note below.

Slackbot Commands December 2022

Refresh integration for the "Who's in" command

If you currently have Slack connected, you'll need to disconnect the Slack integration on the organization level to access the new "who's in" digest command. We know this is not ideal and we're working on a better solution. Check out this troubleshooting guide for more information.

Sunsetting commands

We've been working on ways to improve our existing Slack experience, and as part of this, we've decided to sunset the previous Slack commands (listed below) by the end of the year. We're currently building a new Slack experience that helps you stay connected with your workplace and the people in it, such as the "Who's in" command. Stay tuned for more to come in early 2023!