Booking a desk for a guest:
Global admins, owners, and custom roles with delegation permission can reserve a desk for a guest from the office page using the guest's email. A few things to note:
If your office uses desk check-ins, keep in mind that visitors are not Robin members, which means guests can't log in to Robin to complete desk check-ins. Reserving/assigning a desk with a visitor's email address does not automatically add their email in Robin as an actual Robin member.

Lastly, because Robin only has an email address, the guest's name will not appear on the desk or in people searches.
Health checkpoint for guests:
If you require your employees to complete a health checkpoint before coming into the office, that will apply to guests too. Pre-registered guests will receive an email with a link to complete the checkpoint 24 hours before the visit starts (or immediately if the visit starts within 24 hours).
Guests must complete & pass their checkpoint before they can check in to the office. Therefore, if a guest appears as "Checked-in" then that means they passed the checkpoint.

If the guest fails the health checkpoint, their visit is automatically canceled. If this happens, the host will be notified with an email telling them why the visit was canceled and the status will be updated on the visitor log.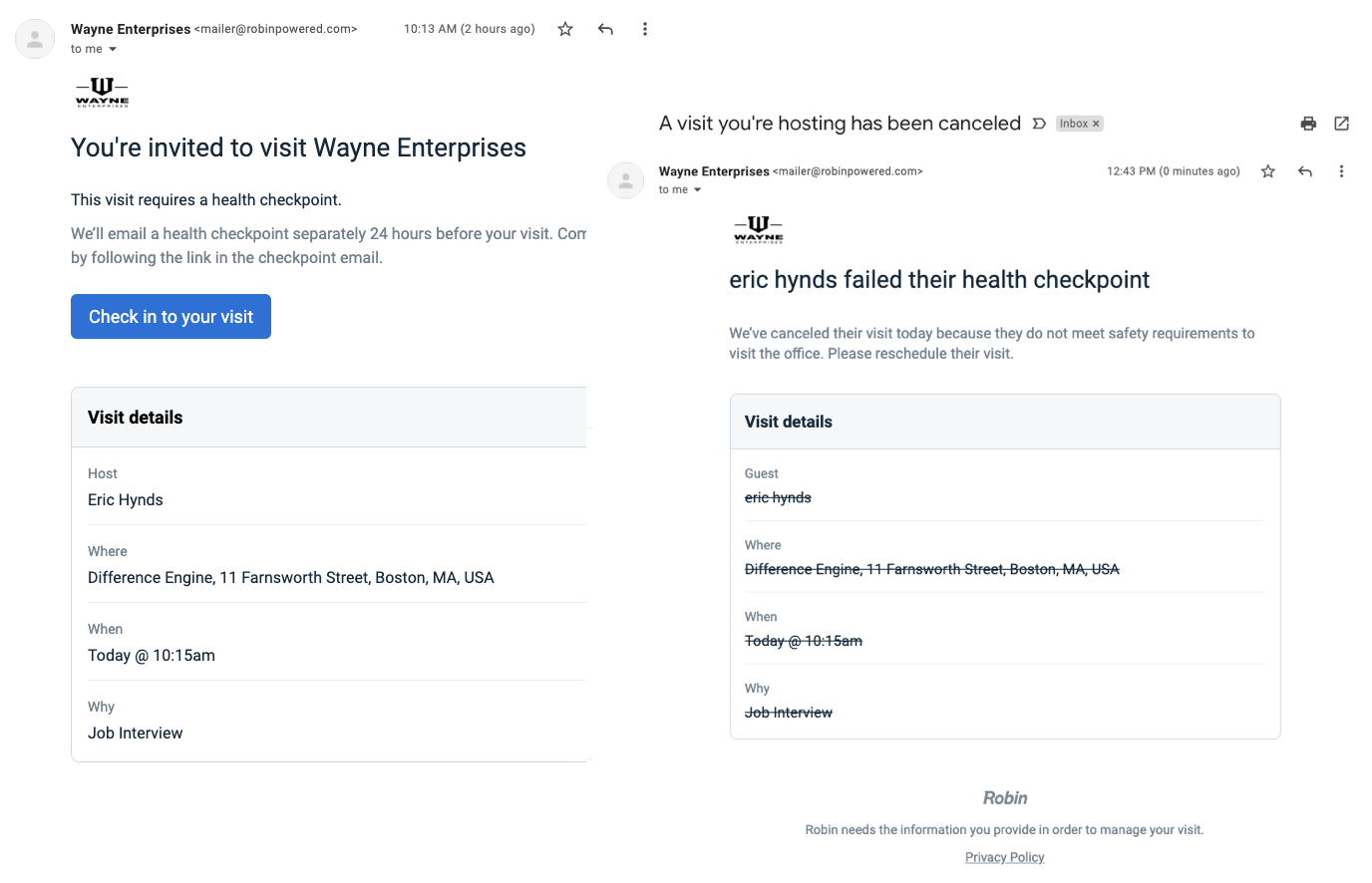 Document acknowledgments
Guests can acknowledge documents or "accept terms" from an arrival display as part of the guest check-in workflow, or If they're pre-registered, they can acknowledge agreements from their mobile device using the email they received.
An agreement is required to complete the check-in.

Guests can send themselves a copy of the document via email.

A copy of the document is emailed to the designated email address that was specified when the document was set up.
Arrival display: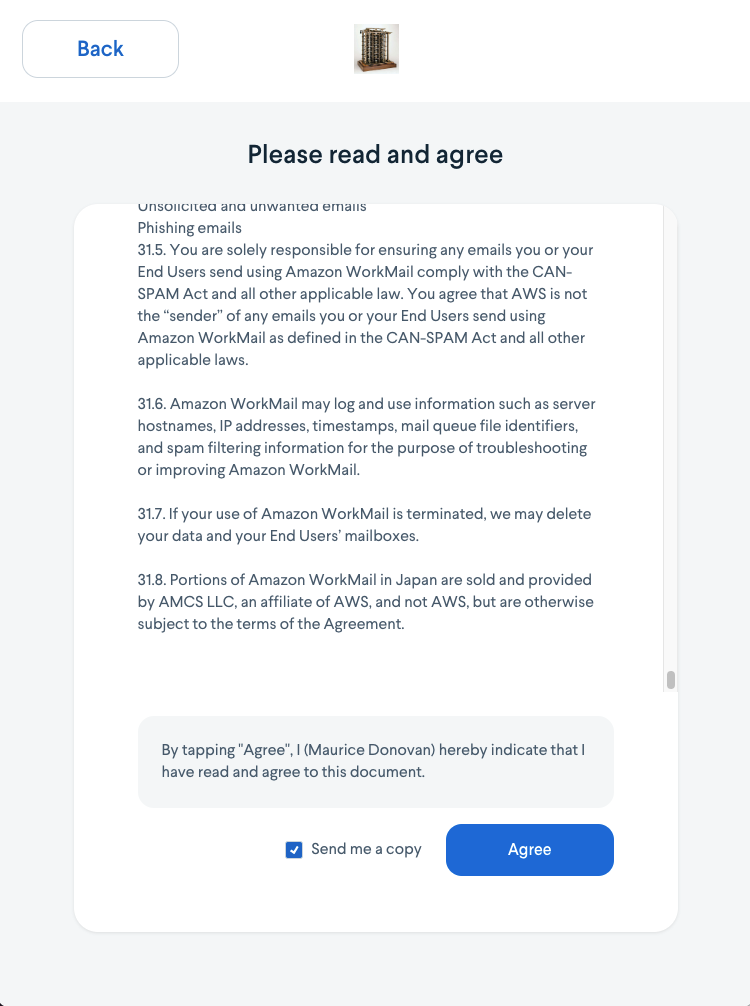 Mobile device experience (pre-registered guests only):
Pre-registered guests can use their personal devices (mobile phone, computer, etc.) to access the guest portal via the invite email they receive as registered guests. From here, they can agree to any required documents anytime before the visit.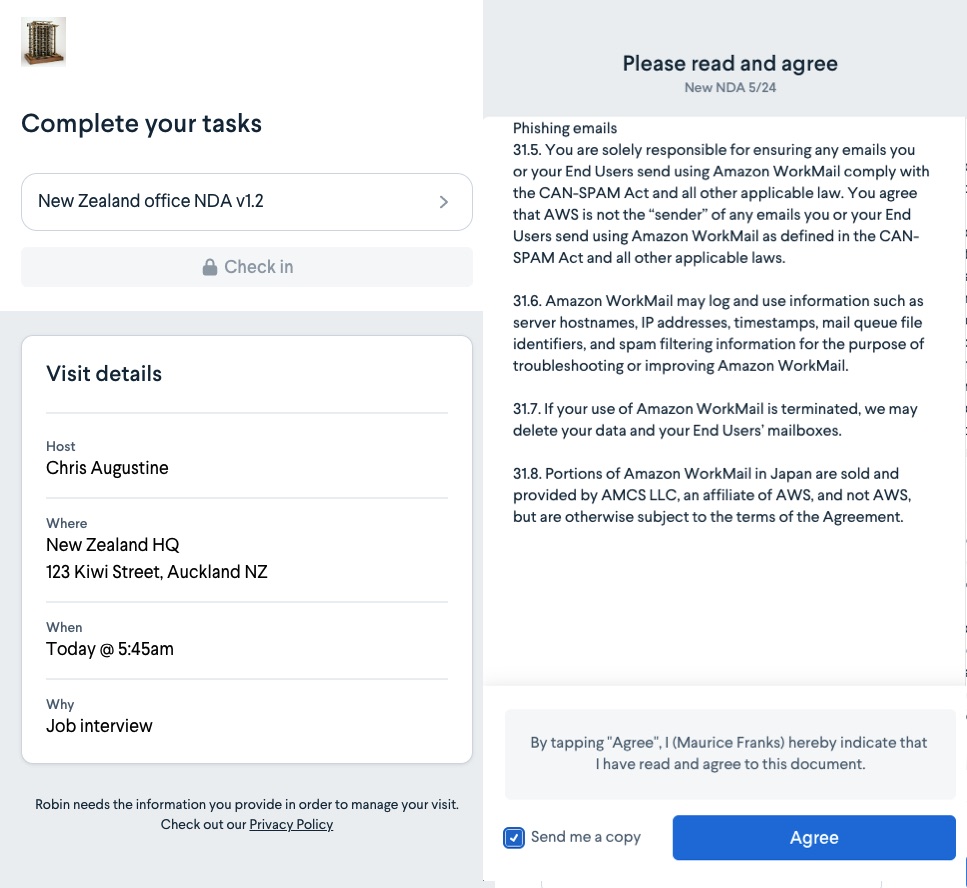 Guest self-checkout
Guests can check themselves out on their way out of the office using the arrival display. Just like the check-in process, guests will enter their email to pull up their visitor information, and then they'll see a check-out button next to their name. Checkout timestamps are reflected in the visitor log.