Watch the tutorial below or follow the guide
Add and change desk assignments for a large number of members at once with the CSV assign tool. Navigate to Manage > Add new > Desks > Assign from CSV

First choose the campus, building, and floor if you have more than one. This will create a CSV with a list of desks in that location.
Select the generated file under Download Template to download the CSV to your computer.
Once you've downloaded the CSV, select Upload CSV.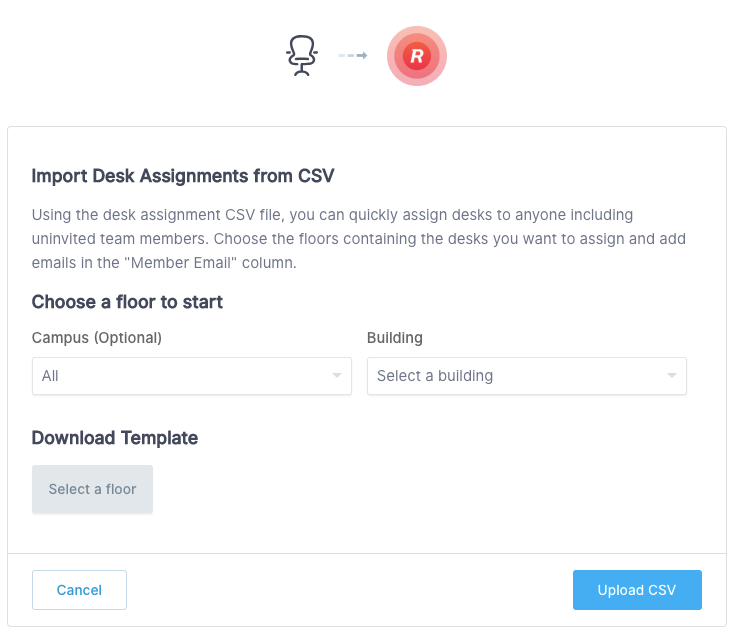 Open the CSV template - this includes a list of desks called out by their space, zone (desk group) and name. To assign a member to a desk, add their email address associated with their Robin account in the Member Email column.
A few important notes:
Assignees don't need to be members of your organization in Robin to be assigned a desk, however, they will not receive any type of email notification.

Leaving an email field next to a desk blank will not remove a person from a current desk assignment.

If there is already a member assigned to a desk, and you enter an email address for a different member, the current desk assignment will end, and a new assignment will begin for the person attached to the email address entered.

You can delete any rows as needed if you are not changing assignments for all the desks.

There is a maximum of 10,000 rows for the CSV.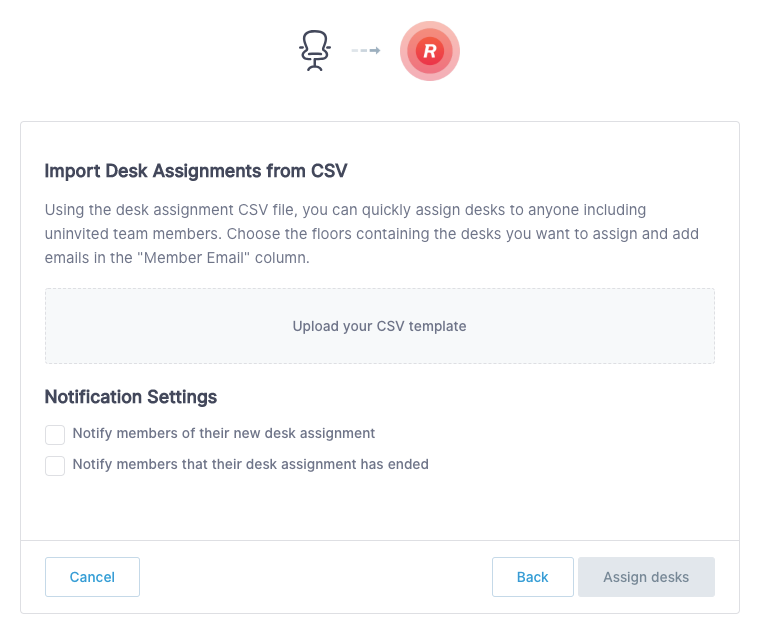 Once you fill out the downloaded CSV, drag and drop it on this page to upload.
Choose whether or not to push out emails to alert members of any changes to their desk assignment.
Checking "Notify members of their new desk assignment" means anyone who is getting a new desk assignment will be sent a notification once the file is processed.

Checking "Notify members that their desk assignment has ended" means anyone who is being removed from their desk because another member is being placed there, will receive a notification once the file is processed.
Note: If these boxes are left unchecked, no notifications will go out.
When you're ready, click Assign desks to process the file.