Overview
The map kiosk is an interactive map for your office status boards. Easily search for conference rooms, desks, and co-workers for quick office visibility with an interactive wayfinding experience. Once you find what you're looking for, reserve it right there from the kiosk.
Some questions the kiosk can help answer:
What's free & available nearby for me to use now?
Which part of the floor is the "Blue room" located?
Where does John sit so I can select a desk nearby?
You can follow the video below, or review the steps in the article for a tutorial on interactive maps for status boards.
Take a peek at what booking a space from an interactive map looks like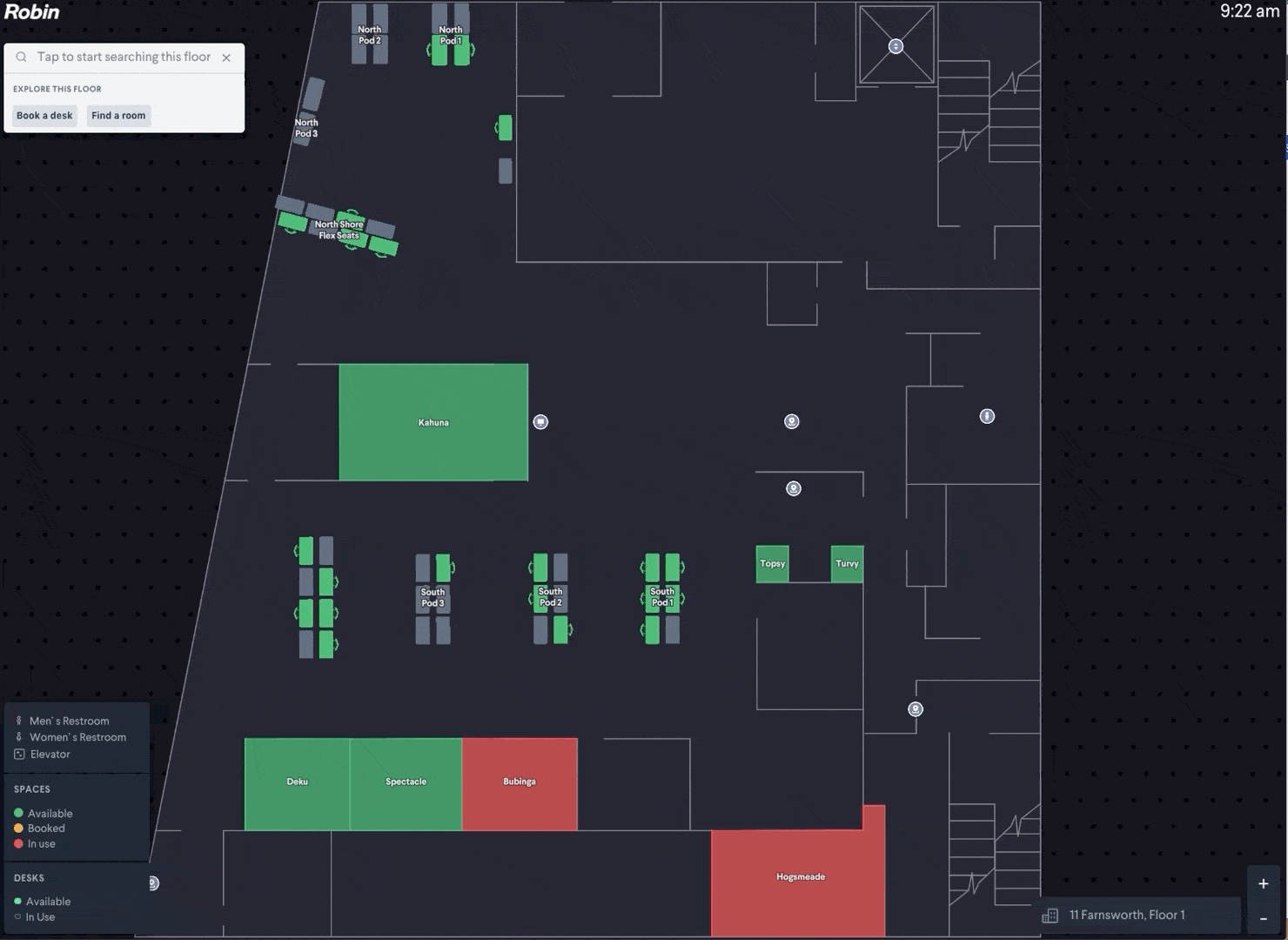 Need to set up a status board?
Admins, follow our
guide here
.
First review the legend to get to know your map
Space & Desk colors on maps, decoded
Status colors provide a visual symbol to indicate whether a space or desk is occupied or available. Check out the legend in the bottom left corner of the map to learn more about the color statuses and common points of interest for your office.
Below are the default colors, but customization options are available for premiere plans. By default, Robin uses:
Red = In use (Spaces only).
Yellow = Booked, but not yet confirmed (Spaces only).
Green = Available (Spaces & Desks).

Greyed out desks = unavailable. Meaning the desk is occupied by a desk reservation or it's an assigned seat.
Scheduling
Searching & reserving a space
Space booking from the kiosk is available for quick booking for right now, similar to ad hoc meetings from room displays. If your office has non- bookable or restricted spaces, they will be visible, but not bookable from the kiosk.
Select a floor from the bottom right of the kiosk.

Scroll around the map and select a space to learn more. If you're familiar with your office space names, you can also use the search bar to quickly look up your "go-to" space's availability.

An info card will pop up with more info including capacity, available amenities, and upcoming meetings.

Select the time block that suits your needs. Then head to the space to check-in to the meeting & get started!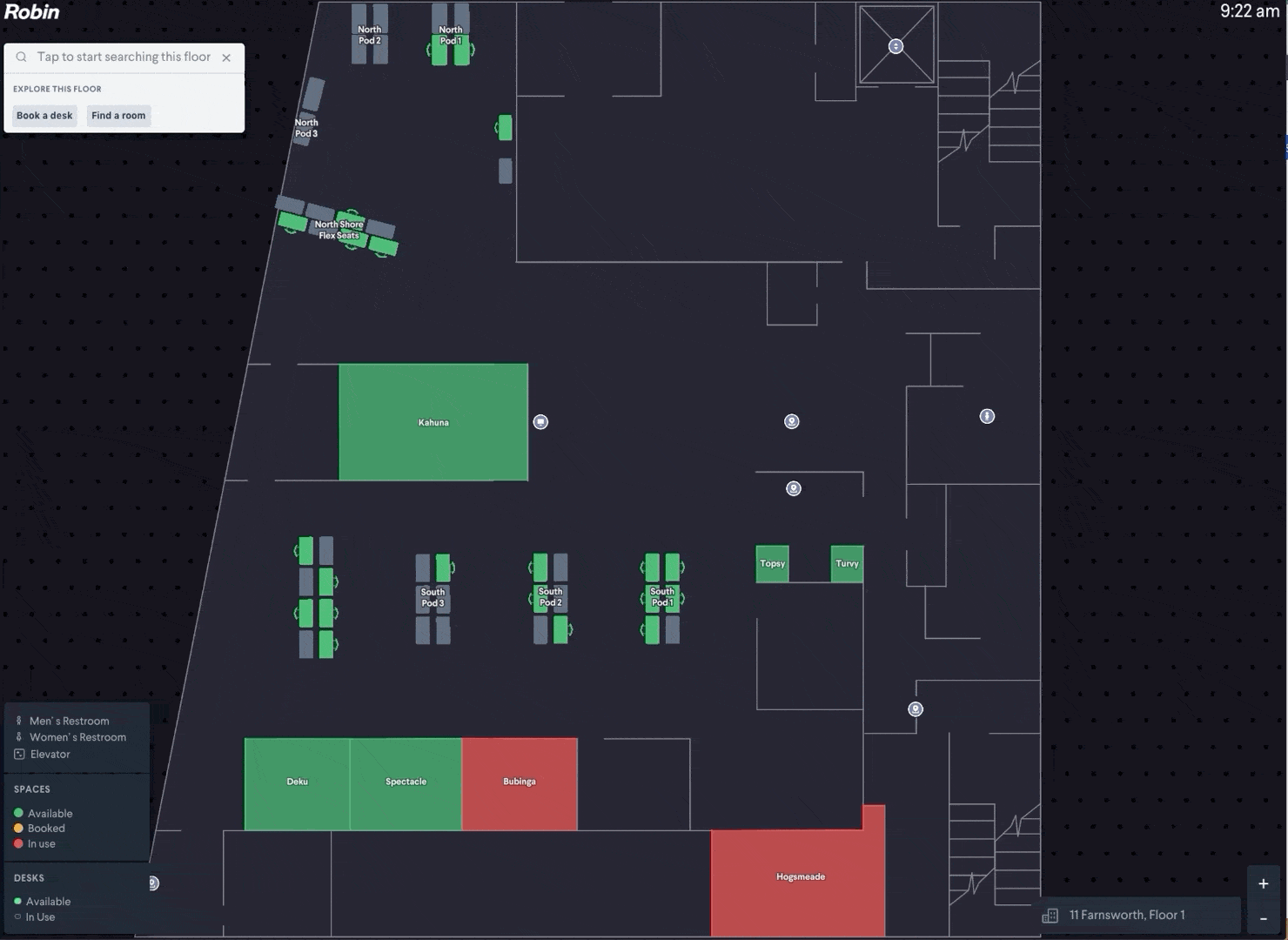 Note: All meetings booked from the map kiosk require a check-in from the room display. Meaning you'll have to hustle to check into the room display if abandoned meeting protection is enabled for your office. This helps prevent folks from booking ghost meetings and taking over an entire floor from the kiosk.
Desks
Searching & reserving a Desk
Reserving a desk on kiosk helps give users a high-level view of available desks and a perspective of location in relation to co-workers, teams & points of interest.
Desk reservations from the kiosk are for now until the end of the day.
Select a floor from the bottom of the kiosk.

Scroll around the map and select a desk to learn more. Or use the search bar (select Desks) to highlight the available Desks for that floor. Have a favorite seat? Type in the name to quickly view its availability.
An info card will pop up with more info including available amenities and location. If the desk is reserved it will show who is occupying that desk.
Once you find a desk that suits your needs, select Reserve.

Enter your name & select your user account.

Then click Book to reserve the desk for the day. Or changed your mind? Hit Back to continue searching.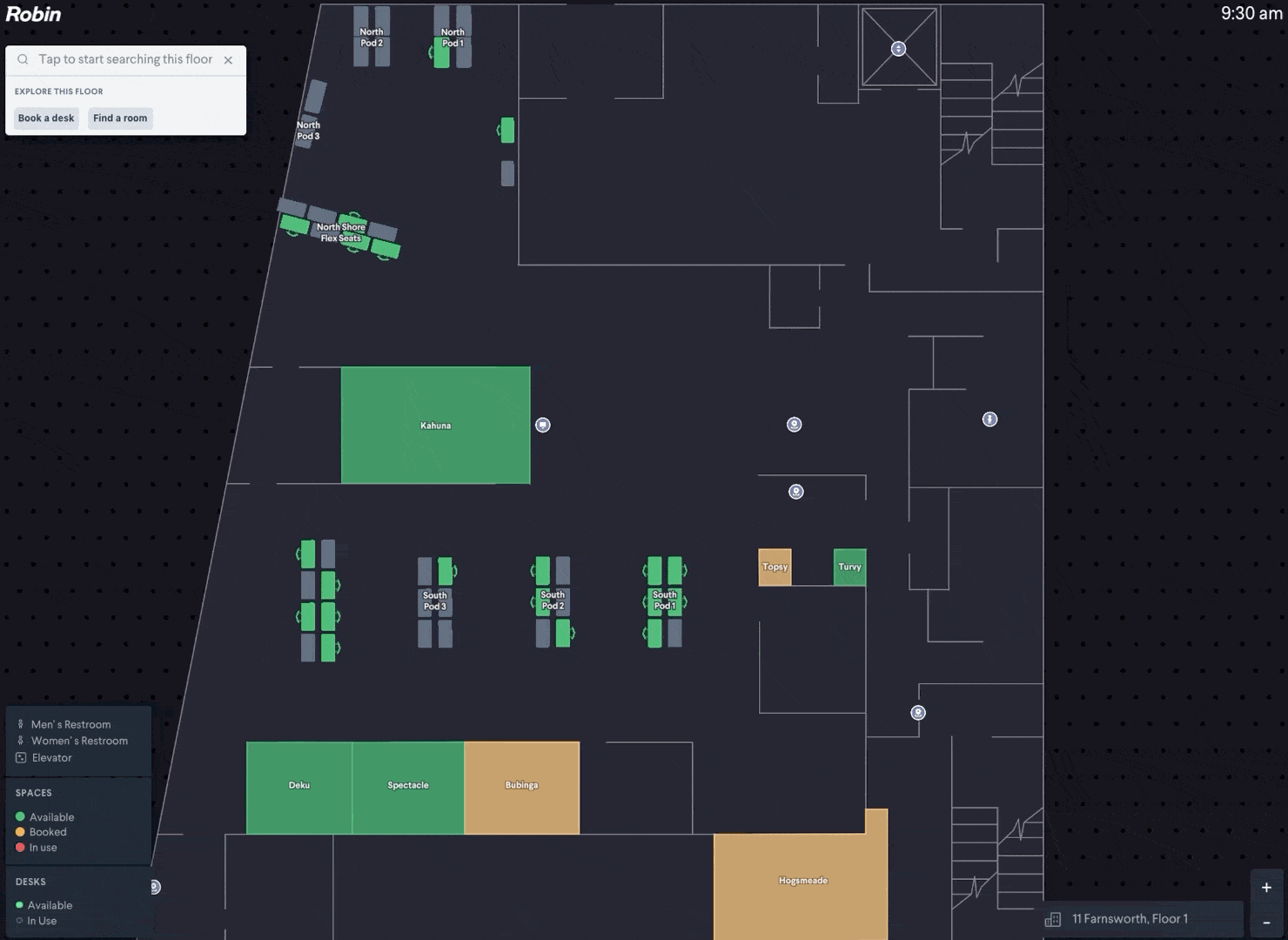 Find your co-workers
Search for coworkers to find a seat nearby or to see if they're available for a quick chat. Using the search tool in the top left corner, type in a person's name.
If they have an assigned seat or a desk reservation, an info card will pop up with their desk location and their upcoming availability.
The map will highlight the users desk to make it easy to find a seat near them.