Looking for installation tips? Check out the guide to installing the add-in for Outlook.
Requires
Compatible Apps
Outlook 2013 or later
Outlook 2016 for Mac
Outlook on the Web
Tips to get started:
Admins, for users to enjoy the full experience, make sure amenities are set for each space.
You'll need to have your organization's username handy. Here's how to find your organization's username.
If you use Single Sign On, make sure to enable pop-ups in your browser.
If you don't yet have an account, reach out to the Robin administrator within your company for guidance on joining your team.
The Robin add-in requires a minimum of API version 1.1 (Exchange 2013+ On-premise)
Outlook Add-ins can support recurring events for customers running Outlook API 1.7+.
Outlook Add-ins support delegate booking for customers running Outlook API version 1.8 + and above. Check Microsofts guide to see if your Outlook version qualifies.
The Robin extension works alongside your Outlook calendar to help folks find the optimal time and space for office activities like meetings, conversations, and focused work.
Add a space to your activity
Reserve a room for your event without leaving the event composer. The extension will suggest the best suited spaces according to the type of activity. The space selections are determined based on permissions, availability, and fit. If no "best fit" spaces are available at the selected time, Robin will show other options, or suggest times when spaces and invitees are available.
Find an optimal time for everyone
The suggested times help identify timeblocks today, tomorrow, or around a specific date when attendees are available. The extension suggests times based on the organizer's set working hours and the known availability of the invitees within the organizer's email domain.
Ready to book your first event? Follow this guide for more tips!
How It Works
The Robin extension is a tool that works with your Outlook calendar (not instead of) to help you find the optimal time and space for office activities. When you book an event with the Add-In, Robin will create the event and send it through to Outlook. This means activities that are booked through the Add-in have the same behavior as booking via Outlook calendar.
A few things to keep in mind when using the different platforms:
Robin simply syncs events from your Outlook calendar to the Robin dashboard, room displays, & mobile app, relying on your native calendar rules to recognize conflict.

When users book through the Robin dashboard or mobile app they're booking events on behalf of the booking user.

When users book events in Outlook calendar they're booking through their own account.
Common Pitfall
If you see the screen below when trying to login to Robin via the extension, you will need to enable user consent at an organizational level in order for users to access the plug in.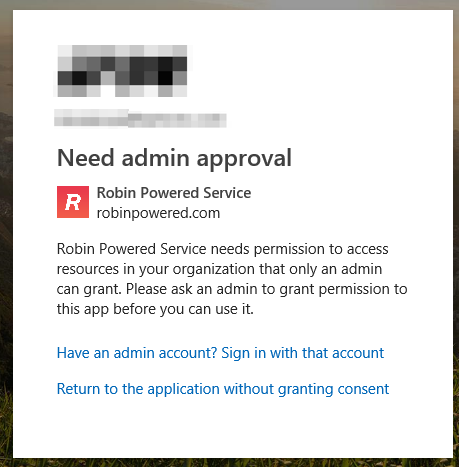 Currently, our app is not in the Microsoft Store, which means it requires user consent to be granted when deploying the add-in. We understand this is cumbersome, and we are working on getting our app into the Microsoft store so folks can bypass the user consent setting.

For now, you will need to enable user consent at an organizational level in order to use the add-in.