In Robin, your organization's office is made up of buildings, spaces, desks, and users. The chart below shows how the average company would be organized.
Click the image for a larger version.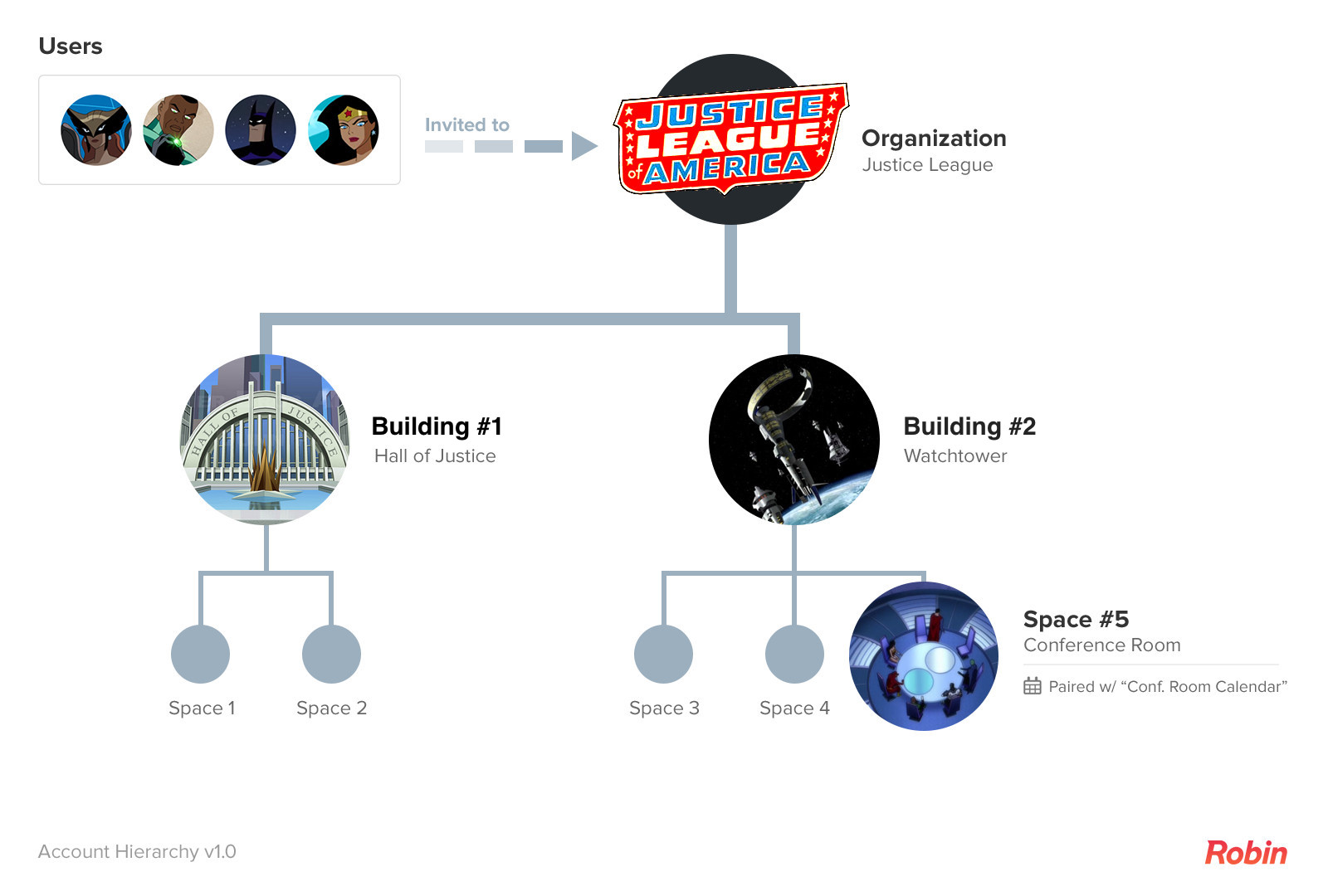 Campuses
A campus is a group of buildings and an optional setting in Robin, available on the Premier plan. You might refer to campuses by city or country (Boston Office, Singapore), whereas buildings in a campus could be East/West, nicknames, or street addresses. Employees in a campus have in-person meetings with each other, even if they are located in different buildings.
Buildings
Locations for your office which could have physical addresses. Depending on how large your organization is, it could be anything from "East Coast HQ" "Boston office" "11 Farnsworth". A building contains spaces, which are optionally organized by level.  
Levels
Identifies a floor in a building. If your company occupies space on floors 3, 4, and 9 in a building, spaces can be grouped accordingly. Levels are optional, your spaces will be organized by building as a default.
Spaces
Spaces belong to a building, and, if applicable, a level. These are most commonly rooms inside of your office, such as conference rooms and on demand spaces. You can also use spaces as a way of marking departments or common areas such as the cafeteria. Each space can be created for either scheduling or reserving desks. Spaces for scheduling may have calendars, devices, and other information connected with it. Users interact with spaces directly, meaning you can easily switch the associated calendars or devices without interrupting anyone.
Desk Groups
A collection of nearby desks in a pod or seats at a table. These are commonly used to group different teams or types of workspaces. Depending on your setup, desk groups can be named for the people who typically sit there (e.g. marketing, product, engineering), their general location (e.g. East Wing Seating), or your office theme (e.g. Ravenclaw). 
Desks
Desks are workstations that belong to a desk group. These can be permanent seats or short-term workspaces. Each desk may include amenities such as phone, monitor, adjustable desk. Members can reserve short-term desks in the web dashboard or mobile app and admins can assign permanent seats. 
You can think of the hierarchy like this: Acme Inc (Organization) > San Francisco (Campus) > 25 Broadway (Building) > Floor 3 (Level) > Conference Room (Space) > Marketing (Desk group) > Desk 1 (Desk)
Users
When you add co-workers to your company account in Robin, they will receive an invitation to create their own account. Once they've registered they will be able to reserve desks or schedule events in the rooms you've configured via their web browser, native calendar using Robin plugins, or mobile app. All invited users are in the "Member" role until they are promoted to Admin, Owner, or to a custom role, which has additional permissions. Learn more on User roles here.