Supported plans
User permissions required
To help hosts prepare for upcoming visitors and to provide office admins with accurate records, we ask for the reason for the visit as part of the registration workflow. We provide six default visit types that can be added/removed, as well as the option to create your own. Follow the steps below to customize your list:
1

Navigate to the Visits page located in the top ribbon.

2

Select the Visit types tab at the top of the Visits page.

3

Select Add type in the top right corner.
4

Enter the custom visit type in the field & select Save.

5

To remove a visit type, including default visit types, select the "X" on the right to remove it from the list. A minimum of at least one visit type is required.

The Visit type is a required field on the guest registration form in the web dashboard. It will look something like this: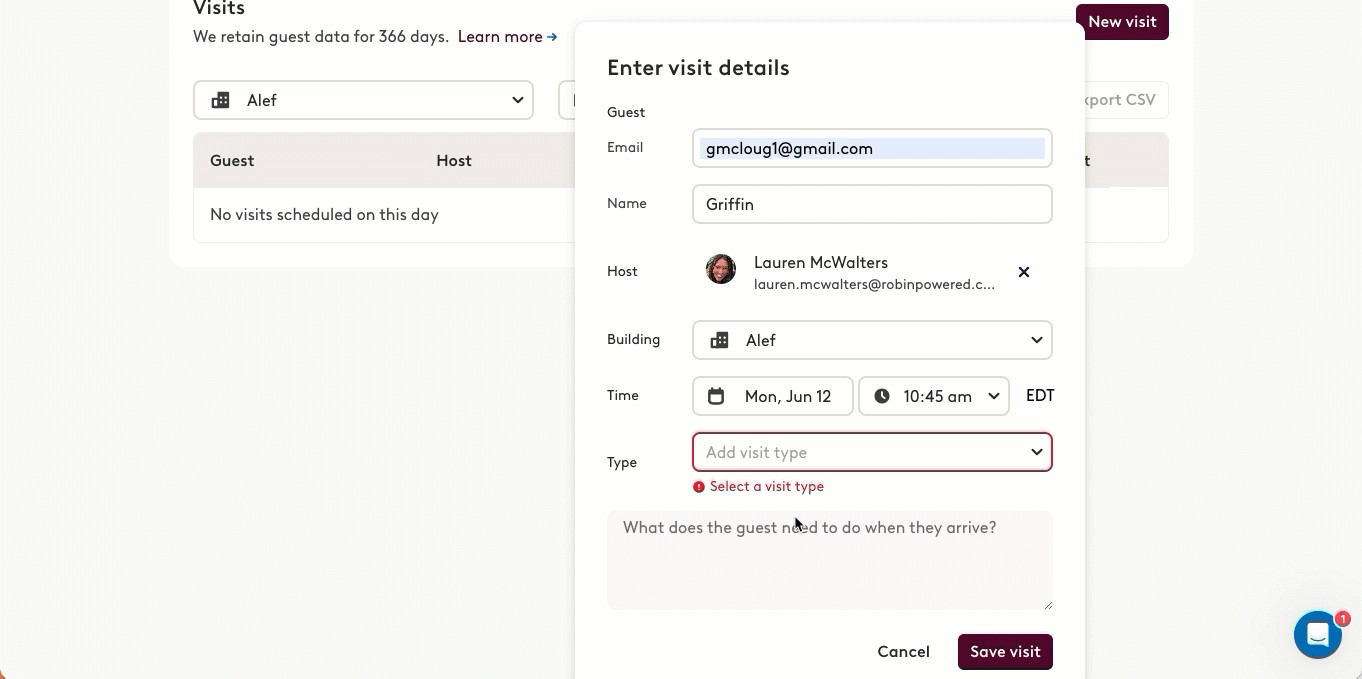 Warning
If a visit type is removed, it will be removed only for new visits being registered (by admins or guests themselves via self-registration).
Any existing visits (past or scheduled in the future) with that visit type will remain in the visit log. Future scheduled guests will still be able to check in to those pre-existing visits.
If the admin needs to change the visit type for scheduled visits, the visit would need to be canceled and re-scheduled.
Past visits cannot have their visit type changed to preserve historical accuracy and data integrity.
How do visit-type modifications affect pre-existing documents?
If a new visit type is added and an existing document should be shown to guests for that visit type upon check-in, the document can be edited to assign the new visit type from this list.

If a visit type is removed and documents are still assigned to it, the documents will still be shown for any existing visits of that type that are scheduled for the future. If there is a need to hide that document from those future visitors, the visit type (with the exact same name, including case sensitivity) can be added again to de-select it from the list in the document setup (it can then be safely removed again afterward).