In the world of room scheduling, recurring meetings are the biggest culprits of no-show meetings. If you're ready to wield the power, here's how to create recurring meetings in Robin.
How to enable repeating events
Recurring events are disabled for organizations by default. An administrator can enable them via Settings > Details > Experimental Features.

Book a repeating event
We'll warn folks when they book a meeting that might have a few limits.
Robin's beta version of recurring meetings does not support editing the entire series at once, or the ability to prevent conflicts in the future. If you book a meeting into the future, you'll want to confirm the event booked without conflict on future instances to be sure.
The full version of recurring meeting support will not have these limits when it comes out of beta.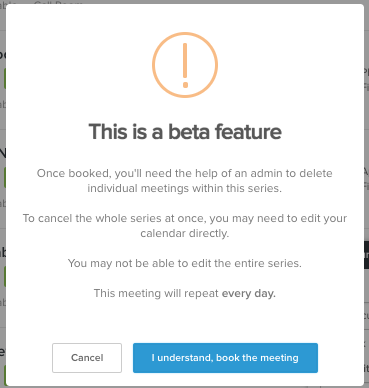 From the event composer, click Repeat and you'll see a list of options for setting how often the current event should repeat. When you're done, just hit the Save button and then book your event like normal.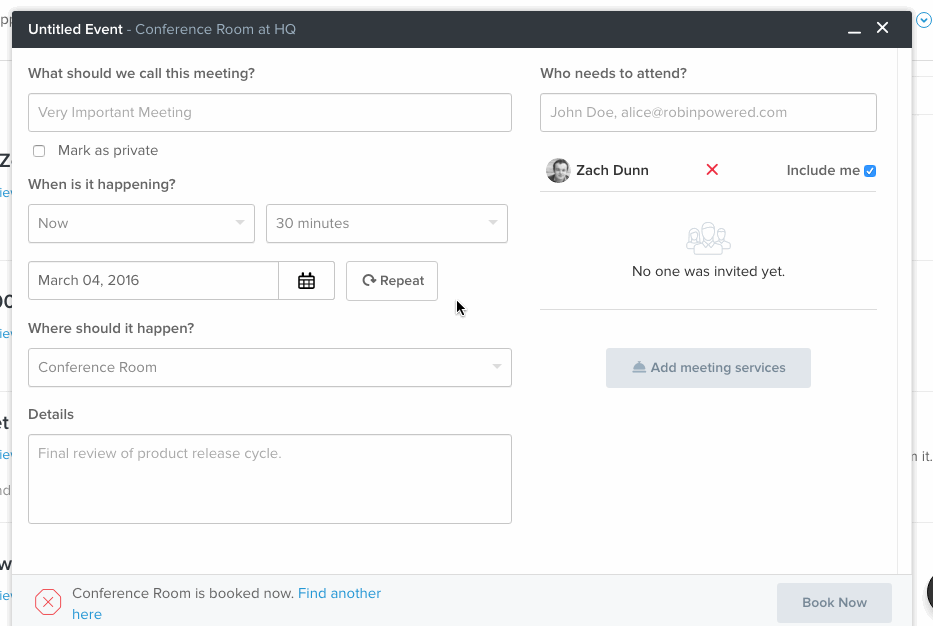 As part of the beta, the availability check (particularly for Microsoft calendars) may not consistently locate conflicting events beyond the first instance. Availability checks will, of course, be addressed before taking this feature out of beta release.
Today Robin only supports creating recurring events. Once created, you can edit and delete the specific instance of an event series like any other event. Keep in mind these changes will not affect the entire series of events.
This is a lovely segue to the natural follow up question...
"How do I edit/delete the whole event series at once?"
If you need to make changes to more than just a single version of the recurring event, we recommend using your calendar application directly and letting it sync over to Robin. We plan on releasing additional support for series-wide management some time in Fall 2016 at current pace.