This feature is in early preview beta. 
Once you've created custom roles, add permissions. Permissions define the level of access a user has to specific features in Robin. Access and management permissions can be scoped to include certain locations or spaces within a location. 
Admins, navigate to Manage > Roles and select the role you'd like to edit. Then scroll down to view the Permissions settings.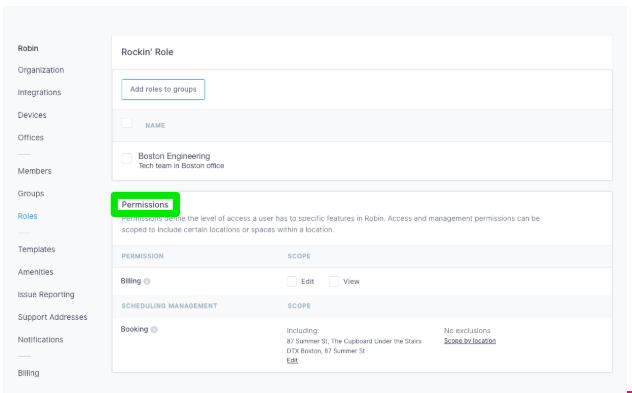 Billing
Indicate whether users and groups with this role can see the Billing page (Manage > Billing), and whether they can edit any of the information found there.
Note: If you give the role edit access, that means they can edit all fields in Billing. There are not granular permissions for each field. For example, you can't grant access to edit the credit card number but not the subscription plan.
If a user has more than one role, and Role A has the ability to edit billing, and Role B doesn't the user will not be able to edit billing.
Booking
Indicate what areas of the office a role has permission to schedule. Use "Include" and "Exclude" to call out specific locations or spaces a role can book.
Note: These booking permissions are only enforced when a user tries to reserve a space through Robin (web, mobile, plugin).