Help Robin feel part of your team by adding company branding and office images. When you add details and images via the web dashboard, everyone in your organization will see them across the room display and mobile apps. Need a quick start? We have a few image templates available for reference.
Keep in mind that some apps have different refresh rates, meaning your updates may take a few minutes to appear on the room display. You can restart the app to kickstart refreshes sooner.
Add logos and office images
Avatar logo:
When you first create your organization, Robin will try to find a good avatar based on your company's domain name. This will show up in the top left corner in the web dashboard as a default, until you upload your full logo. Administrators can change the avatar from Manage > Themes. Upload a 120 x 120 px PNG file to represent your team.
Full-width logo:
Upload your company's logo to brand the top navigation of Robin for your organization. Administrators can upload a full-color PNG file from Manage > Themes.
The dashboard with a custom logo:


The dashboard without a custom logo.

Customize Office Pass colors
Customize office pass colors for a more branded look.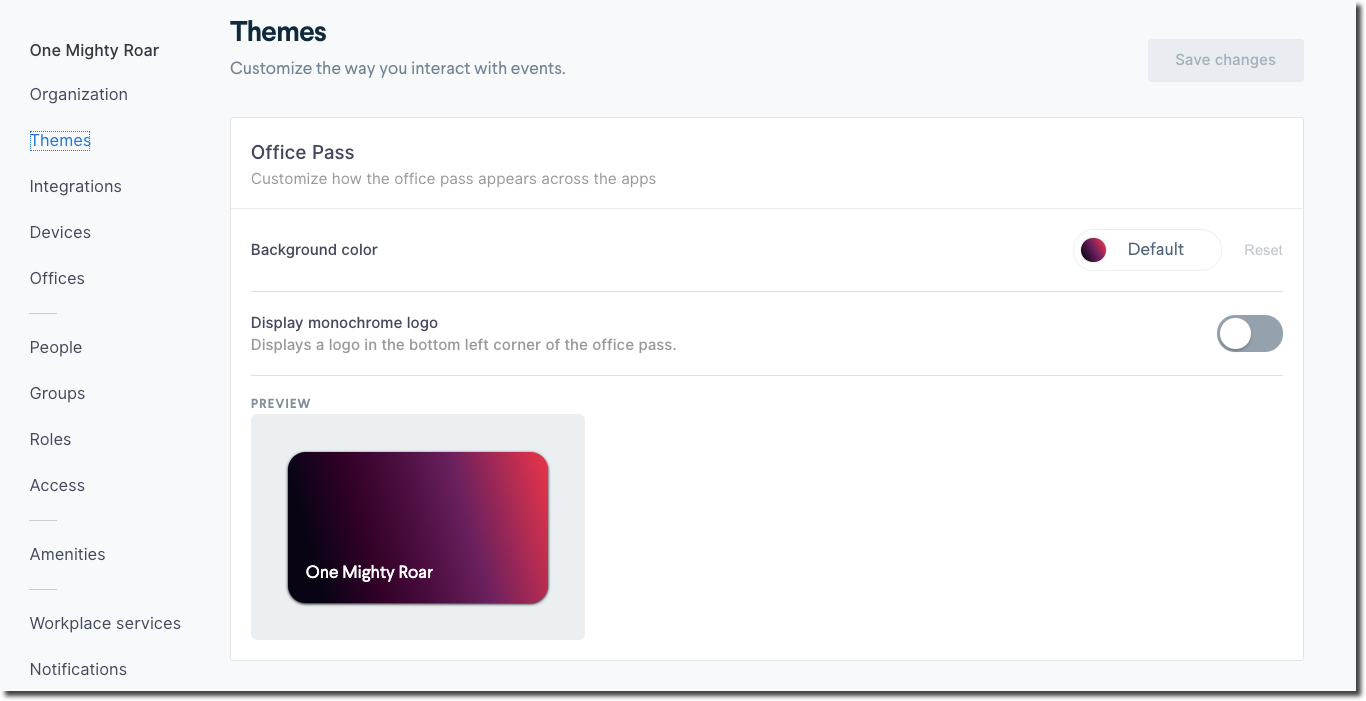 Add a building image
To add a building image, navigate to the Manage > Offices > Buildings tab. Then click "Edit Details". Upload an image that represents your office, such as a logo, a photo of your lobby, building, or a photo of your team.
Add a space image
All plans
Space images give some personality to your room. Images appear as banners on the web dashboard, mobile app, and room display app.

Add or edit your image from the space details page from the dashboard. Click "Manage" > and under the Details > Photo header, click "Upload photo." The image you select will appear as your space's face across all platforms.

Customize button colors
For a little extra flair, set a primary color to match your organization. Once set, it will replace some of the main buttons throughout the dashboard. Use the color picker under Manage > Themes > under "Branding" header > Primary color. Adjust the color hex to find the color that best fits your brand. It will automatically update when changed.
Room display branding
Add a logo
Organizations with Robin subscriptions can customize their room displays with a logo. White transparent PNGs under 3MB work best. Read more about adding a logo to the room display here.
Customize status colors for Spaces & Desks
Status colors provide a visual symbol to indicate whether a space or desk is occupied or available. By default, Robin uses:
Red = In use (Spaces only).
Yellow = Booked but not yet confirmed (Spaces only).
Green = Available (Spaces & Desks).
Or change the status colors to match your company's branding:
Administrators, navigate to Manage > Themes > scroll to the "Colors" header. By default, custom colors are applied on the organizational level. To apply the colors to only a particular location, use the dropdown menu in the top right corner to select a building.
Play around with the color hex and check out the preview images below to see what it'll look like in action. You also have a light or dark background option.
Note: These colors apply to space statuses on the following platforms; room displays, maps on status boards, and time pills in dashboard. The color that represents "available" applies to desks that appear on a map including; maps on status boards, maps on the mobile app, and maps in the dashboard.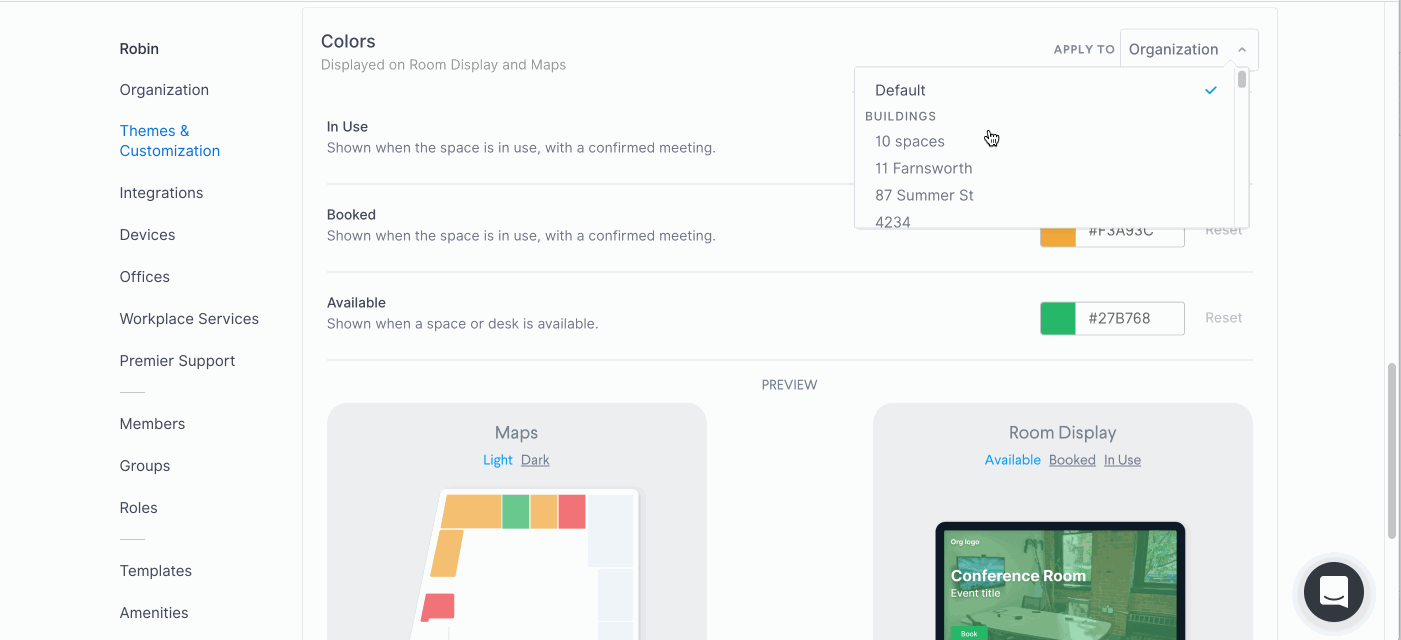 Customize scheduling settings for the organization
Admins can customize a few high-level scheduling settings to help manage how users can interact with events in Robin. This includes settings like a confirmation window threshold-- a setting that depicts how far in advance folks can confirm or check into events and any experimental features we are testing.
To learn more, navigate to Manage > Organization.
Customize space & desk policies for the office
Admins can customize space and desk policies to help manage how employees use your workplace resources. This includes maximum reservation length, which restricts how long a meeting or (hotel) desk reservation can last.
Common Pitfalls
Custom colors for room statuses are not supported on LED light cases, only the default status colors.