The no-show (abandoned) meeting feature automatically releases a room when nobody shows up to a scheduled meeting. This frees the room up for others who may want to use it, and makes it easy to keep outdated recurring meetings from piling up in your conference rooms.
How this works
When nobody checks into a scheduled meeting within a customizable time window, Robin will release the room. People can check in to meeting rooms by tapping "Start meeting" on the display app, or by confirming the space ahead of time from the mobile app, Slack integration, or the web dashboard.
When a room is released due to a missed check in, the event is automatically truncated to the current time. By default this is 10 minutes after the original start time (e.g. 10:00AM meeting ending itself at 10:10AM after nobody checks in).
To avoid surprises, the event organizer will receive an email notification that will look something like this: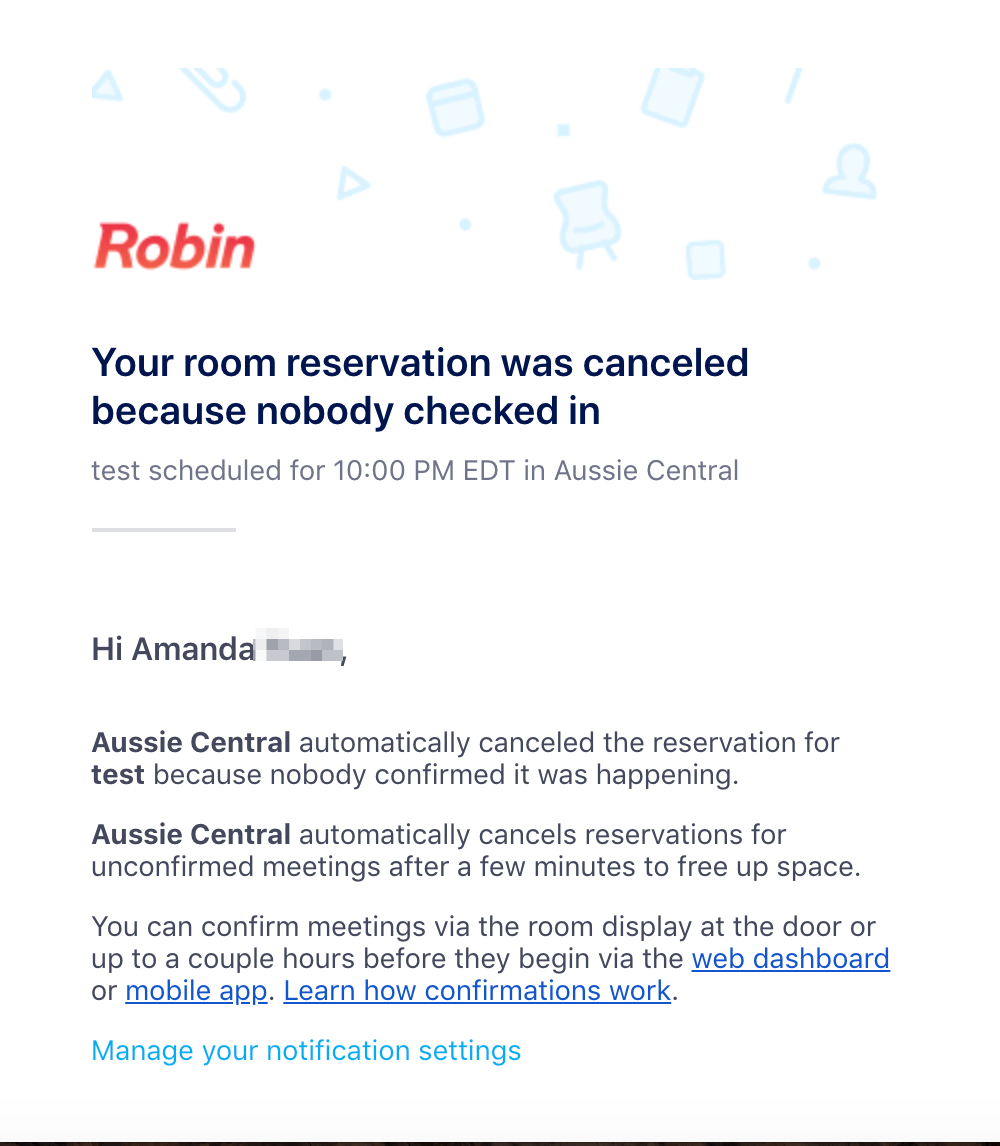 Check to make sure your abandoned meeting notification setting is enabled under your user profile settings.
Will events be deleted completely from the calendar?
In most cases, the event is removed from the space's calendar only, freeing the space up for others to use. Meeting organizers and attendees will still see the full meeting and its full duration on their calendars.
The only exception is when the space is the organizer of the event. This can happen when people book directly on the space's calendar and add themselves as an invitee, as is the case for some Microsoft users booking through Robin's web dashboard. Updating permissions to allow users to book as themselves will resolve this.
Enable "Abandoned Meeting Protection"
Before you can enable this feature, spaces need to be paired with the Rooms display app.
This setting can be managed by an administrator from the web dashboard for an entire location or a particular space. You can follow the video below or review the steps in the article for a tutorial on enabling Abandoned Meeting Protection.
1

Login to dashboard and navigate to the space you'd like to update.

2

On the space details page, click Manage on the left sidebar, then scroll to Display Scheduling for Abandoned Meeting Protection. Click Enabled/Disabled to update your setting.
You'll find a similar setting available for removing recurring events after nobody shows up multiple times in a row.
Getting reports on abandoned meeting data
Reports are available for organizations starting at the Pro plan: You can find information about abandoned meetings in the dashboard exports. Look for the "Automatically unbooked at" column in the export.
You can also find data regarding abandoned meetings via the dashboard's analytics section directly.